Lords criticised for inviting 'fringe' climate denial group to give evidence in parliament
Global Warming Policy Foundation campaigns against renewable energy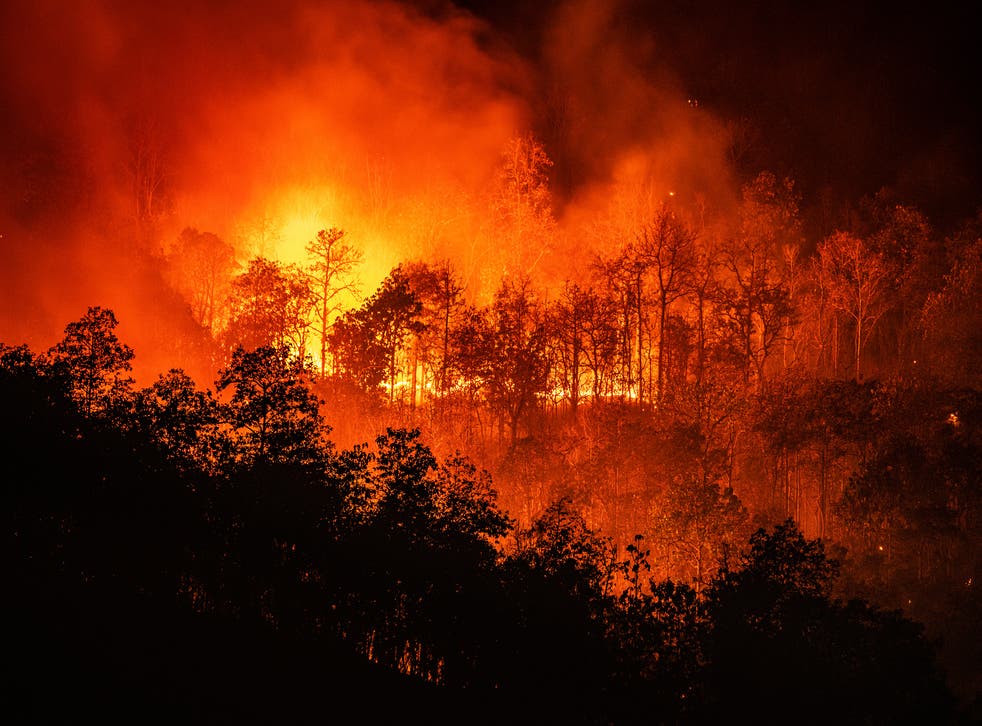 A House of Lords committee has been criticised for inviting a "fringe" group which campaigns against climate action to give evidence on carbon policy.
The Global Warming Policy Foundation was invited by peers to give evidence to an inquiry on reaching net zero and appeared before them on Tuesday.
But environmental groups questioned why the committee would "waste their valuable time" hearing from the organisation, which they said had been "so widely and repeatedly found to be wrong".
The GWPF has previously been admonished by the Charity Committee for breaking rules on impartiality and has been described as the country's most prominent source of climate-change denial.
The organisation falsely claims that there is no scientific consensus on climate change, describing the facts as "contested". It campaigns against renewable energy and says it is "deeply concerned about the costs" of climate action.
It says it does not officially take a view on climate climate science and that its members "cover a broad range of different views, from the IPCC position through agnosticism to outright scepticism".
The House of Lords industry and regulators committee invited John Constable, the organisation's energy editor, to give evidence on net zero and the energy market at a session on Tuesday afternoon.
Mr Constable, who has claimed environmentalism is "in a state of physical and moral collapse", argues against wind power because he says it is not "affordable and proportional to the risk" from climate change.
The GWPF does not disclose its funders but says it is "overwhelmingly by voluntary donations from a number of private individuals and charitable trusts". It says it rejects donations from the energy industry, though it is not possible to verify this.
Mr Constable told the peers on Tuesday: "In our view the climate policies don't pass any of these tests... the abatement cost is extremely high in relation to the threat as far as we understand it, and they are unaffordable in themselves and therefore unlikely to be sustainable in the long term."
Rebecca Newsom, head of politics at Greenpeace UK said: "From the plummeting cost of renewables to the science behind the climate crises, the Global Warming Policy Foundation's views have been so widely and repeatedly found to be wrong that you really have to question why the Lords would waste their valuable time on them.
UK news in pictures

Show all 50
"It's an organisation on the far fringes, who have nothing constructive to say to today's young people worried about the climate crisis and do very little but attempt to derail much needed action.
"Parliament voted unanimously for our net zero target two years ago, and there are a huge array of voices who might provide the Lords with more worthwhile guidance on how we meet the challenge."
A spokesperson for the committee said: "The Committee are looking at a number of policy and regulatory impacts of the move to net zero. To do that effectively it will take evidence from witnesses with a broad range of views. The Committee will weigh up all the evidence it receives before making any recommendations."
The UN climate watchdog the IPCC last month issued a "code red" warning demanding immediate climate action. Global surface temperatures are over 1 C higher between 2011-2020 the between 1850 and 1900, while the past five years have been the hottest on record since 1850.
The recent rate of sea level rise has nearly tripled compared to 1901 - 1971 and is is "virtually certain" that hot extremes including heatwaves have been more intensive since the 1950s.
Register for free to continue reading
Registration is a free and easy way to support our truly independent journalism
By registering, you will also enjoy limited access to Premium articles, exclusive newsletters, commenting, and virtual events with our leading journalists
Already have an account? sign in
Join our new commenting forum
Join thought-provoking conversations, follow other Independent readers and see their replies