Looming 'catastrophe' in East Africa proves why world must tackle climate change, says Oxfam
Nearly 11 million people in Kenya, Ethiopia and Somalia are dangerously hungry and in need of humanitarian assistance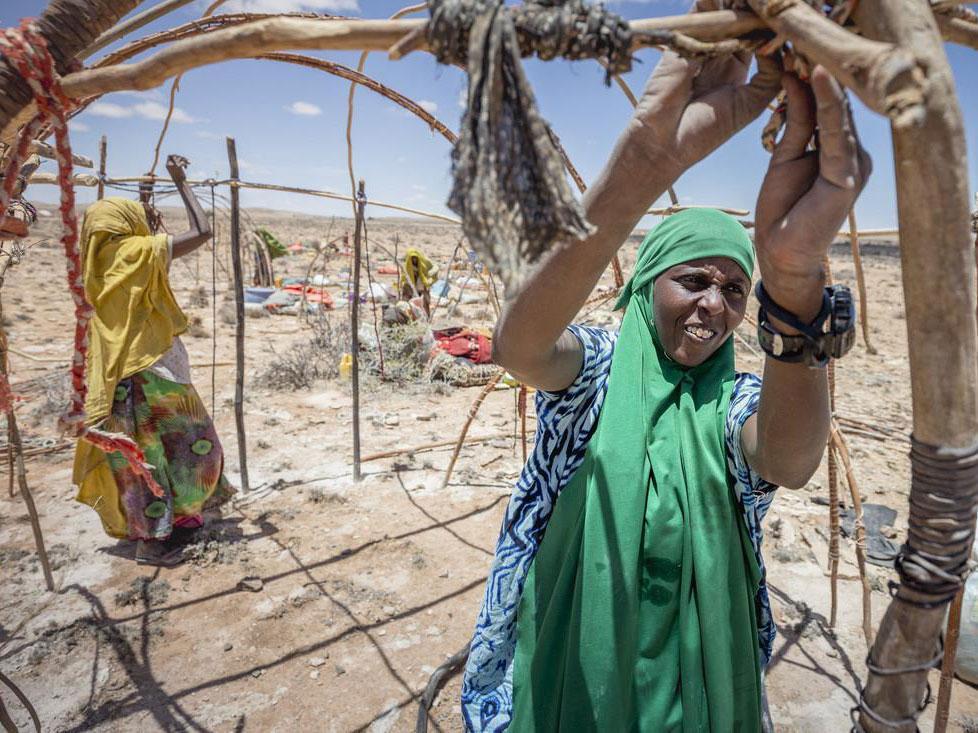 "If the rains don't come, none of us will survive."
Farhia, a 25-year-old Somali pastoralist, has moved four times in the last four months trying to follow expected rains which, on each occasion, failed to arrive. She is not alone.
Oxfam is now warning the drought in East Africa, where nearly 11 million people are already affected by food shortages, is threatening to become a humanitarian "catastrophe".
Issuing a "desperate" appeal for the international community to meet a request from the United Nations for about £1.5bn of aid, the charity also said the worst drought in living memory demonstrated why the world must act to reduce global warming.
It pointed to several scientific studies which found evidence that climate change was likely driving up temperatures and making the situation significantly worse.
"Nearly 11 million people in Kenya, Ethiopia and Somalia are dangerously hungry and in need of humanitarian assistance," Oxfam said in a briefing.
"The worst drought-affected areas in Somalia are on the brink of famine.
"The crisis could deteriorate significantly over the coming weeks, as rainfall in March and early April was very low in places and poor rainfall is forecast for April through June, which is the end of the rainy season.
"Climate change is not a distant, future threat: it is helping fuel this emerging catastrophe in which poverty, chronic malnutrition, weak governance, conflict, drought and climate change have combined to create a perfect storm."
In a grim irony, the developing world is expected to be hardest hit by climate change – caused by fossil fuel emissions that have helped make the developed world rich.
As the likes of Donald Trump and former UK Chancellor Nigel Lawson argue against cutting greenhouse gas emissions, people in places like Somalia are facing death from starvation.
"While some still deny the severity of climate change and question the need to combat it, others are struggling for their lives as climate change makes a bad situation worse," Oxfam said.
"There could be no stronger call to take action on climate change than suffering on this scale.
"Governments across the region and around the world need to step up, take responsibility, and provide humanitarian assistance to save lives now.
"Without global efforts to reduce emissions and to help the world's poorest people cope with the effects of climate change, this crisis will continue to repeat itself."
10 photographs to show to anyone who doesn't believe in climate change
Show all 10
The Government has expressed concern about the potential for the drought to develop into a major crisis, increasing its level of aid and urging the international community to do the same.
In a recent written statement to the House of Commons, International Development Secretary Priti Patel said the UK had pledged £110m to provide emergency food aid for up to a million people in Somalia; nutritional help to more than 600,000 "starving children" and pregnant or breastfeeding women; safe drinking water for a million people; and emergency healthcare for more than 1.1 million.
A further £100m will also be spent helping people in South Sudan, where some 7.5 million people are in need of help amid a widespread famine, partly caused by the ongoing civil war.
Seven of the last 10 years have seen droughts caused by poor or failed rains in East Africa.
Monthly average temperatures in the area have hit nearly 3C above the average between 1940 and 1981.
"There is mounting evidence that climate change is likely to be contributing to higher temperatures in the region, and that increased temperatures are exacerbating the impacts of drought," Oxfam said.
"Temperatures have been consistently higher in East Africa in recent years, part of a trend seen in Africa and around the world.
"Higher temperatures result in greater evaporation, meaning soil moisture is reduced, reinforcing drier conditions and intensifying the impacts of failed rains. Crops and pasture have less water, and the chance of failed harvests or lack of feed for livestock increases.
"In pastoral regions like northern Somalia, higher temperatures over the past six months have turned very low rainfall last year into a terrible loss of soil moisture – helping to desiccate all the available fodder for many of Somalia's pastoralists."
The charity's briefing note included comments from local people in the area, which illustrated how out of the ordinary the situation has become.
Awad Ali, an 87-year-old man from Somaliland, said: "I've seen many droughts in my lifetime, but this is the worst one."
Farhia, the pastoralist, said: "We have moved four times in the last four months.
"We were trying to follow the rain – moving according to where the rains were supposed to come. But they haven't.
"If the rains don't come, none of us will survive."
Unicef expressed confidence that there would be no repeat of the 2010/11 drought which saw up to 260,000 people starve to death after the international community failed to react in time. During that famine, women reportedly bound their waists with rope to deaden the pangs of hunger as they gave what little food they had to their children.
Susannah Price, Unicef Somalia's communications chief, said there had been "patchy" rains in Somalia in recent weeks but "definitely not enough at the moment".
And she added: "We don't expect the situation to become immediately better.
"Somalia has suffered from regular droughts and the problem is the people are just at the end of their resources, they have nothing left.
"Each time this happens they have nothing to fall back upon. The people are really resourceful, they are tough and they don't become displaced unless they have to be, but we have got people on the move who have never been on the move before."
And even if the rains did come, some animals are so sick they are expected to die and diseases like cholera and acute watery diarrhoea, currently affecting thousands, would still be a problem.
"But we are still saying we can avert a famine," Ms Price said.
"We have had good funding … we are over 50 per cent funded. Of course we need more and we need it to continue.
"But there have been good lessons learned from 2011 when the international community waited for a famine to be declared.
"By the time it is a famine, it's too late, many people will have already died."
Join our commenting forum
Join thought-provoking conversations, follow other Independent readers and see their replies