How harnessing energy from the pounding feet of commuters or revellers in a disco could be the future of renewables
Say hello to Tomorrowland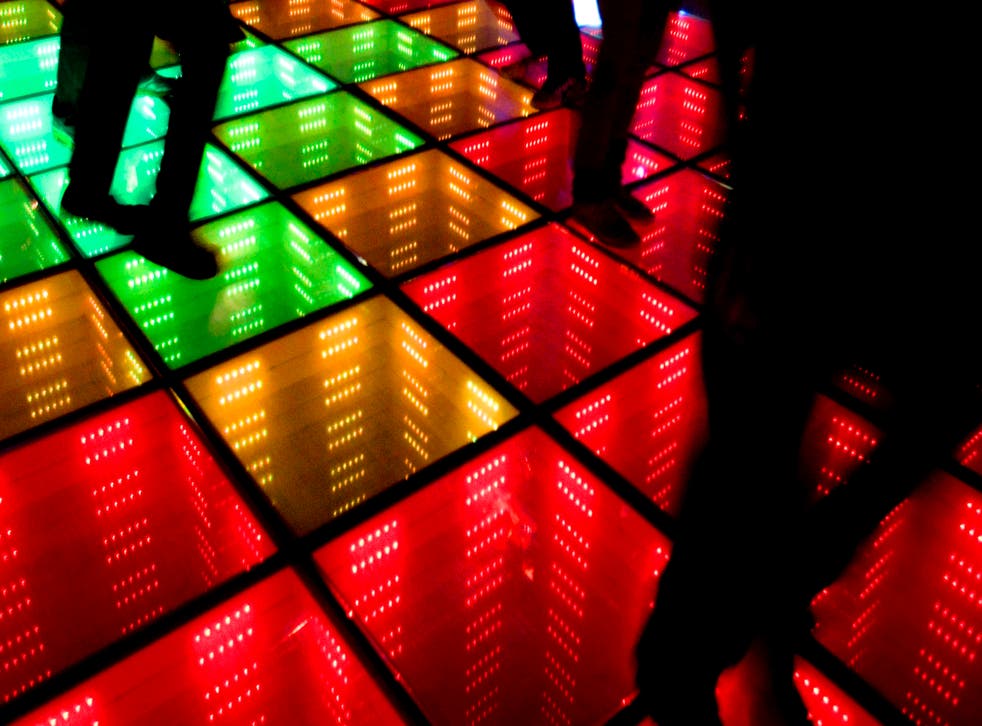 Consumers walk through a busy shopping centre holding smart devices that are charged by the motion of their legs. Meanwhile, in the shopping centre's coffee shops, banks of people sit at exercise bikes sipping lattes while their legs power the computers they are browsing.
Depending on your outlook, this could be a utopian or dystopian vision of the future – Tomorrowland or The Matrix – but if a Dutch company and a British start-up get their way, it could be the reality for cities of the future.
The first glimpses are already here. At the recent Formula E event in London, a "solar kinetic walkway" provided by the Dutch firm Energy Floors recharged people's mobile phones using kinetic energy harvested from the footsteps of passers-by. In May, a similar walkway from a home-grown company called Pavegen powered streetlights in Canary Wharf.
"We're offering a new source of electricity," says Michel Smit, the chief executive of Energy Floors, "which is human power. There are a lot of businesses that want to showcase this and see what they can do with it." Interest in the technology has seen Energy Floors set up human-powered photo booths in Austria, solar kinetic bike paths in the Netherlands, and even light the Eiffel Tower for Earth Hour in March.
One of its most popular installations is the Sustainable Dance Floor, which has toured clubs and festivals across Europe generating electricity from users' dance steps. Pavegen uses a slightly different technology to its Dutch competitor but the principle is the same: kinetic energy is generated from a slight movement in the floor tile, produced by the weight of human footsteps pushing it down.
This energy is then transformed into electricity. Both devices also feed back data wirelessly to keep track of how they're being used. Pavegen's chief executive, Laurence Kemball-Cook, first had the idea while still at university. "I was walking through a train station one day," he says, "and I thought: what if we could harvest the energy of all the people walking here? It was Victoria station and I later read that it gets around 32,000 people per hour walking through."
Since its inception, Pavegen has gone on to install tiles in schools, shopping centres and travel hubs around the world, including Harrods and Heathrow. It has even powered the floodlighting for a five-a-side football pitch in a favela in Rio.
The technology is still in its infancy, however, as are both companies – and both face issues of cost and scalability. Pavegen is currently crowdfunding to generate more funds and Energy Floors is unable to meet the demand of all its potential clients. "We get these requests from Dubai and India to put down 20,000 sq m of tiles," Smit says, "but the product and the technology just needs to ripen for a couple of years to fulfil that sort of demand."
But for critics, the issue of scale is more than just a short-term business hurdle – it is an immutable problem with this kind of energy. Max Donelan is an expert in biomechanics and the founder of Bionic Power, a Canadian company that produces knee braces which harvest the energy of walking to power portable devices. "In terms of the contribution to our energy use, human energy is like a drop in the ocean," he says.
"In the developed world we require about 10kW per person to power our lives. If you took a stationary bike and pedalled as hard as you could, you might get a couple of hundred watts out – that's just 2 per cent of your total energy needs." Donelan is also concerned about the energy used in producing such technology, which could take so many hours' use to pay back its carbon debt that the net energy savings are negligible.
This is why Donelan foresees a more modest use for his own knee-brace technology, which uses the energy generated in the braking action of the knee to produce electricity. Bionic Power is currently working with the US and Canadian militaries to power portable equipment on long missions away from base.
He also sees the potential for humanitarian aid in developing countries with no access to the grid. "What you want for human power is people whose lives depend upon portable power and who don't have easy access to the grid. There are lots of people who can just plug into the wall – and they should. This is for those people who don't have that option."
Donelan's concerns are shared by Mike Taggett, a US entrepreneur who spearheaded the technology of green gyms. Taggett developed devices to harvest energy from exercise bikes, treadmills and cross trainers. Now he has stopped producing them. He voices the same kind of warnings as Donelan: "A strong athlete can make about 100W per hour, so you're working out real hard but you're making about a penny's worth of electricity an hour. It ended up being a 70-year payback. It doesn't make any sense environmentally, either, because of all the energy it takes to create all that equipment in the first place."
Taggett does remain optimistic about developing cheaper, more efficient forms of the technology, which are now, he claims, coming closer to a six- or seven-year payback.
However, like Donelan, he doesn't see it as a meaningful part of our total energy needs, more a local solution powering portable devices such as phones and laptops. Taggett's vision of the future is one in which human power is married to healthier lifestyles.
"For the US, where we have so many people that need exercise, I like the idea of having widely deployed machines that have little desktops on them. So you can be at a shopping mall and jump on an elliptical that generates electricity. You can charge your device and while you're surfing the web or emailing, you can be getting 15 or 20 minutes' exercise while drinking your coffee."
While Kemball-Cook agrees that human energy alone can't provide all our energy needs, he is far more optimistic than Donelan or Taggett. He points out that when the paving technology is scaled up it will be comparable to other renewables.
"If you compare solar to Pavegen, we can actually win with a yield of 10,000 people a day going through a busy corridor in a train station – that will beat a solar array of comparable cost." He also claims that Pavegen will soon have the resources to produce its tiles at the same cost as ordinary flooring. And if that claim isn't big enough, he also states that Pavegen is working on a sub-two-year carbon payback for the energy consumed in producing each tile.
Kemball-Cook clearly has an eye for the future. For him it will be one in which humangenerated energy isn't just about powering mobiles and tablets, but an integral part of the energy and information needs of whole cities.
"I think smart cities of the future will be ones that interact with human needs in real time. We want to be the Intel Inside in smart cities' infrastructure. It's just a matter of time until we get that scale."
Cities that record our every move, lines of people walking treadmills to provide energy – it seems a constricted sort of lifestyle, one that brings to mind The Matrix again. But perhaps that form of constraint is necessary to free us from another, more deadly one – that of our dependency on fossil fuels.
Perhaps in the end it's all down to point of view. Say hello to Tomorrowland.
Join our new commenting forum
Join thought-provoking conversations, follow other Independent readers and see their replies