Government launches £20m competition to boost innovation in zero-carbon ship building
Fund will support development of prototype vessels and port infrastructure
Harry Cockburn
Monday 22 March 2021 20:04 Comments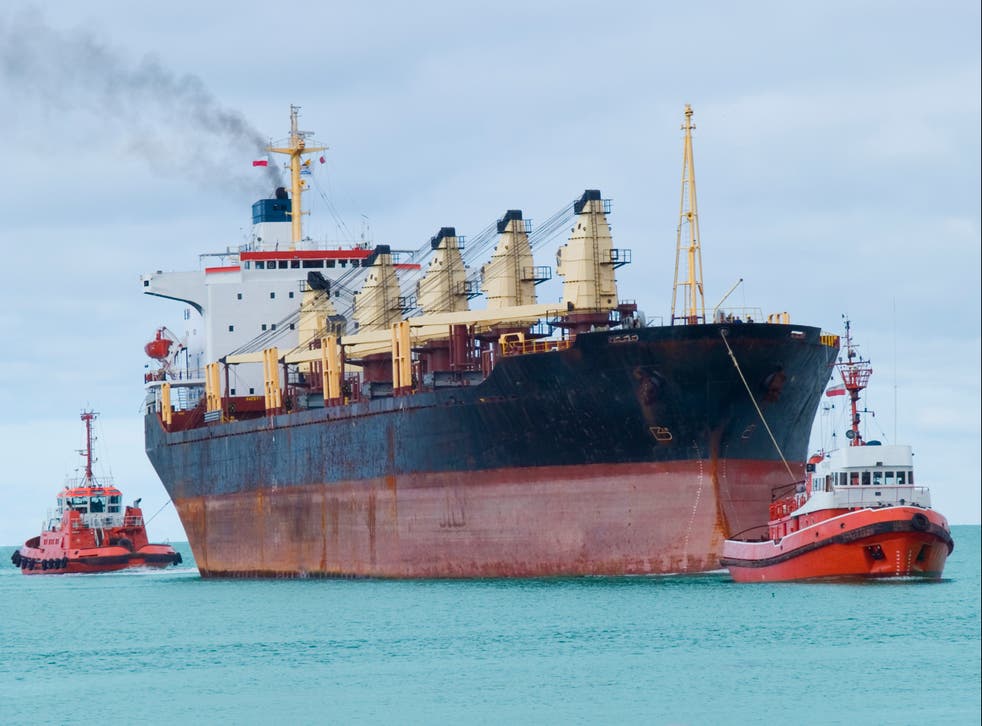 The UK government has launched a competition with a £20m prize fund to encourage innovation in the shipping industry to cut harmful greenhouse gas emissions which are currently on the rise.
The Department for Transport's scheme aims to foster innovations for a greener shipping future, including zero-emission vessels and clean port infrastructure.
The government said the fund will be used to support the development of prototype vessels alongside infrastructure which could then be rolled out widely – helping move the sector towards net-zero.
The global shipping industry largely relies on highly polluting heavy fuel oil, and at the end of last year, the International Maritime Organisation environment protection committee approved a proposal which will allow the sector's 1 billion tonnes of annual greenhouse gas emissions to keep rising for the rest of this decade.
With international attention on the UK ahead of the UN's Cop26 international climate summit in Glasgow later this year, the government is keen to showcase its initiatives to reduce emissions.
The DfT said it is encouraging scientists and academics to collaborate with UK shipping, ports and shipbuilders to enter ambitious proposals into the competition.
Read more:
It is hoped such collaboration will create thousands of jobs, boosting and revitalising local economies and help bolster the UK's wavering reputation as a climate leader.
"The trials will enable companies to test the new technologies, with a view to them being developed commercially if proven to be successful, helping us build back greener from the pandemic," the government said.
Transport Secretary Grant Shapps said: "We have a proud shipbuilding history and, together with industry, I am determined to build on that as we look to develop the innovations of the future and meet our net-zero target.
"We are revolutionising maritime technology and, from electric boats to hydrogen ports, we will change the way this country sails forever, and bring jobs and prosperity to the UK."
The competition comes after the government also announced £95m worth of funding for upgrading two major ports on the north east coast to build the new generation of offshore wind farms.
The government is also due to set out its Transport Decarbonisation Plan, which it has billed as "transformational", and will set out how Boris Johnson's administration will reduce emissions from transport areas including sea, rail, road and aviation.
Maritime Minister Robert Courts said: "This is a turning point for the UK's maritime sector. It's an opportunity for businesses to develop the technologies of the future, not only protecting our environment but driving economic growth.
"I urge this country's best thinkers to put their green ideas forward and help us deliver a better, cleaner maritime sector."
Shipping has a particularly strong historical relationship with state-run competitions designed to drive innovation.
In 1714, the British Government offered a £20,000 prize for those who found a means by which sailors could find longitude to within half a degree.
The prize was never won by a single individual, and a "board of longitude", which administered payments to those who made progress on the question remained in place for a hundred years. However, carpenter and clockmaker John Harrison did receive a series of payments totalling £23,065, largely due to his invention of the marine chronometer, which updated existing pendulum-based clocks, which didn't work at sea due to the motion of the ocean, to a fast-spinning wind-up mechanism, which allowed sea-farers to work out their longitude.
Register for free to continue reading
Registration is a free and easy way to support our truly independent journalism
By registering, you will also enjoy limited access to Premium articles, exclusive newsletters, commenting, and virtual events with our leading journalists
Already have an account? sign in
Join our new commenting forum
Join thought-provoking conversations, follow other Independent readers and see their replies