As it happened
ended
1657784149
Prime Day 2022 live – day 2: Best deals at Amazon on Huawei, Shark, Bose and more
Today's your final chance to bag a bargain on an air fryer, Amazon Echo dot, cordless vacuums and more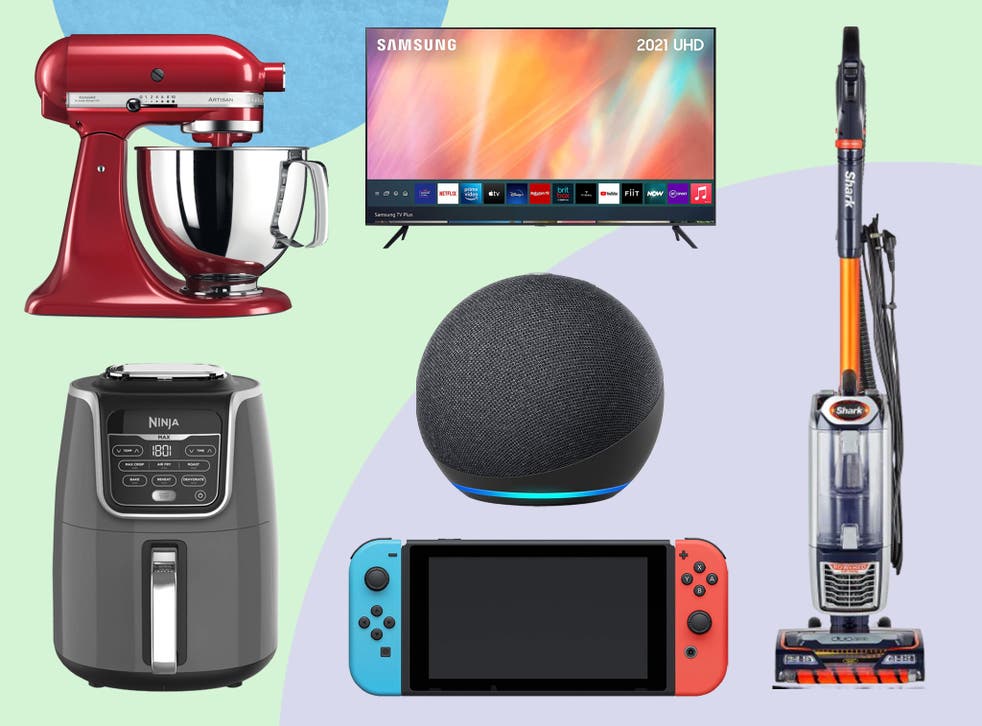 Calling all bargain-hunters, day two of Amazon Prime Day 2022 is in full swing – meaning you've only got until midnight tonight to bag a bargain in one of the biggest sale events of the year.
The 48-hour bonanza sees huge savings across tech, home and kitchen appliances, alcohol, gaming and so much more – with marvellous savings on big-name brands including Apple, Samsung, KitchenAid, Shark, Olaplex and Maybelline, to name a few.
Yesterday was stronger than ever with record-breaking discounts on the Echo dot (just £19.99) as well as decent savings on the brand new Nintendo Switch OLED. Other highlights included 45 per cent off Simba mattesses, a Microsoft surface at its lowest price ever and seriously cheap Shark vacuums. The event ends at midnight tonight so time is running out to secure a saving – but fear not, as the best deals are saved until the last day and we'll be working around the clock to find them.
Prime Day can feel overwhelming, but we're on hand to help as your very own personal shoppers. Aside from our dedicated deal guides, our liveblog provides you with instant deal updates as they happen, unrivalled savings, and expert advice on navigating the sale. Ready? Let's go.
Read more
1657753168
Right folks, that's a wrap!
After hours (and hours) of deal hunting, the 48 hour shopping spectacular that is Amazon Prime Day is officially drawing to a close. We've had a blast sharing all the latest and greatest deals with you, and truly hope we've helped you tick those must-have goodies off your Prime Day wish list (swimming pools, Lego Ferraris and Crocs included).
Lois Borny
13 July 2022 23:59
1657704006
IndyBest's favourite deep fat fryer is more than half price
Tefal oleoclean pro FR804040: Was £164.99, now £72.99, Amazon.co.uk
Whether you're looking to make triple-fried chips, choc-dipped churros or sugar-coated doughnuts, there's no appliance that will help you do it better than this Tefal. Taking the top spot in our review of the best deep fat fryers, our tester noted that it's a "powerful, fast-heating" fryer. It uses "a unique system to drain, clean and store oil after use, so there's no food debris floating around for the next time you use it", they added.
Importantly, our tester found that it was "so easy to empty the oil", and the "clean-up in this model was by far the best, with the removable tank making life so much easier". It's a "serious piece of frying kit", and if you need it in your kitchen appliance arsenal, it's currently more than half price, thanks to Amazon Prime Day.
Thanks to Amazon Prime Day 2022, this Tefal deep fat fryer is more than half price right now
Daisy Lester
13 July 2022 10:20
1657705206
There's 40% off this Huawei smartwatch right now
Daisy Lester
13 July 2022 10:40
1657705806
Save on tablets this Prime Day, from Apple to Microsoft
Daisy Lester
13 July 2022 10:50
1657706106
Gamers go! The Nintendo Switch OLED is back in stock at its lowest price ever
The Nintendo Switch OLED model is the best version of the console that you can buy right now, and it's the cheapest we've ever seen it. With a 7-inch OLED display and a sturdier kickstand, it's a perfect companion for gaming on the go. In our review of the Nintendo Switch OLED model, our tester said: "The larger display is fantastic and playing games in handheld mode is an absolute joy. The kickstand feels so solid and makes us never want to look at that little toggle on the back of the original Switch ever again."
The last time it was at this price, it sold out fast – so we'd recommend being quick adding it to your basket this time around.
Daisy Lester
13 July 2022 10:55
1657706406
Looking to upgrade? There's 20% off this OnePlus phone right now
OnePlus 10 pro, 8GB RAM, 128GB: Was £799, now £649.99, Amazon.co.uk
OnePlus's 2022 flagship smartphone has just received a 17 per cent discount this Prime Day. Featuring a bright 6.7in AMOLED QHD+ display made from Gorilla Glass Victus and a smooth 120Hz refresh rate, the OnePlus 10 pro is already a good-looking phone, but it also has a stunning three-camera system made in collaboration with Hasselblad. "The 10 pro is an excellent premium handset with a splendid camera setup, an unbelievable battery life with neat ultra-fast charging capabilities and a top of the range processor," our writer said in their review of the phone. "While the Oppo touches are definitely there, we can't find many – if any – faults with it."
Daisy Lester
13 July 2022 11:00
1657707006
Save 50% on Beats wireless headphones for Amazon Prime Day
If you're looking for a pair of over-ear wireless headphones this Prime Day, then the Beats studio 3 headphones are currently 50 per cent off, taking the price down to £149. While these aren't the newest Beats headphones around, having been released in 2017, they still pack a punch. They feature Apple's W1 chip for easy pairing to all Apple devices, active Noise Cancellation so you can listen to your music in peace on the train and 22 hours of playtime on a single charge. This is a pretty good discount for a reliable pair of headphones.
Daisy Lester
13 July 2022 11:10
1657707330
There's a big saving to be had on this Asus laptop
Asus vivobook 15 laptop: Was £599.99, now £299.99, Amazon.co.uk
Asus makes superb mid-range laptops and this 15in vivobook is no exception. It's a smart looking machine with a full HD screen that's perfect for everyday professional tasks, and packs an Intel Core i5 processor with 16GB of RAM along with a 512GB SSD, giving users plenty of room for documents and applications and enough memory to handle everyday use. At 31 per cent off and a saving of £150 in total, it's exceptionally good value for money if you're looking for a reliable workhorse.
Daisy Lester
13 July 2022 11:15
1657707606
What time does Amazon Prime Day 2022 end?
This year Amazon Prime Day is a two-day event, taking place across Tuesday 12 July and Wednesday 13 July. It lasts only 48 hours, meaning the sales extravaganza ends at midnight on Wednesday 13 July. Just to remind you, in order to unlock this massive discounts, you must have an Amazon Prime membership costing £7.99 a month, or you can sign up for a 30-day free trial.
So, you'd better be quick to grab a Prime Day deal, and keep a close eye on our regularly updated guides covering everything from AirPods and Lego, to robot vacuum cleaners and air fryers, for an expert sales shopping steer in the meantime. Our main guide has the creme de la creme of offers.
All you need to about when the discounted Prime Day deals end
Daisy Lester
13 July 2022 11:20
1657708206
The Ring video doorbell is a must-have this Prime Day
Daisy Lester
13 July 2022 11:30
Register for free to continue reading
Registration is a free and easy way to support our truly independent journalism
By registering, you will also enjoy limited access to Premium articles, exclusive newsletters, commenting, and virtual events with our leading journalists
Already have an account? sign in
Register for free to continue reading
Registration is a free and easy way to support our truly independent journalism
By registering, you will also enjoy limited access to Premium articles, exclusive newsletters, commenting, and virtual events with our leading journalists
Already have an account? sign in