The Independent's journalism is supported by our readers. When you purchase through links on our site, we may earn commission.
Christmas 2015: 10 best electric guitars for beginners
Whether you have designs on Hendrix or just want to be a bedroom rockstar, these are the instruments to get things going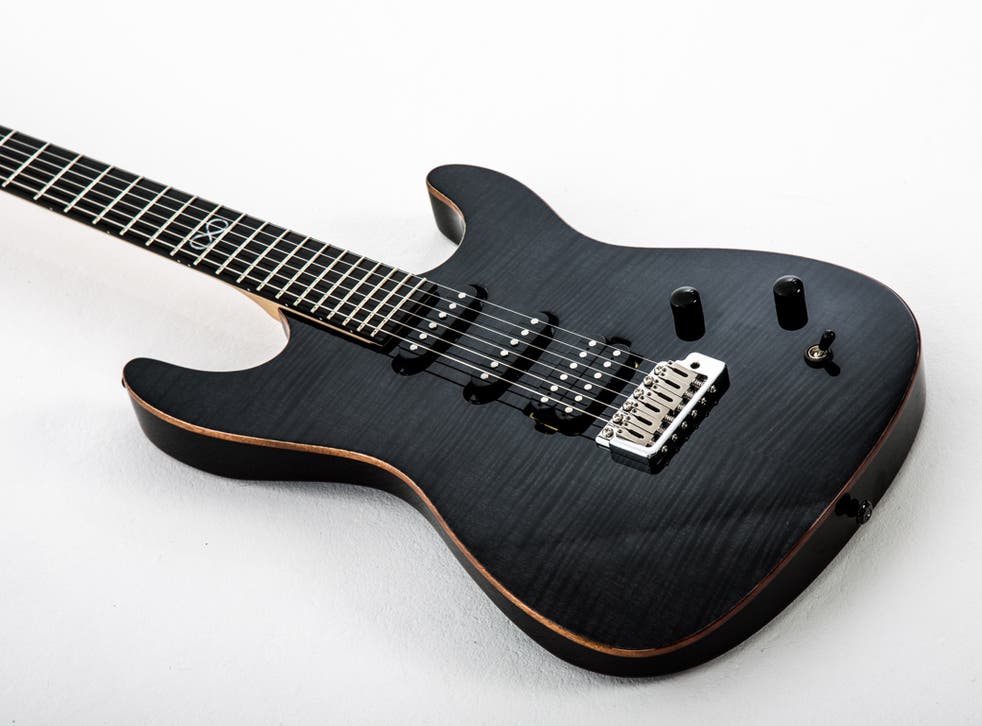 Whether you're Keith Richards, Ed Sheeran or just a hobbyist playing for fun a couple of times a year, nobody forgets their first electric guitar.
But with thousands of instruments on the market and high street prices ranging from £50 to more than £5,000, making a decision on which make and model to purchase can be an incredibly daunting experience.
Get it right and the pleasure the new instrument brings could lead to wealth, fame and a life of travelling the world. Get it wrong and it's likely to gather dust in a spare bedroom for years to come.
With Christmas just around the corner, many will no doubt be thinking about buying a guitar in the hope it introduces a loved one to a hobby that brings years of pleasure.
Here we've done the hard work and narrowed the selection down for you – analysing everything from appearance and durability, to tone, versatility and brand history to produce this definitive list of the 10 best guitars for beginners.
We've included 'starter kits' in the guide, which feature a small, rehearsal-quality amplifier and travel case alongside the guitar for those chomping at the bit to get out the house and play with others, and have even gone into detail on which guitars sound best for which genre.
So if you're a blues lover there are entry-level guitars here that will give you the rich, warm tones heard on those old Howlin' Wolf and John Lee Hooker records, while Indie kids will love the spiky sounds of several Fender Stratocaster-inspired guitars and metallers enjoy models inspired by the likes of Korn and Slayer. So whatever your taste, level and budget, rest assured that there will definitely be guitars in this list that perfectly meet your specifications.
You can trust our independent reviews. We may earn commission from some of the retailers, but we never allow this to influence selections, which are formed from real-world testing and expert advice. This revenue helps us to fund journalism across The Independent.
1. Epiphone Les Paul Special II: £165, Musician's Friend
The Gibson Les Paul was introduced in the 1950s and quickly became one of the most storied and recognisable guitars in the world. There are now hundreds of near-identical designs on sale, but Epiphone is set apart by its official affiliation with the high-end and eye-wateringly expensive Gibson brand. Indeed Epiphone's solidly made entry-level version of the Les Paul Special II has proven so popular that many professional guitarists - including Oasis' Noel Gallagher and Frank Iero of My Chemical Romance - continue to use them. Still the best-selling guitar in Epiphone's ever-expanding range, the Les Paul Special II has a rich, thick tone that perfectly suits those interested in heavier music - but really the guitar's history and versatility should make it a serious contender for any entry-level player.
2. Squier Affinity Tele Fender Frontman pack: £185, Bax
An electric guitar without an amplifier is really only half an instrument, which is why an increasing number of manufacturers now offer starter kits - including amps, leads, guitar straps, plectrums and travel cases. The best deal on the market at the moment is without doubt Squier's Affinity Tele Fender Frontman pack. Squier is to Fender what Epiphone is to Gibson and Squier's 'Tele' model is a respectable imitation of the famous Fender Telecaster – used by countless rock, icons including Muddy Waters, Bob Dylan and Joe Strummer of The Clash. The 15 watt Fender Frontman amplifier in the starter pack may lack the volume for live performances, but it's more than adequate for learning the instrument at home. And silence-loving parents need not worry - the amp comes with a socket for headphones.
3. Squier Bullet Strat: £95, GAK
By far the cheapest guitar on this list, the Squier Bullet Strat is based on Fender's classic Stratocaster design. The price may suggest poor quality but the reality is there are hundreds of far more expensive guitars on the market with inferior tones and build quality. Sure, it's pretty basic but let's face it – how many entry-level musicians are worrying about the nuances of warmth and richness of sound when they're still trying to get their head around simple chord structures and strumming patterns?
4. Ibanez GRG270B-BKN: £229, Dawsons
Ibanez is a brand that spans the full spectrum of guitar production - making everything from cheap and cheerful entry level instruments to high-end lines used by arena-filling rock acts. In both sound and design their models tend to appeal more to those looking to play metal and the GRG270B-BKN is no exception. It comes in any colour so long as it's black and is loosely based on Ibanez's classic 'Universe' range, which was used by bands such as Korn during nu metal's late 90s heyday. It also comes with three Ibanez Powersound pickups, which gives beginners a wide range of tones to have fun playing around with.
5. Yamaha Pacifica: £159, Gear4Music
Another guitar based on the classic Fender Stratocaster, the Yamaha Pacifica was a genuine game-changer in the budget guitar market when it was launched in the early 1990s. Yamaha found ways to keep the price low without resorting to using dramatically inferior materials and in doing so forced many other brands to raise their game. The Pacifica 112 remains Yamaha's best-selling model and - thanks to the slightly curved neck rarely seen on lower priced guitars - feels much more expensive than it is. The tones are bright, light and clear as you would expect from a Strat-style instrument, making it an ideal entry-level guitar.
6. Epiphone ES-335 'Dot': £329, Andertons
If the difference between entry-level guitars and those aimed at more seasoned players comes down to price, then the Epiphone ES-335 (more commonly known as an Epiphone Dot) is right at the latter end of the spectrum. £329 is a lot of money to spend on something that could be sat gathering dust in a few months' time but that is to overlook the Dot's many, many qualities. As mentioned earlier, Epiphone's incredible workmanship, attention to detail and warm tones means that many world famous musicians continue to use their products live and in the studio. It is therefore likely to be a many, many years before an upgrade is needed, if at all – something that sets the Dot apart from many others on this list. The only downside is that while hollow-bodied guitars are great for blues, pop, country and rock (Kings of Leon use semi-acoustics, for example) they are prone to ear-piercing feedback if the overdrive pedals are cranked too hard or the player stands too close to the amp.
7. ESP MH-53: £214, Bax
ESP is a Japanese manufacturer with a long history of producing guitars that were used as entry-level instruments by musicians who later found fame in the world of thrash metal. With its Strat-inspired body and stunning maple neck, the MH-53 is actually one of the company's more sober designs and boasts dozens of features that wouldn't feel out of place on far more expensive guitars. It comes with nut locks to help keep it in tune and tonally consistent and – once the beginner has got their head around how to use it – the Floyd Rose Special tremolo bridge can help with the kind of tricks and techniques heard on records by early Slayer, Metallica and Pantera. The MH-53 is the entry-level guitar of choice for the thrash metal connoisseur.
8. Vintage V100 TSB: £239, Guitar Bitz
The Gibson Les Paul is the obvious inspiration for this incredibly attractive guitar, which comes with gold humbuckers and looks best in the traditional tobacco sunburst colour. The mahogany neck of the instrument is built into its mahogany body – a subtle but significant detail usually only seen on much more expensive guitars. The result is the kind of rich, roaring sound you'd expect from a Les Paul-inspired instrument.
9. Chapman ML-1: £419, Andertons
A guitar right out of the left field here – not only is it easily the most expensive instrument on this list, it's also made by a company that's just six years old. Back in 2009 the hugely popular video blogger Rob Chapman asked his YouTube followers to help him design the perfect guitar. More than 5,000 people joined in the collaboration, advising Chapman on everything from body shape and colours to the type of materials used in the guitar's electrics. The current ML-1 is effectively the same instrument with a few minor tweaks here and there and both sales figures and reviews remain glowing. While there is little in the way of history to talk about, the ML-1 is a democratically created instrument aimed at addressing the failings of other guitars, making it hard to dismiss as the perfect entry-level purchase.
10. Jackson JS32T Rhoads: £249, Gear4Music
Let's face it – this guitar will only ever divide opinions. While some are going to think it's beautiful and cool, others will insist it's the most ridiculous thing they've ever seen. In fact the only thing certain about Jackson's JS32T Rhoads is that it's not the sort of instrument you play Coldplay covers on. The asymmetric V-shape is the trademark of Jackson's celebrated Rhoads range - a tribute to late Ozzy Osbourne guitarist Randy Rhoads. Those coveted instruments were out of the price range of most beginners until the launch of the JS32T which - despite costing less than £250 - boasts a 24-fret bound rosewood neck, Jackson high-output humbucking pickups and die-cast tuners. While it may not be for everybody, metal-loving beginners will be hard-pushed to find similar dramatically designed guitars in this price range without making significant sacrifices in build quality.
Verdict
While this list features a whole host of quality low cost guitars for beginners, two of them really stand out as best buys. Firstly, it's the Epiphone Dot which, if you're willing to spend just that little bit extra on your guitar, rewards you with a beautifully made instrument that won't need upgrading for years, if ever. And then there's the Squier Affinity Tele Fender Frontman which, for just £186 , provides you with not only a well made guitar but also all the supporting equipment you need to quite literally take your show on the road.
IndyBest product reviews are unbiased, independent advice you can trust. On some occasions, we earn revenue if you click the links and buy the products, but we never allow this to bias our coverage. The reviews are compiled through a mix of expert opinion and real-world testing.