The Independent's journalism is supported by our readers. When you purchase through links on our site, we may earn commission.
15 best alternative engagement rings to say yes to
These eye-catching pieces are perfect for 'think outside the box' brides-to-be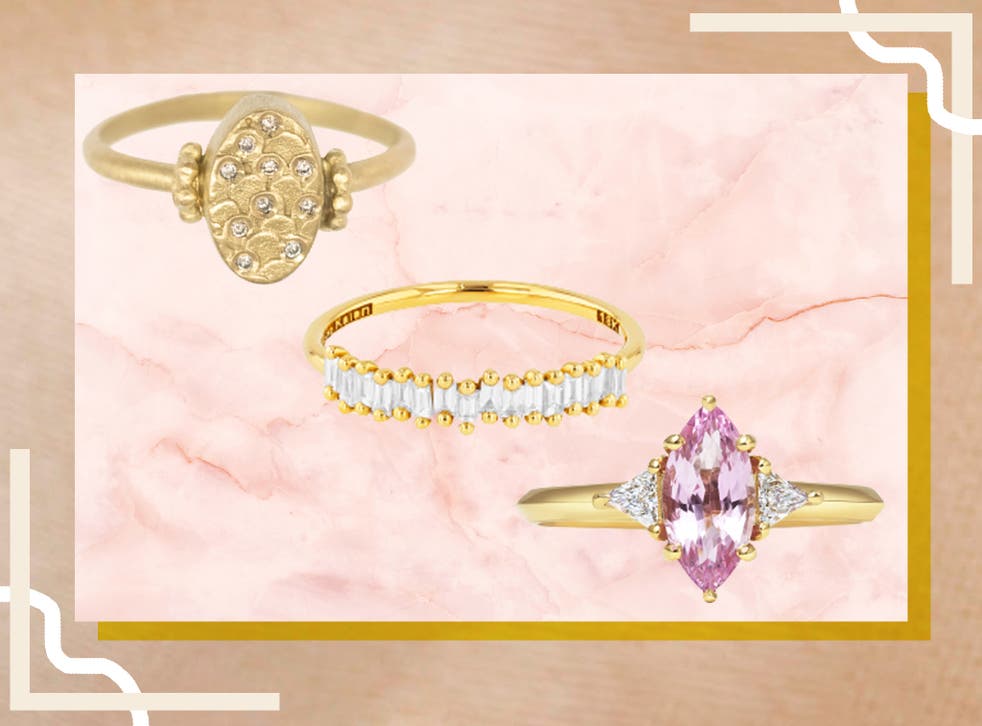 Visualise an engagement ring and you might imagine a classic solitaire – a single diamond on a gold band. This has been the go-style since the 1940s, when diamond miner De Beers spearheaded a campaign to encourage men to propose with diamonds, but for modern brides-to-be seeking something a little different, an alternative engagement ring could be a more fitting choice.
So what makes an engagement ring alternative? Well, the limit is your imagination. For some, it can be a modern twist on a classic diamond solitaire – designs that use lesser-known diamond cuts such as square asschers or pointed marquise diamonds, or that favour an east-west setting that tilts the diamond at an unexpected angle.
Others might eschew diamonds altogether – after all, there's no hard and fast rule that an engagement ring needs to have one. Rings set with a central coloured gemstone make for a beautiful alternative bridal set, and can often make for a more affordable engagement ring. That said, make sure to discuss your gem choice with your jeweller, as some stones are more fragile than others, and might not be suitable for daily wear if you have an active lifestyle.
You also don't have to opt for a traditional bridal set of one engagement ring and one wedding band. Some couples choose to have one ring that symbolises both the engagement and the wedding; this is particularly popular in the LGBT+ community. Others seek bridal stacks offering a curated look with many delicate bands – it's tradition to add extra rings to mark anniversaries or children, but as many couples now have children before getting married, they jump straight to the stack to ensure the whole family is represented.
There are a few things to consider when stepping away from the classic tried-and-tested solitaire engagement ring. As well as carefully picking your gems, and generally thinking about how wearable a design will be from day to day, you should also consider the wedding band. If you are planning on a separate band, you may need to ask yourself how it will fit with the engagement ring. If you want a flush look, find out if the jeweller has a matching band already, and, if not, you should consider whether you have the budget to commission a bespoke solution.
Read more:
At the heart of it, choosing an alternative engagement ring is about expressing your personality; whether that's through colour, an unusual motif that has significance to you as a couple, or picking a dream ring from your favourite independent jewellery designer. This is a ring that you will probably wear for the rest of your life, so it should speak to who you are and delight you every day.
Register for free to continue reading
Registration is a free and easy way to support our truly independent journalism
By registering, you will also enjoy limited access to Premium articles, exclusive newsletters, commenting, and virtual events with our leading journalists
Already have an account? sign in
Register for free to continue reading
Registration is a free and easy way to support our truly independent journalism
By registering, you will also enjoy limited access to Premium articles, exclusive newsletters, commenting, and virtual events with our leading journalists
Already have an account? sign in