The Independent's journalism is supported by our readers. When you purchase through links on our site, we may earn commission.
8 best safety razors that will help you boss your grooming regime
Bin the disposables and side with tradition to get the closest shave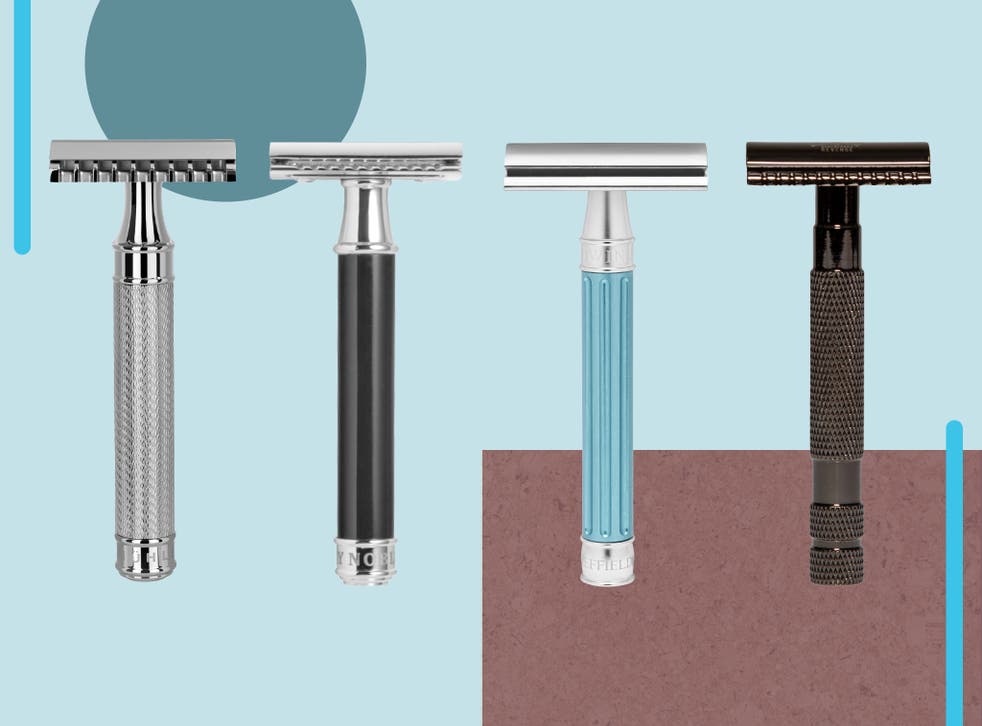 It may be one of the oldest grooming tools on the market but with the current emphasis on mindfulness and plastic-free grooming, the humble safety razor couldn't be more "now" if it tried. Choose wisely and one will last you years, helping you save money – and the planet – in the process.
Occupying the middle ground between cutthroat razors (scary) and multi-blade cartridge razors (convenient but often tough on the skin) they're the perfect – and most stylish – option for anyone wanting to take their shaving experience to the next level.
What's more, they deliver an exceptionally close shave, and because only one blade is in contact with the skin at any one time, they're ideal for men susceptible to razor bumps, sensitivity and irritation.
Unlike disposable razors, whose blades are guarded and angled for a safer shave, though, the safety razor blade is sharper and more exposed, so you need to be a little more mindful with your technique.
"You cannot afford to rush your shave like you can with some disposable razors," says professional wet shave expert Mark Sproston aka The Shave Doctor. He recommends holding the razor handle almost upright so the curved part of the metal cover can slide and glide down your face more smoothly.
Read more:
He adds: "Make sure you chose a razor with a decently weighted handle – if it's too light and you have a strong beard the blades will tend to bounce over the hair causing pulling and snagging – and shave with slow, controlled strokes, letting the weight of the razor do the work rather than pressing too hard."
Perfect your technique and protect your investment (Sproston recommends keeping your razor and blades dry by patting them with a towel after each shave) and your razor won't just deliver unbeatably smooth results, it'll last as long as you do too. Possibly longer.
You can trust our independent reviews. We may earn commission from some of the retailers, but we never allow this to influence selections, which are formed from real-world testing and expert advice. This revenue helps us to fund journalism across The Independent.
The best safety razors 2021:
Barbarossa Brothers matt black P1R8 safety razor
Best: Overall
Thanks to a uber-cool matt black finish, Barbarossa Brothers' P1R8 brass razor looks like something Kylo Ren might use to keep errant stubble in check. The "butterfly opening" makes blade swapping simple (you just twist the base of the razor and the "doors" of the blade casement open to allow access to the blade), while the weighty, textured handle ensures a firm grip and it delivered a superb shave from several different angles. It's great value for money given its stylish appearance and is perfect for beginners and experts alike.  A matching matt black stand is available too which really makes it look like something from Star Wars.
The Bluebeards Revenge cutlass double edge safety razor
Best: For butter fingers
This is a bestseller from British brand Bluebeards Revenge – who specialise in no-fuss, barber-grade grooming gear. It's a solid, reliable safety razor featuring an open tooth comb on the edge of the head to help align whiskers for cutting, a beautifully knurled handle (along with the Barbarossa Brothers' razor below it offered the best grip of all the razors we tested) and the brand's cool skull and crossbones logo laser etched on the head. The unusual gunmetal finish and a lifetime guarantee seal the deal.
Aesop double-edged razor
Best: For traditionalists
Fans of cult skincare brand Aesop will love this beautifully weighted British made razor with its faux ivory, lathe-turned handle. Smooth, polished and beautifully weighted, it exudes old-fashioned barbershop charm and offers a completely different tactile feel to the other razors here.
Instead of traditional knurling, grip is provided by the curvaceous ergonomic handle design and the metal collar, and it turned shaving into an almost sensual experience. Well, as sensual as shaving can be anyway.
Percy Nobleman safety razor
Best: For travel
Simple, sleek and compact, Percy Nobleman's take on the safety razor sees a brass handle given a chrome and black acrylic coating, while the razor's head is made of durable zinc alloy. The shave is close and smooth but the lack of a textured grip means it's a little slippier in the hand – especially when covered in water and shaving cream. Looks the biz, though, is a great size for travel and comes at a great price for beginners.
Wilkinson Sword classic double edge safety razor
Best: Entry-point razor
Great value and from a trusted brand, Wilkinson Sword's elegant offering delivers everything you need from a traditional safety razor – and for a great price. What's more, the slightly longer handle (it's a full 10cm) means it's particularly good for those with larger hands and men with sausage fingers, while the butterfly opening mechanism makes blade changing a cinch. Perfect for safety razor virgins and for those on a budget.
King C. Gillette double edge razor
Best: No-frills razor
Taking things back where they all began – the first commercially available safety razor was launched by King Camp Gillette back in 1901. Gillette's homage to the razor that revolutionised how men shaved is simple by design (it's not as fussily patterned as some of its competitors), is nicely weighted and its closed combed head minimises the risk of nick and cuts. It delivered a great shave but feels a little more basic than similarly priced competitors.
Edwin Jagger 3ONE6 stainless steel blue DE safety razor
Best: For bigger budgets
For tradition with a twist you can't beat this slimline British-made razor, which manages to look super traditional and modern all at once. It's a combination of craftsmanship and eye-catching design, made of the finest Sheffield steel and the fluted handle comes in a host of cool colours – from metallic blue to pink, orange, red and yellow.
Best of all, it's designed to be used from a variety or angles and a subtly ridged outer guard gently stretches the skin in readiness for the blade. It provided the quickest shave of the razors we tested and was unbeatable for ease of use.
Muhle R41GS traditional open comb safety razor
Best: For experienced users
The daddy of safety razors in every way (it's thicker, heavier and pricier than the others featured here) Muhle's new R41GS is the "grande" version of their best-selling R41 razor. Made of corrosion-resistant stainless steel it's been specifically designed to tackle thick, dense growth. It's beautiful to hold and slices through stubble a treat, but because its "open comb" design facilitates a slightly more "aggressive" blade-to-skin shave you'll need to have perfected your technique to get the most out of it. One for safety razor aficionados.
The verdict: Safety razors
Given that shaving with a safety razor takes a bit of getting used to and that the quality of the shave largely depends on the skill of the user, it makes sense to start with something affordable but stylish enough to make you actually want to use it. That's exactly why Barabarossa Brother's matt black razor eventually won out.
Don't overlook Edwin Jagger's 3ONE6, either. Delivering on both style and substance, only its slightly higher price point prevented it from topping our list. We'd go as far to say it was a cut above almost everything else, if it wasn't for the fact that given the smooth shave it delivered, "cut" would be the least appropriate word possible.
Mulhe's R41GS, on the other hand, is the perfect choice if you're familiar with safety razors and want to upgrade to something from one of the world's most reputable shaving brands.
Voucher codes
For offers on beard trimmers and other grooming products, try our discount code pages:
Maintain your look with the 8 best beard trimmers to keep your facial hair under control
Register for free to continue reading
Registration is a free and easy way to support our truly independent journalism
By registering, you will also enjoy limited access to Premium articles, exclusive newsletters, commenting, and virtual events with our leading journalists
Already have an account? sign in
Register for free to continue reading
Registration is a free and easy way to support our truly independent journalism
By registering, you will also enjoy limited access to Premium articles, exclusive newsletters, commenting, and virtual events with our leading journalists
Already have an account? sign in