The 50 Best breakfast spots
The 50 Best breakfast spots

Show all 27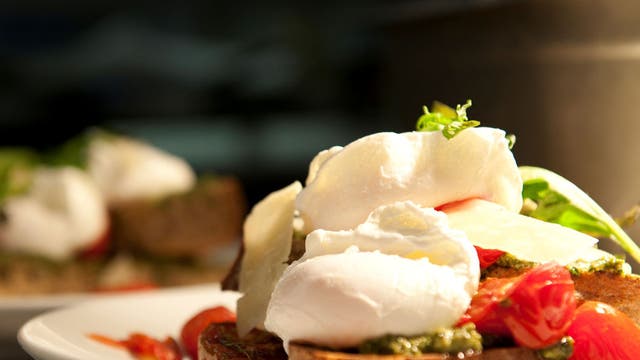 From glorious greasy spoons to chic coffee bars, Rhiannon Batten picks the cafés and restaurants offering Britain's tastiest rashers and poshest pancakes
This week's panel:
Jo Tinsley runs www.theloveofit.co.uk;
Ginny Light is founder of the www.mueslilover.com blog;
Lulu Grimes is food director of 'BBC Good Food' magazine (www.bbcgoodfood.com) and 'olive' magazine (www.olivemagazine.co.uk);
Anna Louise Batchelor is a sustainable food adviser and editor of the "Porridge Lady" (www.porridgelady.co.uk);
Seb Emina is editor-at-large of 'The London Review of Breakfasts' (londonreviewofbreakfasts.blogspot.com) and author of 'The Breakfast Bible' (published summer 2012, Bloomsbury)
1. The Regency
"If you've any doubts that the country should be run like a greasy spoon, this 55-year-old queen of traditional caffs will quickly convert you," promises Seb Emina. "Plate after plate of fried comfort food finds its rightful owner by way of a single booming voice. It works – in a way that democracy never will."
Where: 17-19 Regency Street, London, SW1P 4BY (020-7821 6596)
2. St Ali
Clerkenwell is something of a hot spot for breakfast joints, says Ginny Light. "Coffee is king and the dishes have a distinctly Antipodean twist. At St Ali, they even roast their own coffee beans. The sweetcorn fritters are a house speciality, together with kasundi, a homemade spiced tomato chutney that goes beautifully with haloumi, or homemade banana bread with espresso marscapone." Also recommended by Lulu Grimes and Seb.
Where: 27 Clerkenwell Road, London, EC1M 5RN (www.stali.co.uk)
3. What the Dickens?
"If you like your food dished up by a trio of tweedy besuited gents, which I do, then this is the breakfast for you," states Jo Tinsley. "Newbies on the festival circuit, and currently residing at Chatsworth Road Market, What the Dickens? revels in iconic British grub such as kedgeree and devilled kidneys – a Victorian breakfast of lamb's kidneys, Worcestershire sauce, ketchup, mustard and cayenne pepper on toast.
Where: Chatsworth Road Market, London, E5; Sundays 11am to 4pm (whatthedickensfood.com)
4. The Wolseley
An institution among the capital's breakfast-lovers, this atmospheric 1930s-style brasserie has one of the most comprehensive – albeit traditional - breakfast menus in the capital. With choices running the full spectrum from pink grapefruit, Bircher muesli or porridge through to eggs Benedict, kippers or kedgeree, you should find something to suit here. Book in advance if you want to be sure of a table.
Where: 160 Piccadilly, London, W1J 9EB (020-7499 6996; www.thewolseley.com)
5. Ginger & White
"This cute neighbourhood café serves the best-dressed eggs in London – each boiled egg comes with its own woolly hat," says Ginny. "The coffee is superb – nutty, smooth and expertly prepared with a latte-art top. The home-braised beans and signature mackerel and bacon club sandwich are also big sellers."
Where: 4a-5a Perrins Court, London, NW3 1QS (020-7431 9098; www.gingerandwhite.com)
6. Ottolenghi Islington
Described by Jo as "quite possibly the coolest breakfast in the Big Smoke", Ottolenghi boasts "a long white communal dining table decked out with orange and red toast-your-own-toasters dangling from curly electric cables." Its cinnamon French toast (made with brioche and served with berry compote) is "a thing of wonder", she adds.
Where: 287 Upper Street, London, N1 2TZ (020-7288 1454; www.ottolenghi.co.uk)
7. Pierreponts
"After a dip in the Thames, I head here for a second breakfast of locally baked bread (by the Bun House Bakery) smothered with local honey," says Anna Louise Batchelor. "With a lovely location and imaginative menu, this is a great spot for a lazy brunch."
Where: High Street, Goring-on-Thames, Berkshire, RG8 9AB (01491 874464)
8. Riding House Café
"If Don Draper lived in contemporary London, he'd eat his breakfast at the amazing Riding House Café," muses Seb. "After collapsing on to red banquet seating, he'd order a Bloody Mary and eggs Hussarde (with tomato, ham, spinach, Bordelaise and hollandaise) before being thrown out for smoking."
Where: 43-51 Great Titchfield Street, London, W1W 7PQ (020-7927 0840; www.ridinghousecafe.co.uk)
9. Bill's Café
Based in an old bus depot "with lovely high ceilings and floor-to-ceiling shelves full of lovely things to stock your larder with", the menu here is "full of the fare of Sussex, including a cracking bubble and squeak with fried eggs", says Jo.
Where: The Depot, 100 North Road, Brighton, East Sussex, BN1 1YE (01273 692894; www.bills-website.co.uk)
10. Workhouse Coffee Company
The best coffee Anna has ever drunk has been at WHC. "They source, import and roast their own and build your coffee the way you ask. Perfect for morning quick fix or, for me, a long lazy café au lait at brunch time."
Where: 10-12 King Street, Reading, Berkshire, RG1 2HF (www.workhousecoffee.co.uk)
11. The Counter Café
Described by Seb as the "sacred homeland of the art-world hipster", Hackney Wick, he says, "plays host to a unique mix of Olympic cement and ironically worn NHS glasses. The Counter Café unites it all through the medium of great coffee and a rare line in properly made scrambled eggs." Lulu recommends its sister branch, the Container Café at the View Tube. "We've been going for years, watching the various Olympic arenas go up and now Anish Kapoor's ArcelorMittal Orbit tower. The bacon baguette with tomato chutney is a good chunky breakfast option."
Where: 7 Roach Road, London, E3 2PA (07834 275 920; www.thecountercafe. co.uk; www.theviewtube.co.uk)
12. Jasins Café
If you like your surroundings to be as appetising as your food, Lulu recommends this Riba-award-winning timber and glass café right on the end of Deal pier. "It's beautiful," she says, "rather like sitting in a whale skeleton. Breakfast is busy. Order the full English and expect to be defeated. Possibly."
Where: The Pier, Beach Street, Kent, CT14 6HZ (01304 366820; www.jasinsrestaurant.com)
13. Corner Bistro
With hanger steak, bubble and squeak and fried egg, or a full Devonshire on the menu here, the truly hungry won't stay so for long, says Lulu. It's a "laid-back place with the kind of suppliers' list that shows you how much they care", she adds.
Where: 8 The Square, Braunton, Devon, EX33 2JD (01271 813897; www.thecornerbistro.com)
14. St Werburghs Café
Deep within Bristol's St Werburghs district, next to the city farm, you'll find "a building made from organically shaped, gnarly wood, surrounded by allotments", says Jo. "Run by a principled but laid-back team, the café dishes up good wholesome, locally sourced food, including bacon from the farm's own pigs." Anna also recommends the Better Food Company Café, just around the corner (www.betterfood.co.uk).
Where: Watercress Road, Bristol, BS2 9YJ (0117-942 8241; www.swcityfarm.co.uk)
15. Lifebuoy Café
Traditional Cornish hogs pudding and fresh farm eggs are among the locally sourced breakfast highlights in this vaguely nautical establishment, says Seb. "Recently installed owners, Mike and Cathy, are strong believers in a hearty, homely breakfast."
Where: 8 Lostwithiel Street, Fowey, Cornwall, PL23 1BD (07715 075869; www.thelifebuoycafe.co.uk)
16. Hive Beach Café
This rustic locale takes beach dining "up a notch on the sophistication scale", says Ginny, "although you can still enjoy your eggs with sand between your toes." The Breakfast Club (10-11.45am) offers a set menu for £8.95, with choices including eggs Benedict, blueberry scotch pancakes and Loch Fyne kippers."
Where: Beach Road, Burton Bradstock, Dorset, DT6 4RF (01308 897070; www.hivebeachcafe.co.uk)
17. Winking Prawn
According to Lulu, this place is "great for families. You order at the counter, eggs come cooked to order and everything else is out for you to help yourselves. Which means no moaning while anyone waits for anything. It's in a converted 1920s prefab beach hut – all shutters, sea blues and seaside-looking."
Where: North Sands, Salcombe, Devon, TQ8 8LD (01548 842326; www.winkingprawn.co.uk)
18. The Bristolian
"This Bristol institution, opposite the surreally colourful Magpie Art Squat in the bohemian neighbourhood of Montpelier, beckons you in with great big mugs of tea, a choice of all-day breakfasts and a kaleidoscope of quirky murals," says Jo. "The benches outside, in a little cobbled suntrap, are the perfect place to meet and greet your neighbours as they slowly wake up on a Sunday afternoon."
Where: 2 Picton Street, Bristol BS6 5QA
19. River Cottage Canteen
With Hugh Fearnley-Whittingstall as its poster boy, this Devon café has a lot to live up to. And it does. Drop in for breakfast and you can take your pick from a range of no-nonsense, affordable dishes made with quality ingredients. Rare-breed streaky bacon baps, Dorset mushrooms and poached egg on toast, oaty drop scones with honey and butter and yoghurt and fruit compote topped with homemade granola are popular – or order the "blood cake" on toast if you're feeling adventurous. A second branch opens in Plymouth this month.
Where: Trinity Square, Axminster, Devon, EX13 5AN (01297 631862; www.rivercottage.net)
20. Venus Beach Café
"Variations on the full English abound here," states Ginny. "The ingredients are locally sourced, many of them organic, and vegetarians are well catered for with organic vegan sausages and vine tomatoes. It's served in a card box so you can take it on to the beach for breakfast by the breaking waves."
Where: Blackpool Sands, Stoke Fleming, Devon, TQ6 0RE (01803 770209; www.lovingthebeach.co.uk)
21. Ego Café
This modern, fun bistro serves "a killer weekend brunch", says Ginny, "even if it's a little succinct on the menu choices. The full English features much of the produce that has made this region a foodie mecca, while the smoked salmon and scrambled eggs offer a lighter choice."
Where: Quality Square, Ludlow, Shropshire, SY8 1AR (01584 878000; www.egocafebar.co.uk)
22. Lavender Bakehouse
The Gloucestershire village of Chalford made the news in 2008 when it reintroduced donkeys to deliver groceries to locals living in particularly steep, car-unfriendly corners of the village. Jo recommends popping into this café after watching the spectacle, for "locally cured smoked bacon and lavender marmalade with local bread". Expect "beautiful decor and crockery, and an upstairs gallery", she says.
Where: 20 London Road, Chalford, Gloucestershire, GL6 8NW (01453 889239; www.lavenderbakehouse.co.uk)
23. Deepdale Café
Don't let the unassuming location, next to a petrol station, put you off this place, warns Ginny. "It is so popular you need to book ahead for breakfast. First sitting tends to be the campers, there to warm up over coffee and porridge with fresh figs after a night under canvas. Next come the weekenders for build-your-own breakfasts and locally smoked fish."
Where: Main Road, Burnham Deepdale, Norfolk, PE31 8DD (01485 211055; www.deepdalecafe.co.uk)
24. Farmcafé
A popular stop-off for regular visitors to the Suffolk coast, not to mention in-the-know locals, this roadside farm shop and café, has a pleasant garden for summer breakfasts and a cosy log fire for warming wintry ones. It serves, and sells, a great range of local produce and its breakfasts are some of the best in the area, with everything from fresh pain au chocolates to devilled kidneys up for grabs.
Where: On the A12, Marlesford, Woodbridge, Suffolk, IP13 0AG (01728 747717; www.farmcafe.co.uk)
25. The Old Parsonage Hotel
With its low ceilings, open fireplaces and rural charm, this pretty stone building, dating from the 17th century, makes an atmospheric setting for breakfast. The breakfast buffet is open to both residents and non-residents. Ginny recommends it for "its pretty fruit and yoghurt pots in kilner jars and homemade granola, and fry-ups to order featuring Oxfordshire sausages."
Where: 1 Banbury Road, Oxford, OX2 6NN (01865 292305; www.oldparsonage-hotel.co.uk)
26. The Alley Café
Serving fresh, organic, vegetarian and vegan food with flair, this Nottingham café and bar is one of the best of a new breed of arty hangouts to have opened in the city in recent years. Not one for early risers (it doesn't open until 11am), it's a good brunch option, with choices ranging from omelettes to full veggie breakfasts.
Where: Cannon Court, Long Row West, Nottingham, NG1 6JE (0115-955 1013; www.alleycafe.co.uk)
27. Fodder
Set on Harrogate's Great Yorkshire Showground and with profits re-invested in the local community, not only can you buy some of the best local produce here but there's also a pleasant on-site café serving everything from Yorkshire rarebit to afternoon tea. It also does a mean breakfast. Tuck into organic porridge, a smoothie of the day or opt for the full Yorkshire – bacon, sausage, egg, tomato, mushrooms and black pudding.
Where: Great Yorkshire Showground, Harrogate, North Yorkshire, HG2 8NZ (01423 546111; www.fodderweb.co.uk)
28. Hipping Hall
According to Ginny, this Cumbrian manor house is a foodie hot spot thanks to its imaginative evening menu – it even featured in BBC2's The Trip. "But breakfast is a treat, too, and open to non-guests. It's served in the double-height 15th-century hall, with its vast fireplace and oak beams, and includes a full English of almost entirely local produce, plus smoked salmon and scrambled eggs, poached haddock and boiled egg and soldiers."
Where: Cowan Bridge, Kirkby Lonsdale, Cumbria, LA6 2JJ (01524 271187; www.hippinghall.com)
29. The Quarter
Lulu rates this Liverpool restaurant for its Cumberland sausage bap and scrambled eggs. "It also operates a deli, selling homemade cakes and local produce among other things, so you can do a spot of shopping as well," she adds.
Where: 7 Falkner Street, Liverpool, L8 7PU (0151-707 1965; www.thequarteruk.com)
30. Fusion Organic Café
Eating here is as much about the ethos as the food (though with homemade Welsh rarebit and bacon rolls made with bread straight from the on-site bakery, you shouldn't be disappointed). Set in the Butcher Works, a Grade II-listed former cutlery factory, the café shares the site with the Academy of Makers, an educational trust based around a community of artists and craftspeople. It also offers work placements to students through the educational trust.
Where: 72 Arundel Street, Sheffield, S1 2NS (0114-252 5974; www.academyofmakers.co.uk)
31. Tebay Services
This family-run service station isn't your average motorway pit stop, says Jo. "Run by a local farming enterprise, Westmorland, these guys are proud of the Lake's larder and were recently crowned 'Breakfast Champion of the North West'." If you don't want to eat in, grab something to go from one of the on-site farm shops or cafés. Anna also recommends Tebay Services, for "bacon butties made with local, farm-reared animals, to high-quality coffee."
Where: Between J38 and J39 on the M6, Cumbria (01539 624511; www.westmorland.com)
32. Trof
This intimate live music venue-cum-bar cum-all-day caff was the first in a small local chain. Thankfully, it's lost none of its charm as the company has expanded. Go for a leisurely weekend breakfast and relax with the papers over poached eggs on toasted sourdough, homemade crumpets or the full "royal" fry-up.
Where: 2a Landcross Road, Manchester, M14 6NA (0161-224 0467; www.troffallowfield.co.uk)
33. Little Salkeld Watermill
Anna describes this magical cafe as her "all-time favourite breakfast spot. They serve my favourite Mornflake oatmeal porridge and the biggest wedges of toast you have ever seen, milled and baked on the premises. But leave some room for brunch and the greatest hot chocolate you've ever had."
Where: The Watermill, Little Salkeld, Penrith, Cumbria, CA10 1NN (01768 881523; www.organicmill.co.uk)
34. The Settle Down Café
This friendly, arty café close to Newcastle's Central Station does a simple, affordable line in breakfasts. Current choices range from porridge to bacon sandwiches but watch this space as there are plans afoot to launch an expanded breakfast menu.
Where: 61-62 Thornton Street, Newcastle, NE1 4AW (0191-222 0187; www.thesettledown.com).
35. Village Bakery
"Established by Andrew Whitley, the founder of the Real Bread Campaign, you would expect the toast here to be good and you won't be disappointed," states Anna. "Order the Inverawe kippers too and you will be set for the day."
Where: Lazonby, Penrith, Cumbria, CA10 1BG (01768 898437; www.village-bakery.com)
36. Toast
This bright neighbourhood bistro "serves a great full breakfast (note the absence of the word 'English'), complete with Stornaway black pudding", says Lulu. "You can build your own breakfast roll, and it does a good veggie breakfast too."
Where: 146 Marchmont Road, Edinburgh, EH9 1AQ (0131-446 9873; www.toastedinburgh.co.uk)
37. Hendersons
Its breakfasts may not be quite as inventive as those served at the city's Urban Angel outlets (www.urban-angel.co.uk), but this old Edinburgh stalwart still has a loyal following. It's Anna's first point of call in the capital whenever she has a "stop-over" on a train journey to the Highlands. "Serving porridge and their own bread for toast, Hendersons is the healthy eating spot in the city," she says.
Where: 94 Hanover Street, Edinburgh, EH2 1DR (0131-225 2131; www.hendersonsofedinburgh.co.uk)
38. University Café
Your arteries won't thank you if turn up at this Glasgow student favourite too regularly. First opened in 1918, much of the decor here looks as if it hasn't been updated since, with wood panelling, mirrored walls and a touch of the fairground about it. The menu isn't sophisticated, and it's unlikely your eggs will be free-range or your sausages made from rare-breed pork but it's fun for an occasional, hangover-busting blowout.
Where: 87 Byres Road, Glasgow, G11 5HN (0141-339 5217)
39. Stoats Porridge Bar
This mobile porridge outfit, a regular fixture at Castle Terrace Farmers' Market in Edinburgh, goes from strength to strength. The lure, according to Ginny, is "wholesome Scottish oats, and local recipes like cranachan – a swirl of raspberries, honey and cream sprinkled with toasted oats – or the punchier whisky and honey, that other great Scottish combination."
Where: Castle Terrace, Edinburgh, EH1 2DP; 9am to 2pm every Saturday (www.stoatsporridgebars.co.uk)
40. The Butterfly & the Pig
The upstairs tearoom at this central Glasgow hangout has oodles of charm, and an imaginative breakfast menu. Take a pew at one of its salvaged wooden tables and tuck into porridge, French toast, Scotch pancakes, kippers or poached egg on toast with crispy bacon, all served on cute vintage crockery.
Where: 151 Bath Street, Glasgow, G2 4SQ (0141-243 2459; www.thebutterflyandthepig.com)
41. Mountain Café
"If you're in Aviemore, you're probably tackling the great outdoors – the perfect excuse for a hearty breakfast at the Mountain Café," surmises Ginny. "It's above an outdoorsy shop and sells cracking coffee, cakes, and deliciously crafted local produce. Scottish smoked salmon from the nearby River Spey is a must, or there's a cranberry, apple and white chocolate pancake stack for the sweet-toothed."
Where: 111 Grampian Road, Aviemore, PH22 1RH (01479 812473; www.mountaincafe-aviemore.co.uk)
42. Corrour Station House
Take the sleeper train up to Scotland (or the West Highland Line if you're starting north of the border), get off at Corrour and, before striking out for a day's hiking around Rannoch Moor, fuel up on a quality bacon buttie or a full fry-up at the station café, part of the SYHA's Corrour Station House Hostel. Or make a weekend of it and hike over to Loch Ossian hostel for the night. Best to call in advance; the café closes in November and then opens intermittently until April.
Where: Corrour Station, Inverness-shire, PH30 4AA (01397 732236; www.syha.org.uk)
43. Gloagburn Farm Coffee Shop
A handy morning pitstop for anyone facing a long drive north or south, this is set just off the A9 west of Perth. As homely as you'd expect of a farm-based café, the breakfast staples here – porridge, bacon and eggs, eggs Benedict – are all homemade from good local produce. If you've got a strong stomach, plump for the Gloagburn bacon roll, served with egg and banana chutney.
Where: Gloagburn Farm, Tibbermore, Perth, PH1 1QL (01738 840864; www.gloagburnfarmshop.co.uk)
44. The Harbourmaster
Open to non-guests as well as overnighters, this waterside hotel and restaurant does some of the best breakfasts in west Wales. Options include porridge with local honey, Rhydlewis smoked salmon and scrambled eggs and the full Welsh monty. Just the thing to fuel up before a hearty coastal walk.
Where: Pen Cei, Aberaeron, Ceredigion, SA46 0BT (01545 570755; www.harbour-master.com)
45. Ramon's
"This greasy spoon in the heart of Cathays, Cardiff's student village, has saved the lives of many a hungover undergrad (myself included)," admits Jo. "Many of the meals need two plates. Their no-nonsense, all-day breakfast come with four eggs, sausages and bacon, six hash browns, two black puddings, lashings of beans and tomatoes, four slices toast and four slices of French toast, with a mug of tea, all for around £6."
Where: 64 Salisbury Road, Cardiff, CF24 4AD (029 2023 0533)
46. Milgi Lounge
With a (vegetarian) menu sourced, as far as possible, from local farms, it's no surprise that this Cardiff gallery-cum-café-bar has won a wide following since it opened five years ago. It doesn't open until 11am so you're talking brunch territory rather than breakfast but eating here is worth the wait. Choices include cinnamon French toast, bubble and squeak cake with sourdough, dill scrambled eggs and a full veggie blowout.
Where: 213 City Road, Cardiff, CF24 3JD (029 2047 3150; www.milgilounge.com)
47. Pete's Eats
An institution among Snowdonia hikers, Pete's Eats serves up basic, hearty food in big portions. You're probably not going to find toast made with artisan bread or organic granola on the menu anytime soon but, for those with mountains to climb, you'll find great morning comfort food in the shape of muesli with banana and milk, bacon sandwiches, omelettes and fry-ups.
Where: 40 High Street, Llanberis, Gwynedd, Caernarfon, LL55 4EU (01286 870117; www.petes-eats.co.uk)
48. Swansea Market
According to Jo, a Welsh breakfast is one of the finest meals ever invented, "and the south Wales coast is one of the best places to sample one of its more unusual ingredients. Laverbread, the Welshman's caviar, is made from seaweed that's been boiled, and is best eaten fried up into cakes and dished up with bacon and cockles." For the real deal, swing by Swansea Market she says, and take your pick from one of the cockle stalls. "If you don't fancy cockles, a slice of Welsh rarebit should set you up for the day."
Where: Swansea Indoor Market, Oxford Street, Swansea, SA1 3PQ (01792 654296; www.swanseaindoormarket.co.uk)
49. Laguna Kitchen and Bar
Lulu describes the restaurant at Cardiff's Park Plaza as a "civilised" place for breakfast in the city. Open to non-residents as well as hotel guests, "tables overlook the river and, if it's nice, you can sit outside. It has the usual run of breakfast choices, good scrambled eggs (rather than dodgy hotel ones) and nice linen."
Where: Greyfriars Road, Cardiff, CF10 3AL (02920 111 103; www.lagunakitchenandbar.com)
50. The Angel Hotel
If you're looking for something more sophisticated than your typical greasy spoon can offer, this former Georgian coaching inn offers everything from French toast with bacon and maple syrup to homemade granola. Traditional fry-ups are available, too, albeit made with carefully sourced local ingredients, and non-guests are welcome.
Where: 15 Cross Street, Abergavenny, Monmouthshire, NP7 5EN (01873 857121; www.angelabergavenny.com)
Next week: Winter reads
IndyBest product reviews are unbiased, independent advice you can trust. On some occasions, we earn revenue if you click the links and buy the products, but we never allow this to bias our coverage. The reviews are compiled through a mix of expert opinion and real-world testing.