The Independent's journalism is supported by our readers. When you purchase through links on our site, we may earn commission. Why trust us?
10 best Scandinavian beers
Unashamedly strong and always innovative, these are the Nordic tipples helping to lead the Brew World Order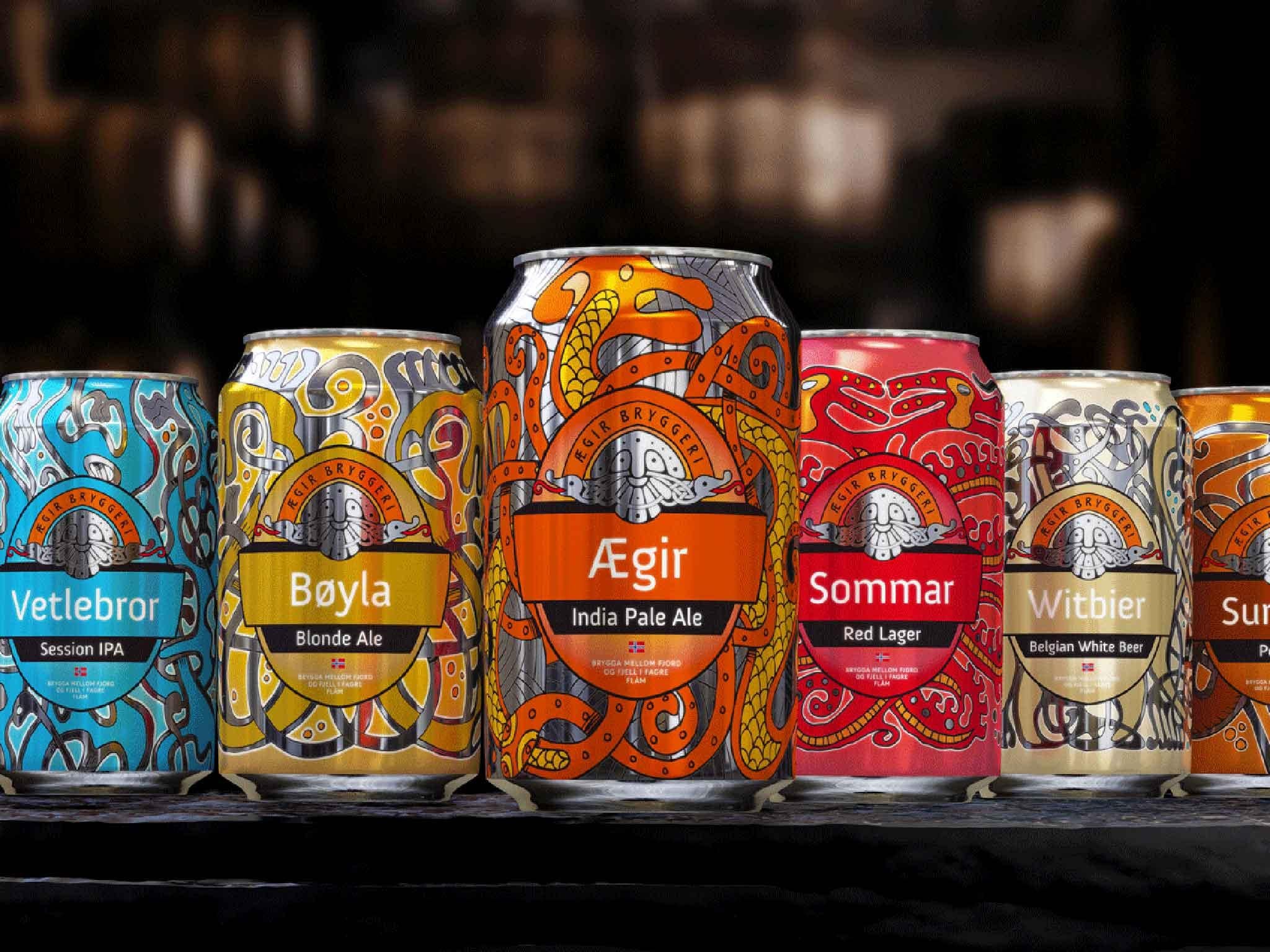 It wasn't long ago that Carlsberg and Tuborg dominated the Danish brewing scene, with any smaller breweries merely lager copycats. So the prospect of Denmark becoming a global craft beer trendsetter seemed unlikely. But discerning Scandinavian drinkers began to discover the beery delights produced by their European neighbours, along with the modern, adventurous flavours delivered by American breweries, and began to experiment with their own home brews. Desperate to move away from familiar lagers, a new brewing movement emerged.
The most famous of this new wave of Danish breweries is undoubtedly Mikkeller, founded by a teacher who used his school's facilities to explore various brewing techniques, and went on to borrow other breweries' equipment – and their brewers – to produce a vast range of beers. This rent-a-brewery method, often referred to as "gypsy brewing", allowed Mikkeller to continue to experiment without having to worry about the cost and maintenance of running its own brewery and unusual ingredients such as seaweed, avocado leaves and Vietnamese weasel droppings (yes, really) found their way into the beers.
Now Mikkeller, and other breweries throughout Denmark, Sweden and Norway, are among the most influential on the planet, making Scandinavia one of the most important regions in the new brew world order.
This list displays a small selection of the huge range of styles (many of them high in alcohol) produced throughout the three Scandi nations – an ever evolving scene whose disciples are still determined to produce anything but bland lager…
1. Stigbergets West Coast IPA, 6.5%: £4.90 for 330ml, Beer Merchants
Stigbergets is a brewery from Sweden's second largest city, Gothenburg, situated on the country's west coast, hence the name, and this beer is like the hazy IPAs common to America's east coast. It's a dense, foggy, orange brew with a thick, slippery texture and a whole heap of heady hop flavours and aromas. It's the kind of beer that will have note takers playing tropical fruit lucky dip: pineapple, mango, tangerine and lime might all be recalled but, to us, no one flavour is obvious. Instead it has summoned an exotic fruit salad experience all of its own. An exceptional piece of modern brewing.
2. Lervig Aktiebryggeri 3 Bean Stout, 13%: £5.60 for 330ml, Beer Gonzo
Norwegian brewery Lervig likes doing things to the maximum, producing beers at high strengths that are crammed with flavours. For this silky smooth 13 per cent imperial stout it worked with the Brazilian Way Brewery to conjure up one of the most talked about beers in recent years. Anyone who is worried about what trio of beans might be involved can relax – they're the stout friendly vanilla, cocoa and tonka, the latter a wrinkly black legume that lends flavours of liquorice and clove to the heady mix. It's a darkly delicious, thick and sticky beer, quite unlike anything else around, and well worth braving the booziness to savour.
3. Mikkeller SpontanBerliner Passionfruit, 4.4%: £6.50 for 375ml, Beer Gonzo
Mikkeller regularly brews over 100 different beers a year, with most of them being one-offs, so if you find one you like, stock-up. Among our favourites is this Berliner-style weisse, loaded with passion fruit. In order to get to the tropical flavours, your taste buds have to battle through some serious sourness – acetic and puckersome but manageable enough to make you instantly crave more. The fruit is complementary, rather than dominant, and the malt and hop notes are very much kept in the background. It's an unusual beer well worth investigation – and if you're out of luck when it comes to ordering some, you'll find another Mikkeller sour on its way that will be every bit as good.
4. Omnipollo Mazarin, 5.6%: £4.95 for 330ml, Beer Merchants
Sweden's Omnipollo has conjured up some curious creations (seek out its Ice Cream Pale collaboration with Buxton Brewery that actually tastes like vanilla ice cream alongside plenty of modern, refined classics such as this American pale ale. It smells and tastes like a hopped up alcoholic squash, a simple affair with a flicker of sweet lemon and a fair amount of pithy bitterness that's designed to refresh and invigorate rather than pummel the senses.
5. Brewski Mangofeber DIPA, 8%: £4.70 for 330ml, Beer Gonzo
East coast Americans have been drinking fruit-laden double IPAs like this for ages, but when Swedish outfit Brewski launched Mangofeber a few years ago the style was much less common in Europe. It's a hazy, straw-coloured ale which has a lightness and perky effervescence that belies its high alcohol content, and is the perfect carrier for the fruity flavours. As you would expect, there's plenty of mango to be enjoyed, which combines neatly with the citrussy hops on show. There's also a forceful prod of herby bitterness, helping to give it a beery depth to counteract that fruity melange. A brilliant Swedish translation of a popular American style.
6. Nøgne Ø Imperial Brown Ale, 7.5%: £5.99 for 500ml, Beer Hawk
Nøgne Ø is another Norwegian brewery with a boozy streak, regularly producing beers that hit double figure ABVs, so at 7.5 per cent this brown ale seems relatively restrained. It pours a murky chestnut colour and contains some nuttiness that muscles in on the sweet and toasty malts. The hops are less showy but do provide some dark fruit and earthy notes common to English brown ales and the citrussy flavours of their American relatives. It's a luscious, rich and easy supping brew, with that Norwegian booziness to provide some cockle-warming comfort.
7. Dry and Bitter Hobo Chic, 8%: £4.29 for 330ml, Beers of Europe
Another strong beer, but this Danish imperial IPA is a study in bitterness – it's so loaded with hops you could be forgiven for thinking you're drinking juice direct from the plant's cones. While there are some sweet, juicy fruit flavours present it's mostly full of a herby, woody and pithy bitterness that etches its way into your senses, refusing to leave, while a dryness steadily builds. Another strange Scandinavian beer that's well worth exploring.
8. To Øl Blossom, 6.3%: £3.49 for 330ml, Beer Hawk
This wheat beer is light in colour but has a full body that's laced with boozy sweetness. It has been primed for fruity bitterness with four hop varieties, but there's also an unusual dry herbiness milling around, which could be down to the hawthorn and raspberry leaves included in the recipe. But, as with the four flowers also in the mix – cornflower, marigold, rose and hibiscus – you would struggle to pick out their specific flavour profiles; instead they all blend together to create a clean tasting beer of wonderful complexity.
9. Brekeriet Rhuboise, 6%: £5.50 for 330ml, Beer Gonzo
Rhubarb and raspberry is an acidic pair of ingredients, which Brekereit has chucked into a beer fermented with the unpredictable Brettanomyces yeast, to produce some predictably tart results. Just one swig is enough for the funky flavours to awaken your senses, energised by a shot of sweetness before showing a more mellow and dry side. There's also an undercurrent of vanilla and spice, which gives it something of a barrel-aged feel, and lifts it way beyond the realms of a standard fruit flavoured ale.
10. Aegir India Pale Ale, 6.5%: £2.49 for 330ml, Beers of Europe
Brewed in Flåm, Norway, Aegir's IPA is a popular beer very much in the "west coast hoppy" mould. Although American in style, it tastes as if it could come directly from the Norwegian forests, with powerful, resinous flavours of fresh spruce and pine. There's some sticky orange sweetness thrown in for good measure and, although the finish is distinctively bitter, it falls just short of a full on astringent assault, helping it appeal to a large audience.
The Verdict: Scandinavian beers
This is one of the more unusual, and strongest, selections of beers we've featured and we're suggesting Stigbergets West Coast IPA is the perfect place to start for your Scandinavian beer adventure.
Nick Moyle is one half of the Two Thirsty Gardeners. Their book, Brew it Yourself, is out now