10 best bread-making tools
Pippa Bailey celebrates the return of 'The Great British Bake Off' with kit to help you rival Paul Hollywood's creations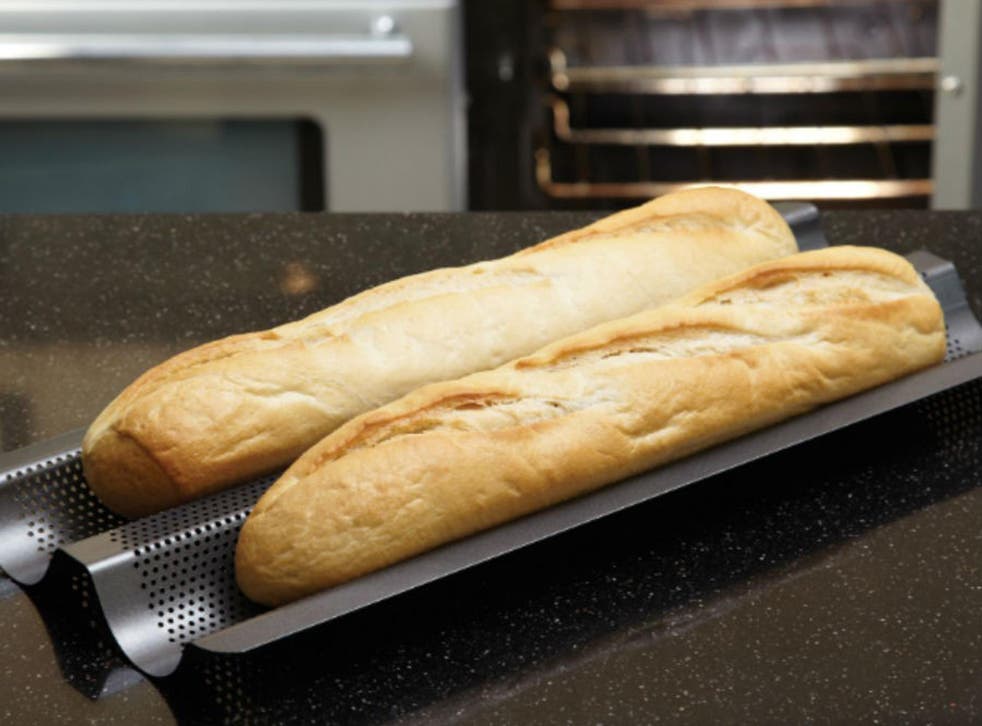 Inspired by the prospect of this year's Bake Off cohort (Paul Hollywood's kneading action, ahem) to try your hand at bread? It may be one of the more complex forms of baking to get to grips with, but the kit itself is pretty simple. Whether you're after the basics to get you started or some more niche equipment to create authentic artisan finishes, we've been kneading and proofing away to find what you need. Just don't ask us how to make Paul Jagger's bread lion à la season six.
1. Hobbs House Bakery Baking Stone: £20, Hobbs House Bakery
For a properly crusty base and perfect lift, a baking stone is a brilliant investment. Place in the cold oven and then heat for at least half an hour, then place your dough on it to bake. The thick stone mimics the bake of a bread oven (they're also great for baking pizzas), retaining heat far better than a thin baking tray. It will naturally discolour over time, but that is nothing to worry about. Wash with warm water by hand only.
Buy now
2. Paul Hollywood Dough Cutter: £6.99, John Lewis
A cutter is the perfect way to divide dough into equal portions when you're making individual buns (use your weight behind it to cut rather than a sawing motion) and can also be used to scrape scraps off your work surface. We particularly like this one for its cm markers along the blade so you can be super-precise.
Buy now
3. Doves Farm Dough Scraper: £1.99, Doves Farm
Scrape last those sticky, glutinous bits of dough cleanly from your proofing bowl with the curved edge of this plastic scraper and use the flat edge to collect together any that gets stuck to your work surface. An inexpensive piece of kit that makes the whole process a lot simpler.
Buy now
4. Andrew James Trigger Action Flour Sifter: £4.49, Amazon
Having a flour dredger to hand while rolling and shaping is really helpful as it prevents the mess that ensues when you have to put sticky hands into a bag of flour to dust. This one has a clever "trigger" that means that it releases flour without the need to shake, so it's more precise and one-handed. I have two lined up (one with bread flour, one semolina) at all times.
Buy now
5. Mary Berry Lakeland 2lb Loaf Tin: £8.99, Lakeland
You can make freeform loaves (plaited, boulle, buns) just on a baking sheet or stone, but for that classic loaf shape, a tin is required. This sturdy, nonstick number is the perfect size, turns out beautifully browned loaves every time and is dishwasher safe.
Buy now
6. Mastrad Silicone Mini Brioche Mould: £16, Waitrose Kitchen
If you're experimenting with enriched dough (bread dough but with added ingredients – usually milk, egg and butter) such as brioche, it's nice to have some more creative bakeware to shape them. These individual moulds give your breads that classic, authentic flute and the silicone makes it super easy to get them out of the tin after baking.
Buy now
7. Birkmann Bread Proofing Basket: From £9.75, Borough Kitchen
A lovely touch for anyone making artisan-style bread (particularly sourdough), a banneton basket is used to shape your loaf during the second prove, giving it that distinctive swirl pattern on the surface. The rattan helps give a perfect rise and crust, as it retains warmth and controls moisture levels around the dough. Comes in two sizes.
Buy now
8. Masterclass Crusty Bake Baguette Tray: £7.99, Robert Dyas
For perfectly slim baguettes, this special tray is a must-have. Place your dough in them during the second prove and the shape will stop them spreading sideways as they rise, giving a tall, narrow shape. The perforation is a nice touch that you sometimes see on pizza-baking trays for improving hot air circulation during baking.
Buy now
9. KitchenAid Artisan Stand Mixer: £399, Debenhams
You have to be pretty invested in your baking endeavours to shell out for one of these, but for bread making there is nothing easier. While some doughs are perfect to knead by hand, enriched doughs or wet doughs (such as brioche, ciabatta and focaccia) can be too sticky and loose to easily knead by hand. Step in the KitchenAid and its powerful dough hook – job done.
Buy now
10. Mure & Peyrot Adour Lame: £7.95, Sous Chef
A niche piece of kit for the truly geeky, this baker's knife (known as a lame or grignette in French) has a super-thin, curved blade designed for scoring dough, which can be hard to do with your run-of-the-mill kitchen knife. The reason we score loaves is to control the direction in which the bread will expand when baked, but it also produces those lovely "ear" slashes on the surface after baking.
Buy now
Verdict:
If you're making your first foray into bread-making, we'd recommend investing in a good-quality baking stone and loaf tin as most other basic bits of kit can be improvised with normal kitchen equipment. For the more dedicated baker, investing in a KitchenAid is, of course, well worth it (and not just for bread-making!), while those after niche equipment love a banneton and lame.
IndyBest product reviews are unbiased, independent advice you can trust. On some occasions, we earn revenue if you click the links and buy the products, but we never allow this to bias our coverage. The reviews are compiled through a mix of expert opinion and real-world testing.