10 best self-care subscription boxes
Gift yourself some me-time or send a pick-me-up package to a loved one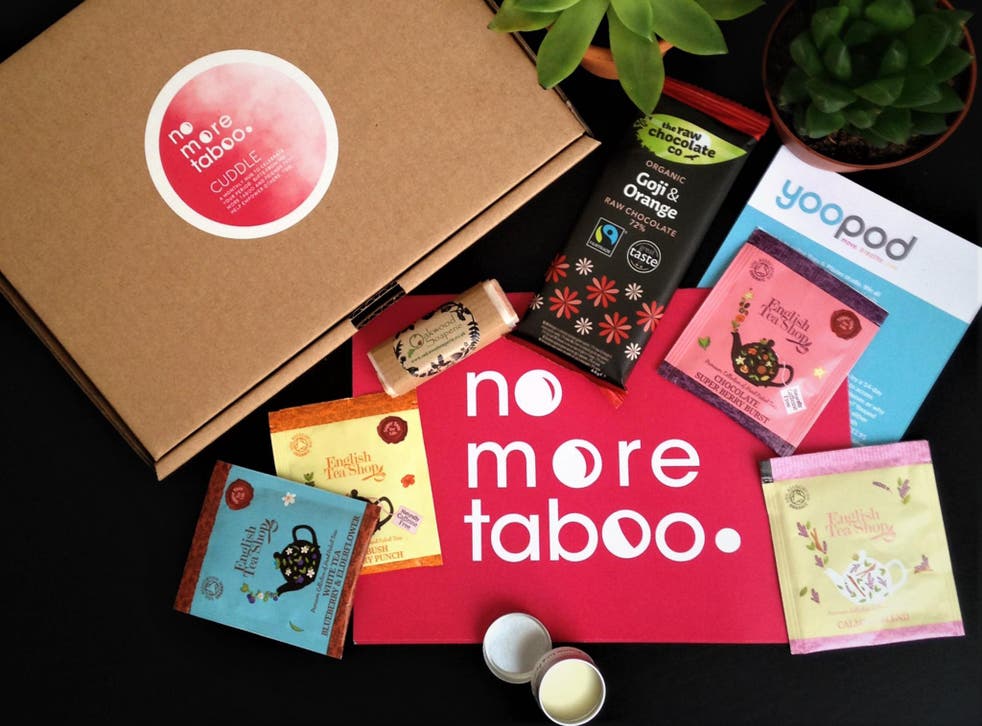 Want to take better care of yourself but find it somehow slipping to the bottom of your to do list? According to a study carried out by health insurer Bupa, almost half of us describe ourselves as stressed, so fitting in some "me time" is more important than ever.
Yet self-care goes beyond a bar of chocolate and a face mask. A new wave of subscription boxes aim to help boost your mood, encourage healthy habits and ensure you take some time out. There's something for everybody. Whether you're facing a lengthy hospital stay, find yourself struck down with PMT, or just want to schedule the time to curl up with a good book. All of these can be purchased as a one-off treat as well as committing to a subscription plan. We tested a whole range of mood boosting boxes and came up with the very best solutions for self-care.
1. BuddyBox: From £12, The Blurt Foundation
Billed as "a hug in a box", Buddy Box is a thoughtful way to show those who are suffering from depression and anxiety (or simply going through a difficult time) that you care. Completely gender-neutral, it contains useful and supportive products to encourage self-care; whether purchasing it for yourself or as a gift for your loved one. Along with wellness treats, our box included a helpful zine, a book on staying calm, and a practical "how to make a decision" flowchart. While many of the boxes we reviewed can make a real difference to self-care, the BuddyBox gives its subscribers the tools they may need to make a significant difference to their overall mental health. What's more, its profits are used by Blurt to provide peer support for those suffering from depression.
2. Book and A Brew: from £12.99, Book and A Brew
If your idea of relaxation is a night curled up with a good book, then this is the box for you. We loved the simplicity of the box, which teams a fiction text with a box of tea bags and delivers it to your door each month. Our colourful, action-packed historical novel was well-matched with a tin of lime and date tea – the ideal cure for a drizzly Sunday afternoon. The element of surprise is all part of its appeal but it does mean you might be left with a book that's not your preferred genre or theme. There's the option to buy a one-off box or subscribe for a lengthier period for bookworms who need their regular fix.
3. Hygge Box: £35, Hygge Box
Hygge (pronounced hoo-gah) is a Danish concept which communicates the idea of being in the moment, cosy and comfortable – and it was big news last winter. Hygge Box's offering is a bundle of goodies that not only boost your wellbeing, but also encourage the hygge way of living. Each month is themed and our offering was "bee-themed", produced in conjunction with the Bee Conservation Trust. We received a variety of pampering products, such as homemade honey soap and honeycomb chocolate but also a planting mix to help get us out in our gardens and plant flowers that bees will love.
4. Monthly Hug Box: £15, No More Taboo
Non-profit social enterprise No More Taboo is on a mission to tackle period poverty while helping women feel great during their time of the month. The subscription box is full of ethical goodies to give you a boost. Highlights from our box included indulgent vegan chocolate, natural soap for a pampering bath and a voucher for a special online pilates session to soothe cramps. All profits go to supporting vulnerable women who struggle to afford period products and there's also the added option to purchase sustainable sanitary products to go alongside your box.
5. Peachy Packages: from £35, No More Taboo
Peachy Packages aims to be a motivation wellness box that encourages you to take some time out and reflect on your lives. Our box was crammed with inspirational quote cards, greeting cards (to prompt you to reach out and send messages of thankfulness to your loved ones), handmade chocolate, organic herbal tea and a journal to get jotting down your ideas. It's the ideal box for a stationery lover who likes to spend time out putting pen to paper. Although one of the pricest of the bunch, it certainly is great value as each box contains at least eight items.
6. The Box Of: From £25, The Box Of
Billed as "mindfulness in a box", The Box Of was set up by a pair of Londoners who were used to the stress that comes with working in the corporate sector. Their boxes are full of products to boost your attempts at finding a mindful moment. We unwrapped a fragrant lavender soy candle, loose leaf tea, a colouring book and a goat's milk bath soak. A beautifully curated package of wellness items, this is great for those with busy lives who struggle to find a moment of zen. The quality of the products shines through in this box, with the luxury soy candle being worth the cost of the box alone.
7. The Healing Box: From £15.99, Healing Boxes
If you or a loved one are struggling with a chronic illness or facing a long hospital stay, the Healing Box is the ideal subscription box. It's designed to ensure that those dealing with tough times make time for themselves and feel supported. The box comes crammed with useful and practical products – from super-soft bamboo socks to soothing hemp lip balm. They can be purchased as gifts and have options to customise. There's also a specialist box for those dealing with brain injury.
8. Rainbow Soul Surprise Box: from £24.95, Rainbow Soul Surprise
This monthly box is for women who want to open up their lives to self-love – whether that be through meditation, mantras or yoga practice. Our box came with a two-page letter advising us how to best use the spiritual products provided. We took their advice and got out into the fresh air (with the help of a vibrant bright cotton blanket) to jot down our thoughts and goals with the hardback book provided. This box is more about nourishing your soul than your body. Less pamper time and more reflection time.
9. Lucky Socks and Happy Pins: from £6, Lucky Dip Club
Put simply, the two boxes from the Lucky Dip Club are all about bringing colour into your lives. Literally. Subscribers have the choice to receive a box of brightly coloured socks or a pin badge in the post each month. But what's that got to do with self-care? The items – designed by independent artists – are bold, strikingly presented and come with a clear message. Wearing our bright yellow and blue "don't care" socks on the daily commute definitely boosted our mood and gave us something to smile about each time we looked down at our feet.
10. A Box of Happiness: from £19.99, The Happiness Planner
The team behind the Happiness Planner (a daily page planner which focuses on positivity) has recently launched its own subscription box. It's aimed at fans of journalling and those who want a more guided approach to self-care. Each month's box has a different theme, all of which centre around self-development and positive thinking. While the company is known for its beautiful stationary, the box is about a lot more than simply stationary. We received July's "confidence" box, which came with a 30-day workbook (with lots of prompts to encourage daily journaling), a notebook, positivity stickers and worksheets to record our challenges, achievements and affirmations.
The Verdict: Self-care subscription boxes
All the boxes we've featured are certainly a good investment for your overall wellbeing and make an ideal gift for your loved ones. The Buddy Box is the most practical of the bunch and we think it can make a real difference in encouraging self-care. For those struggling with illness, Healing Boxes are a thoughtful and helpful solution. While for those craving a little more luxury, The Box Of gets our vote. But a special mention goes to Book and a Brew, because sometimes after a busy week, the best forms of self-care are often the simplest.
Jenna Farmer is a healthly lifestyle writer and blogs over at A Balanced Belly
IndyBest product reviews are unbiased, independent advice you can trust. On some occasions, we earn revenue if you click the links and buy the products, but we never allow this to bias our coverage. The reviews are compiled through a mix of expert opinion and real-world testing.