6 best 360-degree cameras
Get the whole picture and shoot immersive video with an all-encompassing piece of kit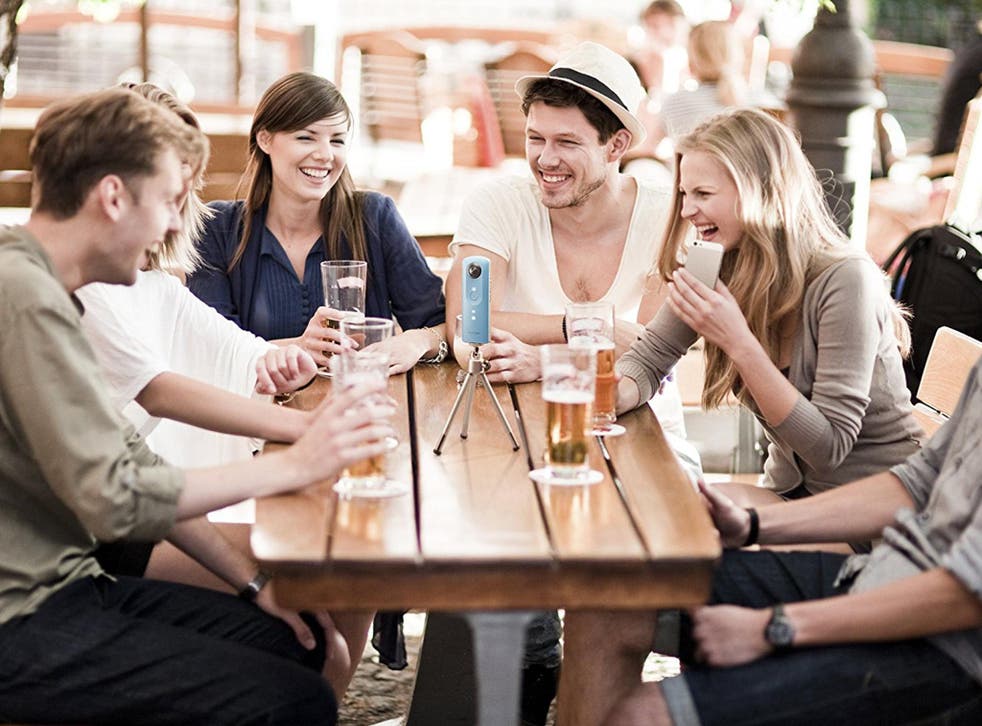 If you want your photography and videos to become even more immersive, then 360-degree cameras are for you. Whether you're trying to capture a cityscape from a high viewpoint, recreate the experience of an amazing gig with footage that captures both the crowd and the band, or cover all angles while filming some extreme sport, this emerging market has you covered.
360-degree cameras and videos can be split broadly into two camps: single and dual lens. The former avoids the need to stitch images together, although it does sometimes leave blackspots around the edges where no images have been captured. The latter can achieve full 360-degree coverage, although with some cheaper models you can tell that the images have been stitched together.
Once you've taken your 360-degree videos and pictures, the next question is how to view and share them. The ever-growing world of virtual reality offers an ideal way to relive the memories you've captured, while social media sites like Facebook and YouTube have 360 functionality (that said, other apps, such as Instagram, don't support 360 images themselves, although some third party apps can help with that).
We tested the following cameras taking into account a number of criteria: how practical and simple they are to use, whether they require further apps or software to use, what features they boast (such as 4K video), how long the battery life is, and overall value for money. Each of them were tested in open landscapes as well within the urban environment of London.
Something to bear in mind: as many of these cameras are small, handheld devices, it may be wise to invest in a monopod to help them reach higher viewpoints.
1. Samsung Gear 360: £219, Currys
Launched alongside the Galaxy S8 earlier this year, this dual-lens camera is a significant upgrade on the previous 360 offering from Samsung. It shoots video in 4K Ultra HD at 24fps, and the still images look great, with minimal stitching visible, but still some blindspots. There are five different shooting modes – stills, video, time-lapses, looping videos and panoramas – which are chosen either on the camera or on a smartphone. The easy-to-use app, which you need to run the camera, is available for Android and iOS (the latter was missing previously). With an updated oblong shape, it's comfortable to hold and somewhat negates the need for a monopod. It's also got a huge capacity, with a microSD slot allowing for up to 256GB, and battery life should last you for around two hours – so make sure you head out knowing what you want to shoot. The small display can take some getting used to, but it's a minor niggle of an excellent all-rounder.
2. Ricoh Theta SC: £219, John Lewis
This is the slightly simplified version of Ricoh's already user-friendly 360 camera, the Theta S. This dual-lens camera is very similar to its predecessor, with the main difference being an absence of a microSD slot for extra memory (the internal memory is 8GB). It also has a slightly cheaper feel than the S (as you'd expect for a cheaper price), but this is still a light (102g) and ergonomic piece of kit. The 14-megapixel resolution is sharp, and although it doesn't shoot in 4K, the colours are still vivid, the stitching is impressive and the video is captured at 30fps. You can shoot either video or still images simply with the press of a single button, and then share it on social media thanks to the wifi connectivity. You can also control the camera through the Theta app, which is clearly and simply laid out, as well as available on both iOS and Android. Overall, this is a great first camera to have. Comes in three different colours.
3. LG 360 Cam: £179.99, Argos
Another easy-to-use, cheaper alternative is offered by LG (it runs best with an LG phone, but you can also use an iPhone, for example). This camera has dual lenses (but they only cover 200 degrees, so the stitching effect isn't very noticeable), and the 13-megapixel camera gives sharp still images, and works well for the 2K, 30fps videos it shoots. The handle design is easy to grip and the minimal buttons on the camera itself means the app is important to use – it runs smoothly and allows you to preview and review shots and videos. It's also compatible with YouTube and Google Street View, with wifi connectivity. We found it gave around 90 minutes of battery life, which is pleasing considering the price. Although it can't compete with the 4K alternatives, it's an enjoyable, budget-friendly camera which is great for first-timers.
4. 360Fly 4K: £489, Currys
This single-lens camera would be a wise purchase if you're looking to capture the great outdoors with your camera. It works under water, and also boasts an accelerometer, an electronic compass, its own GPS (great for geo-tagging your images) and a gyroscope to provide extra stability (that said, because of its spherical shape it would be best to invest in some sort of mount for it). It shoots video in 4K Ultra HD at 30fps, and at the same quality for still images (although the images are not stitched, the field of view is limited to 240 degrees, so there are small blindspots). There is one button to start and stop shooting, which makes it super simple to use – to change the shooting mode, you have to go via the intuitive app, available on both iOS and Android. You can also use it share your images and videos of YouTube and Facebook thanks to wifi and Bluetooth capability. It has an internal memory of 64GB.
5. Nikon KeyMission 360: £419, Currys
Firmly placed within the world of action cameras, this camera can be submerged to a depth of 30m, and is both freeze- and shock-proof, all while remaining relatively light at just 198g. It shoots video in 4K HD at 24fps, and we found it delivered some of the very best footage on our test. However, its still images, shot with a dual-lens, had visible stitching marks. There's a microSD slot rather than internal memory, and the battery life is only around an hour, although there are interchangeable batteries which is great for when you're on the go. It isn't the most intuitive to use, with only one button performing a lot of different functions, so it can take some time to get to grips with. There are two apps available, too – SnapBridge and Utility – which allow you to easily review videos, shoot remotely and change your settings. You can also share online. If you're looking for something rugged that excels at video, this is the one.
6. Kodak Explorer SP360 4K: £339.99, Currys
Somewhere between a sporty and urban-based camera, this is the second generation of the Kodak Pixpro 360 – and has significant improvements. It shoots in 4K Ultra HD at 30fps, and has an improved field of view from its single lens, at 235 degrees, which is similar to the 360Fly. Of course, as there is only one lens, you don't have to worry about stitching. The USB connection means you can transfer files without a wifi connection (not possible on some of the models that are wholly reliant on apps), which is a bonus if you're out in the wilderness. It's only splashproof, so not suitable to be submerged, but it is shockproof up to 2 metres. There are many different packs and accessories available, like an underwater sport pack or a monopod, although these do come at an additional price. The app, available on iOS or Android, isn't as straightforward or some others, but it's still a solid performer.
The Verdict: 360 cameras
Our Best Buy goes to the Samsung Gear 360. The quality of the image and video are excellent, considering the price. The Samsung fits comfortably in any pocket and has very good software that can be used with any device, a big step beyond its predecessor. As a sporty camera, we like the 360Fly 4K – it's quite expensive but highly satisfactory in terms of final result and durability.
IndyBest product reviews are unbiased, independent advice you can trust. On some occasions, we earn revenue if you click the links and buy the products, but we never allow this to bias our coverage. The reviews are compiled through a mix of expert opinion and real-world testing.