The Independent's journalism is supported by our readers. When you purchase through links on our site, we may earn commission. Why trust us?
Apple has finally unveiled the Beats Studio Pro wireless headphones
The new Beats headphones are much cheaper than Apple's premium AirPods Max
Alex Lee
Wednesday 19 July 2023 15:00 BST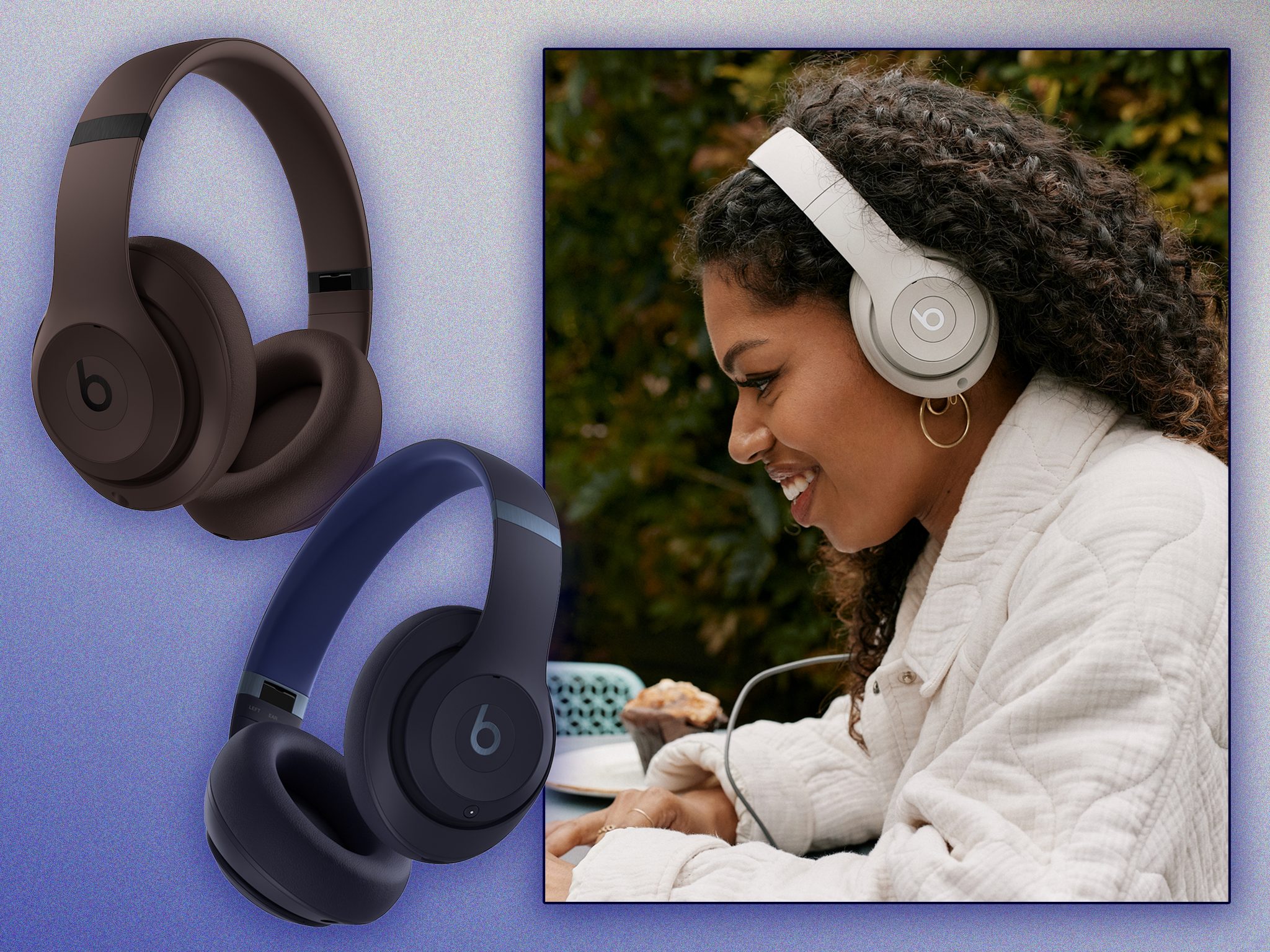 Speculation has been rife for months, but it's finally here. Apple has just unveiled the Beats Studio Pro wireless headphones, the first pair of over-ears that Beats has made since launching the Studio3 in 2017, and the first headphones the company has made since discontinuing the Beats Solo Pro in 2021.
The Beats Studio Pro are a pair of active noise-cancelling headphones that, from the outside, appear to have jumped massively in terms of quality over the six-year-old Studio3 headphones. They feature improved components on the inside, better sound and adaptive noise cancellation and transparency modes, support for Dolby Atmos and lossless audio and a more sophisticated design.
The Beats brand has been maturing ever since Apple acquired the audio company in 2014, with Beats' headphones having slowly, over time, shredded its style over substance approach. With Beats' current line-up of wireless earbuds and headphones, you get both.
While we're yet to review the Beats Studio Pro, we've currently got them over our ears this very second, and will be delivering our verdict shortly. But until then, here's everything you need to know about the Beats Studio Pro, including its price, features and release date.
The Beats Studio Pro are a grown-up pair of wireless headphones that have a more premium design over their predecessors, featuring synthetic leather that Apple says is good for "all-day comfort" and durability, and adjustable metal sliders. "With Beats Studio Pro, we've refined the design and completely reengineered the headphone to bring consumers our most impressive over-ear offering yet," said Oliver Schusser, vice preisdent of Beats and Apple Music.
The new Studio Pro headphones feature fully-adaptive active noise cancellation and a transparency mode, which the user can switch between using the physical buttons on the side of the cans. Apple says that the adaptive ANC "continuously monitors the noise around you in real- time, then creates a precisely-tuned filter to cancel it out." While it's not the same as the ANC or transparency modes seen on the AirPods Pro 2, it works in a similar way.
There are new 40mm dynamic drivers on the inside, with near-zero distortion even at high volume. Apple says that this is an improvement of up to 80 per cent compared to the Beats Studio3, and there's also an integrated digital processor to help deliver a balanced, detailed sound profile.
The Beats Studio Pros connect to your device using Class 1 Bluetooth, but there's also a USB-C port for charging and lossless audio, as well as a 3.5mm port. They also support Spatial Audio with dynamic head tracking on Apple devices, and there is support for Dolby Atmos on Android devices.
When listening to music, films or podcasts using USB-C, Apple gives you access to three sound profiles – Beats Signature is tuned for balanced music, Entertainment is tuned for films and games, and the Conversation profile is tuned for clear phone calls and podcasts.
On the subject of call quality, Beats says that the Studio Pros feature upgraded voice-targeting microphones, which actively filter out background noise, said to be 27 per cent better than the Studio 3.
And like all Beats products, the Studio Pros will work as well with Apple devices as they do Android, featuring one-touch pairing and Google Fast Pair. You'll also be able to use them with Find My on Apple and Find My Device on Android. Apple users do get over-the-air updates, however, and support for "Hey Siri". Android users will have to download the Beats app to fully customise the Studio Pro and download software updates.
There is one advantage Android users have over iOS users – initially, anyway – and that's multipoint connectivity. Audio Switch is supported between Android and Chromebooks, but this feature isn't available on release for Apple devices.
The Beats Studio Pro come in four different colours – navy, deep brown, black and sandstone and are rated to last up to 40 hours on a single charge without ANC turned on – miles better than the 22 hours you get on the Studio3. You get up to 24 hours with ANC turned on. A 10-minute charge will also give you an extra four hours of listening time.
Beats Studio Pro UK price and release date
The Beats Studio Pro cost £349.99 – that's £50 more than the Studio3 cost at launch. While the Beats Studio Pro are available to buy now in the US, customers in the UK will have to wait a little longer to get their ears on the upgraded pair of headphones.
The Beats Studio Pro won't be available to pre-order in the UK until 9 August at 8am, with the headphones shipping out on 10 August. Stay tuned for our review.
Voucher codes
For the latest discounts on wireless earbuds and other tech offers, try the links below:
Looking for more top-rated audio gear? Check out our round-up of the best wireless headphones