10 best Xbox One X enhanced games
With stunning visuals and sumptuous smoothness, these are the games you need to make the most of your new console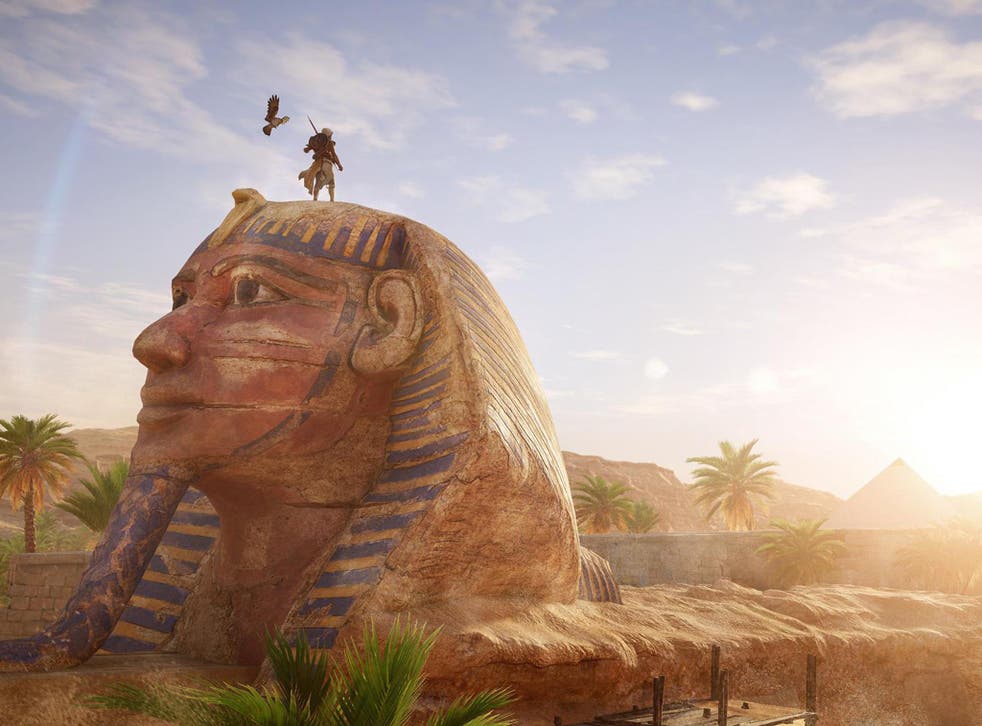 The Xbox One X is the most powerful console ever made. While that might just seem like a brilliant marketing tagline, it really does mean that this an excellent way to play your console games.
4K HDR TVs are proving it's worthwhile upgrading to the new telly tech, and the Xbox One X is the perfect way to deliver the optimum gaming experience.
The console plays all the same games as its less powerful predecessors, but games are receiving One X updates that imbue them with updated visuals and other benefits you won't get anywhere else. Here are the best so far.
Assassin's Creed Origins: £39.99, Amazon
Assassin's Creed Origins gets a remarkable One X update complete with HDR support, 4K visuals and some fantastic temporal anti-aliasing (used to achieve a fantastic smoothness) that means it looks by far the best on Microsoft's hardware. Across our 50 hours with the game we reckon we spent more time lusting over the ancient Egyptian architecture in the game's in-built photo mode than we did actually stabbing our targets in stealthy fashion. No matter, it's one of the best virtual tourist destinations to date.
Forza Motorsport 7: £32, Amazon
Weirdly, Forza Motorsport 7 came out before the Xbox One X, despite being the new console's flagship exclusive. With the One X update finally installed, though, the racing simulator goes from being a very pretty game to a ludicrously beautiful one. Any jaggy edges are ironed out immediately and there's a smoothness to its 60fps gameplay that you can't get on many other console games. The HDR effects pop and makes its long list of tracks a globetrotting delight. There's little else like it.
Hitman: The Full Experience: £31.99, Game
Hitman gets one of the best One X updates out there. Not only do you get options to decide between 4K visuals at 30fps or 1440p at 60fps, the developer of this stealth classic, IO Interactive, has also been hard at work to improve the general look of the game. Compared to last year's vanilla release, you'll notice improved texture work and lighting models to bring the game's six rich, sprawling levels to life. With HDR, too, it makes for one of the best looking and most detailed games on the platform.
Halo 5: Guardians: £17.15, Amazon
Despite being Microsoft's go-to exclusive shooter for Xbox, Halo 5 wasn't the best looking game when it came out a couple of years ago. Concessions had clearly been made to get the game running as flawlessly as it did. On Xbox One X, however, those concessions have disappeared and the result feels like the definitive way to play Halo 5. It's brighter, more vibrant and with a level of clarity that it never had on base Xbox hardware – and it still runs incredibly smoothly.
Gears of War 4: £16.85, Amazon
Gears of War is another Microsoft first party exclusive and as such it gets the special One X treatment, with all the bells and whistles you would expect from a AAA game on the latest hardware. The result is one of the best examples of HDR to date – Gears might often be violent and bloody, gnashing away with its underslung chainsaws, but Gears 4 also finds a serenity in its more peaceful environments. They've never looked more vibrant thanks to the increased colour gamut, and the pristine 4K presentation looks immense.
Rise of the Tomb Raider: £23.98, Amazon
Rise of the Tomb Raider was an envelope pusher for visuals on the PC – on Xbox One it looks similarly amazing. With a bunch of different graphical options to tweak settings to your preferences, you get a choice between full 4K presentation, improved graphical effects, and a lower resolution mode that runs in a higher framerate. It's a brilliant package update and comes fully fledged with HDR, too. It goes without saying that it's also an excellent single player adventure in its own right.
Star Wars Battlefront 2: £46.05, Amazon
Star Wars Battlefront 2 has given rise to a lot of controversy since it released, but there's one area it never falters and that's in its faithful presentation of the Star Wars universe. Not only is it meticulously detailed – the scuffs on a Stormtrooper's helmet and the way blaster fire ricochets off the environment, for example – it also conveys the bombastic scale of the franchise's biggest battles. On Xbox One X you get HDR and 4K, the stuff you'd expect, and it all comes together for a visual spectacle unmatched in the multiplayer shooter arena.
The Elder Scrolls Online: £20.99, Amazon
The Elder Scrolls Online was an unlikely receiver of an Xbox One X update but the results are some of the most noticeable of any game to date. As a high-fantasy, massively multiplayer online experience, Elder Scrolls Online gives you literally hundreds of hours of quests to complete and loot to collect, and it's best playable on the One X. The game's fantasy world is massive and made even more immersive thanks to native 4K resolution, vivid HDR, better reflections and an increased view distance.
Dishonored 2: £12.89, Amazon
Dishonored 2 is one of the best and most inventive single player games of the last few years. Its stylised worlds of Dunwall and Karnaca are immediately recognisable, with a steampunk, Victorian flair that sets it apart from other contemporary games. On Xbox One X you're treated to the familiar improvements, including 4K resolution and much better textures (which help a great deal in bringing the artistically styled world to life). Shadows and anti-aliasing also get a big boost, meaning far less jaggy edges to ruin your fun.
Destiny 2: £40.89, Amazon
One of the most recent games to receive an update for the Xbox One X, Destiny 2, was already an incredible looker – a visual showcase that demonstrates developer Bungie's skill with big, beautiful skyboxes on some of our solar system's most inhospitable worlds. The One X update adds native 4K resolution (something previously only seen on the PC version of the game) and HDR support, a feature not yet seen on the PS4, which transforms those extraterrestrial landscapes into sights into something even more colourful and alien.
The Verdict: Xbox One X enhanced games
As a sheer showcase of the One X's potential, Assassin's Creed Origins is undoubtedly the most impressive game you can play this year. It's stunning from start to finish and has a level of detail unseen in even the most anticipated games.
IndyBest product reviews are unbiased, independent advice you can trust. On some occasions, we earn revenue if you click the links and buy the products, but we never allow this to bias our coverage. The reviews are compiled through a mix of expert opinion and real-world testing.