National Allotments Week: From rakes to wheelbarrows, these are the essentials you need for your plot
Whether it's a new hobby or you're an experienced gardener, top up your kit with these must-haves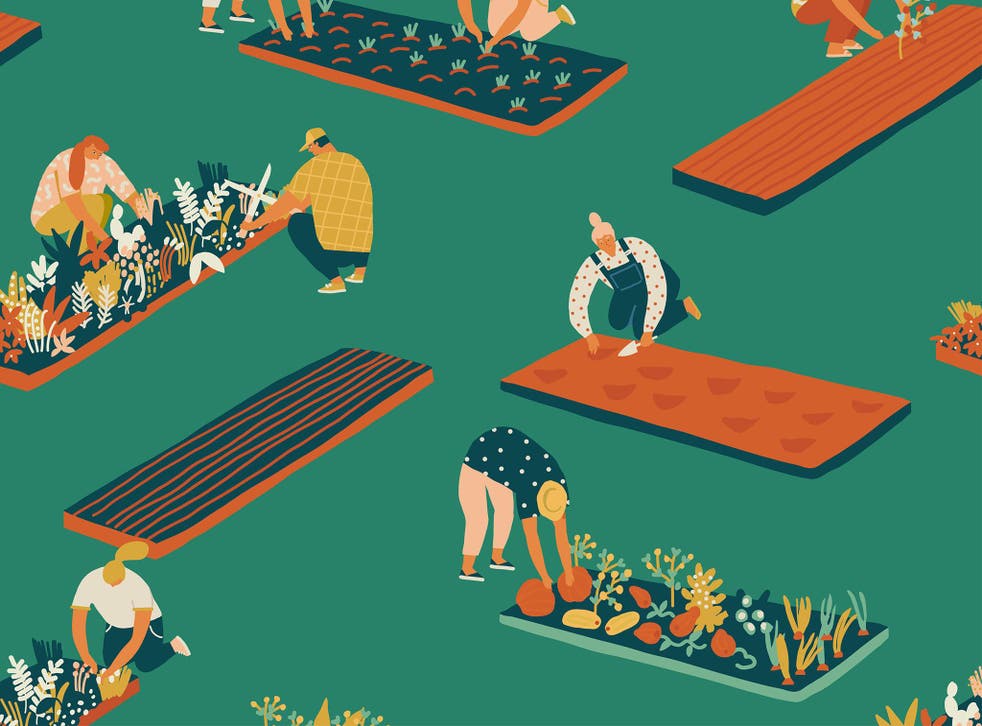 In order to raise awareness of the positive impact allotments can have for a healthy lifestyle, there's an annual event dedicated to it. Running from 10 -16 August, National Allotment Week, which began in 2002, was created by The National Allotment Society,
Whether you want an alloment in order to be be more self-sufficient and growing your own food or wanting to get move involved in the local community, curating your own green space is a worthwhile hobby to put your time into, especially if you don't have a garden.
The theme for 2020 is "growing food for health and well-being", as not only a way to eat healthily but get outdoor exercise too and provide a bit of escape from being cooped up at home.
If you're a new allotment owner, we've created a guide to the essentials you need for a bountiful harvest and the tools that will make your gardening endeavours much more efficient.
You can trust our independent round-ups. We may earn commission from some of the retailers, but we never allow this to influence selections, which are formed from real-world testing and expert advice. This revenue helps us to fund journalism across The Independent.
Gloves
If you're getting your hands dirty, make sure they're as protected as possible with a durable pair of gloves, that will not only keep soil from getting under your nails, but will protect them from rough surfaces, and help grip if it's raining.
In our guide to the best gardening gloves, these Gold Leaf dry touch gloves (Harrod Horticultural, £19.95) came highly rated, and even have the Royal Horticultural Society (RHS) stamp of approval.
They're made from soft, supple deerskin with a warm fleece inner, and this dandy pair of gloves offer effective water resistance to gardeners undaunted by wet weather.
"They are not fully submersible (don't go using them for scrabbling around in ponds) but should it start bucketing it down while you are out weeding, your hands will remain warm and cosy," said our reviewer.
Wheelbarrow
For the heavy-duty jobs such as harvesting potatoes to bring home for dinner or getting rid of detritus, make sure you have a wheelbarrow to hand to save sore arms.
In our guide to the best, we loved this Haemmerlin polypropylene 'pick up' wheelbarrow (Mole Valley Farmers, £68.99).
The large-capacity barrow zoomed through our cabbage patches with its vibrantly coloured, jumbo-sized (110l) polypropylene pan.
According to our reviewer: "We were especially fond of the top tool notch that prevents rakes and whatnot from sliding around when the barrow is going full pelt around the garden. The handy tipper bar made it easy to hoist the pan and fling the barrow's contents onto a willing compost heap or dung pile."
You can also pick between a bright yellow or green and with puncture-free or pneumatic tyres.
Trowels
Tackle your green space with ease and efficiency with a good trowel, whether you're re-potting seedlings, digging through soil or extracting roots.
One of our favourites is this Draper Tools plastic hand trowel (Amazon, £5.17), proof that plastic doesn't mean settling for second best.
It's ultra-light and made from a single piece of plastic, which allowed our reviewers to slice effortlessly into hard, dry soil, while the pointed tip meant it worked well when digging out peck weeks of filling flowerpots.
Its slightly rough finish makes for fantastic grip too – which we found to be a rare bonus when it comes to plastic trowels.
Watering can
When tending to your greenery and flowers, a precise, stylish watering can will ensure soil soaks up enough water without making a mess or drowning seeds.
This Haws green watering can (The Future Kept, £44.95) came out on top in our guide to the best.
A few features make it topnotch, firstly, it's constructed from galvanized steel and covered with a powder-coated paint job, and while a full can weighs in a shade under 10kg, its geometry and weight distribution makes it a joy to use.
Also, our reviewers found that the extra-long spout makes it easy to reach thirsty plants at the back of deep flower beds and borders with water delivered in a fine, arcing spray through the engineered rose head.
Weed hoe
Weeds can ruin a thriving green space, so make sure you keep an eye on them to save a disappointing harvest.
Simply run a hoe such as this Nejiri gama hoe (Amazon, £14.99) over a bed or between rows of plants to kill weed seedlings.
The blade is made from hardened steel and it comes with a hanging loop on its wooden handle to easily stow it away when you're finished with it.
Shears
If you don't keep on top of new growth, shoots and tendrils, free-range foliage can make your allotment plot look unsightly pretty quickly, so regular pruning is essential.
Using the appropriate tools for the job, keep hedges in check and restrict unruly plants from taking over.
Our favourite shears for larger leaves and shrubs is this Okatsune 217 Japanese Shears (Arthur and Strange, £70)
Our reviewer described the blades as "disconcertingly thin when compared to other shears, but Okatsune uses high quality tempered steel which results in a hardened edge that can be honed razor sharp. The result is a lightweight, balanced set of shears that need minimal coaxing to slice through your chosen bush or shrub."
Secateurs
For nimble pruning of flower beds and borders, these long-nosed Sophie Conran precision secateurs (Crocus, £29.99) are an elegant looking, stainless steel tool that's deceptively strong and will bite through decent sized twigs if called upon.
Our tester found the handle was smooth, ergonomic and feels reassuringly weighty, and the smart brass locking catch at the bottom does an admirable job of keeping this lively pair of silver snippers restrained.
Spacing rule
Not all allotments are large plots, so if you're limited on space, particularly if you live in a city, try this Burgon & Ball seed spacing rule (Amazon, £20.95) for size.
It'll ensure your veg rows crop in regimental lines, and it's inscribed with plant spacing and perforated with poke holes, perfect for a novice gardener.
Made from beechwood and is a sturdy piece to add to your kit.
Plant labels
When seeds are planted straight into the ground, don't fall into the trap of forgetting what they are. The easiest way to keep track of progress and identify the first few flowering's is with a plant label.
This 100 pieces biodegradable blank wooden seed, herb and plant label (Amazon, £5.99) are big enough to write on and ink from pens won't bleed out into an unreadable mess either.
Not to mention, it's a small way to cut down on your plastic consumption.
Rake
More than just a tool for keeping your allotment neat and tidy, a rake also removes garden matter that can be a home for pests and will help prepare your soil for planting your seedlings.
Try this Bulldog evergreen garden rake (UK Tool Centre, £20).
Its head is rust-resistant and it's lightweight too so if you don't have space to store it at your allotment, it won't be a bother carrying it home.
Spade
To loosen ground for planting and cut through soil, pick up this Greenman half brite border spade (Greenman Garden Tool, £24.99).
It has a long shaft which will help prevent back pain while the carbon-steel blade can be sharpened, making it hard-wearing and likely to last a long time.
Compost bin
For any organic waste from your allotment gardening, make sure you have a compost bin on hand, which once composted can help with your plant's vegetable growth later on.
We love this Rowlinson allotment compost bin (Harrod Horticultural, £36.95) that's a stylish, space-saving way to contain waste that can hold approximately 429 litres of compost.
The timber planks, which can easily be assembled by slotting together, will withstand downpours and won't rot, while the gaps between the wood ensure lots of healthy air circulation which will speed up the composting process.
IndyBest product reviews are unbiased, independent advice you can trust. On some occasions, we earn revenue if you click the links and buy the products, but we never allow this to bias our coverage. The reviews are compiled through a mix of expert opinion and real-world testing.