Everyone wins with touch of nostalgia
Chariots of Fire, untainted by commercialism, lifted spirits in the Thatcher era. Its director tells Geoffrey Macnab now is the right time to re-release it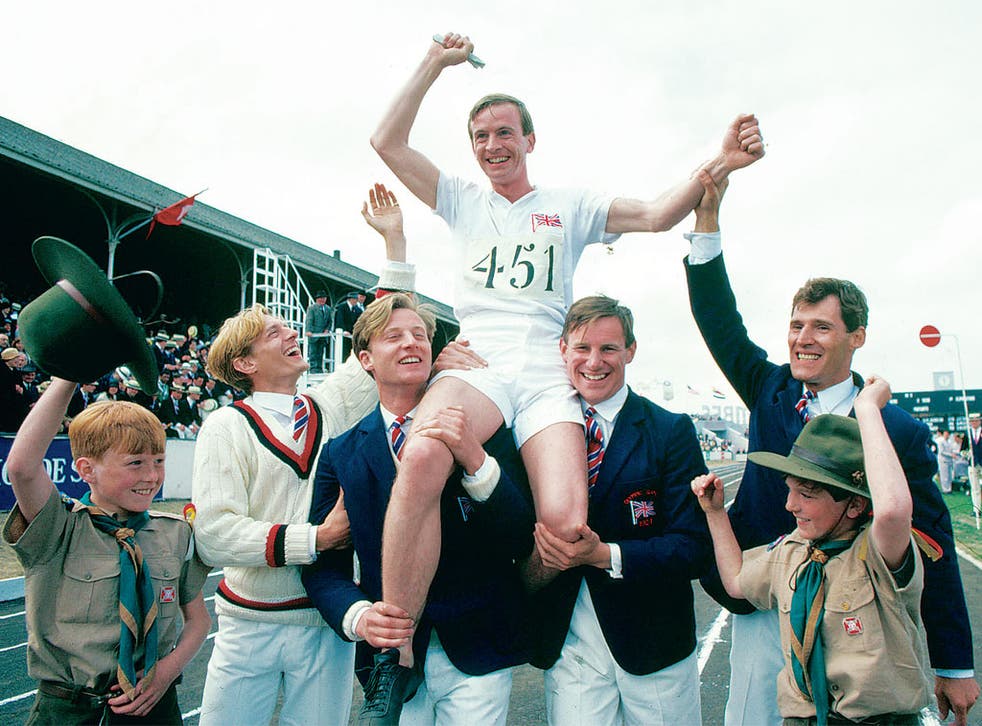 Hugh Hudson's Chariots of Fire seemed nostalgic enough when it was first released in 1981. At the nadir of the Thatcher era, when there were riots in English cities as well as rising unemployment and racial tension, Hudson made a movie about patriotic British athletes striving for success at the 1924 Paris Olympics. Thirty years on, that nostalgia is amplified.
The opening is especially evocative. From the memorial service for gold-medal-winning sprinter Harold Abrahams in 1978, the film flashes back to the early 1920s. There is that Vangelis music and that mesmerising slow motion footage of the young athletes all in white, running across the beach at St Andrews (doubling for Broadstairs) before heading on to the first fairway of the Old Course and past the Royal and Ancient Clubhouse.
You expect David Puttnam's name on the credits as producer, but it comes as a surprise to see that of Dodi Fayed as well, as the executive producer.
So many of the cast, young and old, have died in the intervening years. Ian Charleson, who played Eric Liddell, "the flying Scotsman" who refused to run on Sundays, died of an Aids-related condition in 1990. Midnight Express star Brad Davis, who played an American athlete, also died of an Aids-related illness. Jeremy Sinden, very funny in a cameo as the president of the Gilbert and Sullivan Society (a role that prefigured his "Boy Mulcaster" in Brideshead Revisited) died of lung cancer in 1995. Lindsay Anderson and John Gielgud, who play the patrician and quietly anti-Semitic Cambridge dons tut-tutting Abrahams's decision to hire a professional coach, are also long since dead. So is Patrick Magee, who gave a wonderfully bad tempered performance as Lord Cadogan, trying to prod Liddell into running on a Sunday.
Others in the film seem extraordinarily young. Richard Griffiths, briefly seen as the head porter at Caius College, is far slenderer than the actor we know today. Nigel Havers, as the foppish Lord Andrew Lindsay, who gets into trim by jumping over hurdles dotted with champagne glasses, looks hardly more than a boy.
Chariots of Fire is being re-released in a digitally re-mastered version in July, just before the Olympics in London. It was Hudson's debut feature but it remains the title for which he is best known.
On a March morning at the Hackney Picturehouse, where he had come for the launch of the London 2012 Festival Film programme (part of the Cultural Olympiad), Hudson was prepared to answer yet more questions about the Oscar-winning movie that still defines his career.
"I can't avoid [it]! It has made my career... and that of everybody else who was in the film from David [Puttnam], the producer, to the actors. It completely changed our lives," Hudson said. "In a way, it's a golden cross you bear. It's wonderful, you're very pleased with it and yet at the same time, you're doing other things."
Hudson and Puttnam pushed for the film to be re-released to tie in with the Olympics. It will be intriguing to see how Chariot plays with a younger audience. This is a film about duty, courage and self-sacrifice among the upper middle-classes. Lock, Stock and Two Smoking Barrels it isn't.
"The endeavours in the film, what the characters are trying to achieve, have a strong moral purpose," Hudson said. Neither the Jewish athlete Abrahams [Ben Cross] nor the future Christian missionary Liddell will be swayed from their principles.
"They run for the pleasure of running and for their faith, for their beliefs. That is a very contemporary issue. People do things for very different reasons these days."
The 1924 Paris Olympics as portrayed by Hudson are untainted by commercialism. There are no arguments about what Sebastian Coe has done with all the tickets. Professionalism is represented by Sam Mussabini (Ian Holm), an eccentric little man in a boater hat who gives personal coaching to Abrahams, and by the Americans, who train just a little too hard. Colin Welland's screenplay makes a story, in which we already know who will win, seem dramatic and moving. It satirises the establishment and yet ends up striking a rousingly patriotic note.
Puttnam has talked of how he and Hudson showed the cast and crew Lawrence of Arabia before the production began. "The reason we showed it to them was that while people think of it as an epic of landscapes, it is actually a film of close-ups... time and time again, you are on those eyes, that face. The epic quality never took away from the humanity."
Chariots of Fire was supposed to herald a brave new world in British film-making. "The British are coming," Welland famously proclaimed when he won his Oscar. However, in spite of subsequent Goldcrest-produced successes as Local Hero and The Killing Fields, the renaissance didn't last long. Hudson's later film Revolution (1985), which had a huge budget and starred Al Pacino as a fur trapper during the American War of Independence, sank at the box-office, bringing Goldcrest to the edge of bankruptcy.
"I would say they [Goldcrest] took on too many large projects. They grew too large. Their ideas were too grandiose," Hudson suggests. Revolution is due to be re-released later this year in a version that Hudson and Pacino are finally happy with.
Three decades on, Hudson is still in touch with many of his other collaborators from Chariots of Fire. He saw Ben Cross recently in Bulgaria, where Cross now lives. "Ian Holm and Nigel Havers I keep in touch with. Puttnam is a very close friend. I've known him for a long time right from the early 1960s... we're very closely bonded by Chariots."
'Chariots of Fire' will be re-released in British cinemas on 13 July
Join our new commenting forum
Join thought-provoking conversations, follow other Independent readers and see their replies