Gillard versus Rudd sees dream team wake up to harsh political realities
Australia's Prime Minister is fighting a vicious battle with her former boss. By Kathy Marks
Thursday 23 February 2012 11:00
comments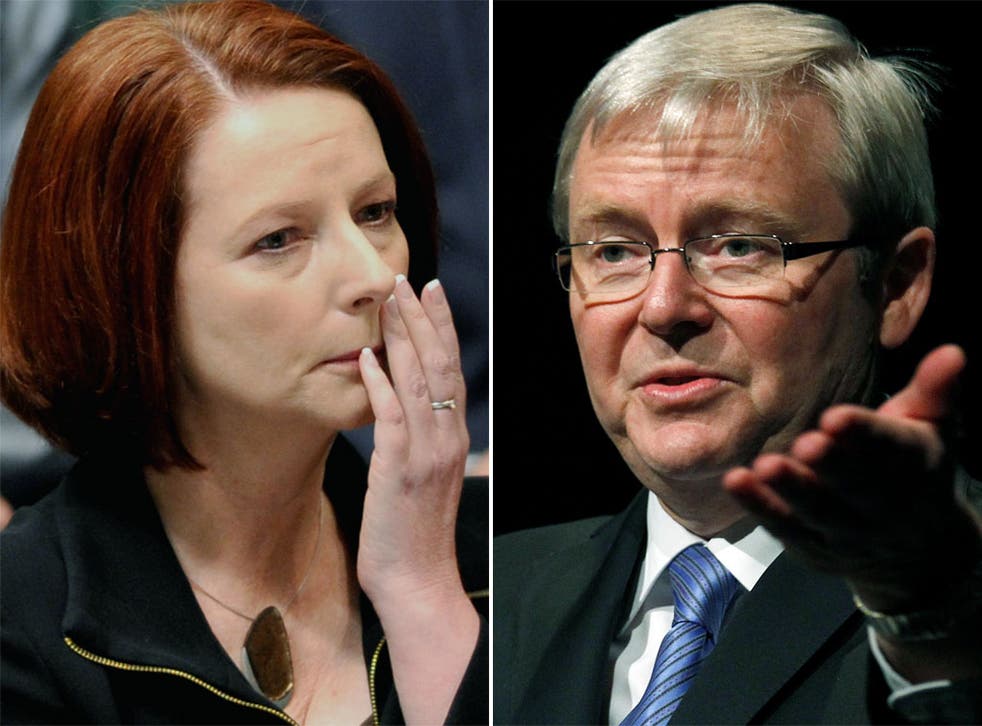 Kevin Rudd and Julia Gillard pitched themselves as the "dream team" when they took over the helm of the Australian Labor Party in 2006 – he as leader, she as deputy – then presided over a landslide election victory a year later which ended more than a decade of conservative rule. Now the dream relationship is in tatters, replaced by a poisonous political feud. Until yesterday it was fought mainly by proxies – Mr Rudd and Ms Gillard affected to have no knowledge of it – but now the gloves are off.
Welsh-born Ms Gillard deposed her boss in a ruthless coup in mid-2010 to become Australia's first female Prime Minister. She gave Mr Rudd a plum job, appointing him Foreign Minister, but he wanted his old one back and the plotting began almost immediately, according to Canberra insiders.
Last weekend, speculation about leadership tensions reached a crescendo and yesterday Mr Rudd resigned in dramatic style. In Washington for a G20 meeting, he called a snap press conference at 1am and declared that he was taking "the only honourable course of action" since he clearly no longer had the Prime Minister's support. Gillard loyalists had been saying beastly things about him and she had not contradicted them, he said.
Conveniently, his departure paves the way for him to challenge Ms Gillard in a leadership ballot. The parliamentary party, which elects its leaders, could vote as early as next week. But many people believe Mr Rudd will struggle to muster enough support.
Adding piquancy to the "soap opera", as Mr Rudd himself described it yesterday, is that just one seat separates Ms Gillard's minority government from oblivion.
Were Mr Rudd to quit parliament in a huff, the government might collapse. And were he to wrest back power, he could not count on the independent and Greens MPs who have propped it up.
This bizarre political crisis is unwinding in a country whose economy has comfortably withstood the global turmoil and is forecast only to get stronger. And not a single policy issue divides Ms Gillard and Mr Rudd. The battle is about popularity, polls and who can win the next election, due by late 2013.
For Mr Rudd it is also about rage, bitterness, unfinished business and a comeback.
It evokes the power struggle of Tony Blair and Gordon Brown. But Mr Rudd did not promise his apparently loyal deputy the top job. Maybe he meant to, but never had time.
The factional powerbrokers that run Labor – Mr Rudd calls them the "faceless men" – decided, on the basis of a few disappointing opinion polls, that he was for the chop.
The worry back then was that Labor might not win an election expected in late 2010. As it turned out, the newly anointed Ms Gillard barely scraped back into power – and then only after 17 days of tortuous negotiations with the Greens and independents.
Why such a close shave?
Largely, it is claimed, because Mr Rudd – or his "people" – secretly undermined Ms Gillard during the campaign, leaking potentially damaging details of cabinet discussions. Nevertheless, Ms Gillard made Mr Rudd her Foreign Minister after cobbling together a minority government. It seemed like a conciliatory gesture – or perhaps she was following the maxim of keeping her friends close and her enemies closer. A former diplomat, he relished the opportunity to trot the globe and hobnob with world leaders.
Shortly before last night's press conference, he met Leon Panetta, the US Defence Secretary. Yesterday's papers carried photographs of him beaming alongside Hillary Clinton.
By contrast, Ms Gillard – who has candidly admitted to not being interested in foreign affairs – has looked ill at ease on her rare forays abroad.
Back home, cabinet meetings must have been interesting. As one political analyst told i: "80 per cent of people around the table were instructive in his [Mr Rudd's] removal, so the atmosphere would have been pretty tense".
Ms Gillard's approval ratings, meanwhile, have sunk as low as 23 per cent, the worst of any Australian prime minister for nearly 20 years – and Mr Rudd has been twice as popular.
If he fails to win a leadership ballot or decides not to mount a challenge, he will take his place on the backbenches, where, some believe, he might cause so much trouble that Ms Gillard would have to call an early election.
Join our new commenting forum
Join thought-provoking conversations, follow other Independent readers and see their replies