The torment of the children of Fallujah that is too awful to describe
Robert Fisk
Thursday 26 April 2012 10:33 Comments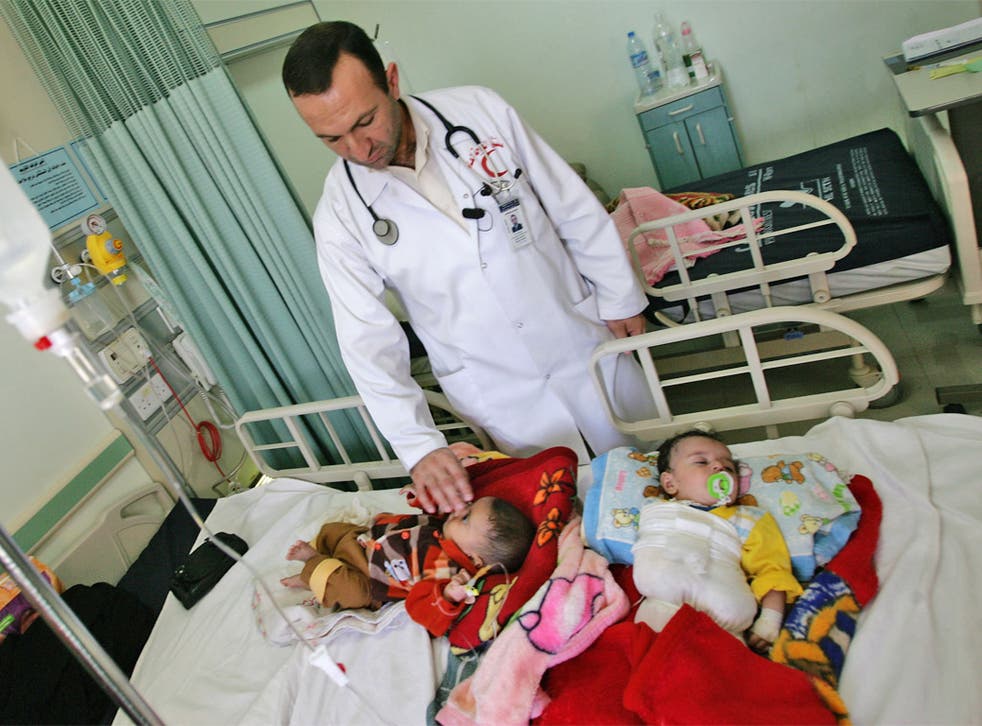 The pictures flash up on a screen on an upper floor of the Fallujah General Hospital. All at once, Nadhem Shokr al-Hadidi's administration office becomes a little chamber of horrors.
A baby with a deformed mouth. A child with a defect of the spinal cord, material from the spine outside the body. A baby with a terrible, vast Cyclopean eye. Another baby with only half a head, stillborn like the rest, date of birth 17 June, 2009. Another picture flicks onto the screen: date of birth 6 July 2009, it shows a tiny child with half a right arm, no left leg, no genitalia.
"We see this all the time now," Al-Hadidi says, and a female doctor walks into the room and glances at the screen. She has delivered some of these stillborn children. "I've never seen anything as bad as this in all my service," she says quietly. Al-Hadidi takes phone calls, greets visitors to his office, offers tea and biscuits to us while this ghastly picture show unfolds on the screen. I asked to see these photographs, to ensure that the stillborn children, the deformities, were real. There's always a reader who will mutter the word "propaganda".
But the photographs are a damning, ghastly reward for such doubts. January 7, 2010: a baby with faded, yellow skin and misshapen arms. April 26, 2010: a grey mass on the side of the baby's head. A doctor beside me speaks of "Tetralogy of Fallot", a transposition of the great blood vessels. May 3, 2010: a frog-like creature in which – the Fallujah doctor who came into the room says this – "all the abdominal organs are trying to get outside the body." This is too much. These photographs are too awful, the pain and emotion of them – for the parents, at least – impossible to contemplate. They cannot be published.
There is a no-nonsense attitude from the doctors in Fallujah. They know we know about this tragedy. Indeed, there is nothing undiscovered about the child deformities of Fallujah. Other correspondents – including my colleague Patrick Cockburn – have visited Fallujah to report on them. What is so shameful is that these deformities continue unmonitored.
If the number of stillborn children of Fallujah is a disgrace, the medical staff at the Fallujah General Hospital prove their honesty by warning of the danger of reaching conclusions too soon. "I delivered that baby," the obstetrician says as one more picture flashes on the screen. "I don't think this has anything to do with American weapons. The parents were close relatives. Tribal marriages here involve a lot of families who are close by blood. But you have to remember, too, that if women have stillborn children with abnormalities at home, they will not report this to us, and the baby will be buried without any record reaching us."
The photographs continue. January 19, 2010: a baby with tiny limbs, stillborn. A baby born on 30 October, 2010, with a cleft lip and cleft palate, still alive, a hole in the heart, a defect in its face, in need of echocardiography treatment. "A cleft lip and palette are common congenital anomalies," Dr Samira Allani says. "But it's the increased frequency that is alarming."
The numbers continue to rise. Even while we are speaking, a nurse brings a message to Dr Allani. We go to an incubator next to the delivery room. In the incubator is a little baby just 24 days old. Zeid Mohamed lies sleeping, his mother watching through the glass. She has given her permission for me to see her baby. His father is a security guard, the couple married three years ago. There is no family record of birth defects. But Zeid has only four fingers on each of his little hands.
Dr Allani asks a doctor to call some parents. Will they talk to a journalist? "They want to know what happened to their children," she says. "They deserve an answer." She is right. But neither the Iraqi authorities, nor the Americans, nor the British – who were peripherally involved in the second battle of Fallujah – nor any major NGO, appears willing or able to help. When doctors can obtain funding for an investigation, they sometimes turn to organisations which clearly have their own political predetermination.
In al-Hadidi's office, there are now photographs which defy words. How can you even begin to describe a dead baby with just one leg and a head four times the size of its body?
Register for free to continue reading
Registration is a free and easy way to support our truly independent journalism
By registering, you will also enjoy limited access to Premium articles, exclusive newsletters, commenting, and virtual events with our leading journalists
Already have an account? sign in
Join our new commenting forum
Join thought-provoking conversations, follow other Independent readers and see their replies