Male passengers pushed ahead of women and children in scramble to flee vessel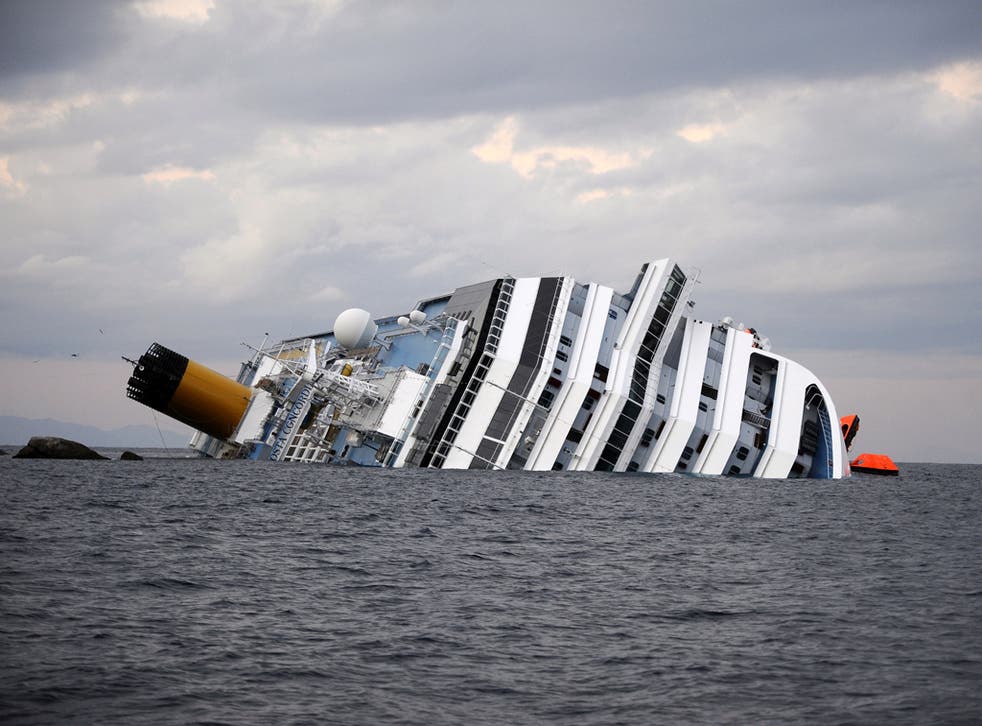 Rescuers were last night frantically searching for 15 people still missing from the wrecked cruise ship Costa Concordia in Italian waters, after managing to save two honeymooners and an crewman earlier in the day.
Officials confirmed that another two bodies – of two elderly men in lifejackets – had been dragged from the water, bringing the death toll to five.
British survivors have told of the chaos on board as passengers attempted to flee the stricken ship. "After about half an hour the crew told people to get into the lifeboats... Male passengers were pushing ahead of women and children," said retired police chief inspector Ed Gurr, 64.
Prosecutor Francesco Verusio confirmed that Francesco Schettino, pictured, captain of the Costa Concordia, was being questioned about alleged manslaughter, abandoning his ship while people were still aboard and causing a shipwreck. First officer Ciro Ambrosio has also been detained.
Mr Schettino is understood to have claimed the rocks he struck off the island of Giglio while miles off course did not appear on charts – although the waters are well-charted.
The company that owned the Costa Concordia, Costa Crociere, denied claims by some passengers that Mr Schettino was in the ship's restaurant at the time of the accident. It insisted he was at the controls when the vessel struck a rocky outcrop off Giglio, Tuscany, at about 9.30pm on Friday.
Mr Verusio appeared to accept that version of events but said the ship "was not on the right course". He added that the captain was on the bridge and was "therefore responsible for operations".
Mr Schettino allegedly phoned his mother from the bridge before jumping ship: "There's been a tragedy... but don't worry, I tried to save the passengers," he is said to have told her.
The Foreign Secretary, William Hague, confirmed yesterday that all 35 Britons on board were safe. Italian rescuers continued to make forays into the 951ft vessel in the hope of finding other survivors. Three bodies – two French tourists and a Peruvian crew member – were recovered on Friday.
Last night, emergency teams warned that the search of the half-submerged ship was dangerous for divers because the decks were at almost a 90-degree angle and there was a risk the ship could slip off the rocks it had struck. Yesterday it emerged that many of the waiting staff had stepped in to lead terrified passengers off the stricken liner. The disaster happened just hours after the ship had left Civitavecchia near Rome at the start of a Mediterranean cruise.
"There was panic immediately," said Francesca Sinatra, a passenger from Rome. "People were shouting and climbing on each other." The first alarm was sounded at 9.45pm and the "abandon ship" order given at 10.10pm.
Join our new commenting forum
Join thought-provoking conversations, follow other Independent readers and see their replies