Police show of force quells repeat of violence at student fees protest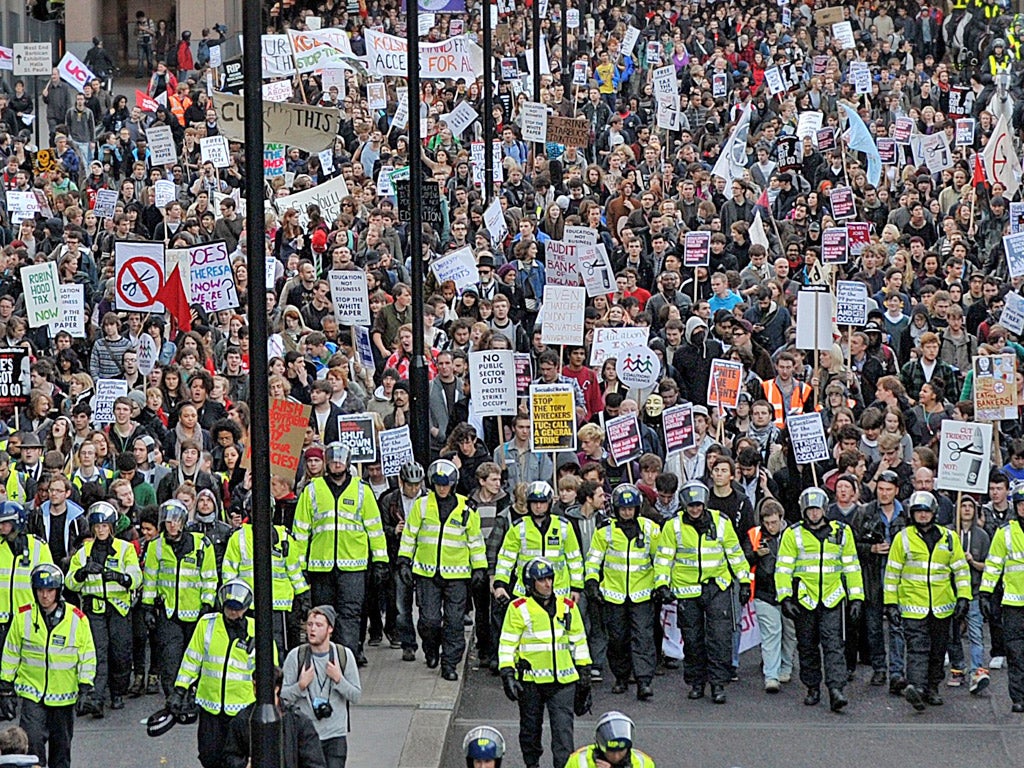 The first major challenge for London's new police chief passed off largely peacefully yesterday as thousands of officers lined the streets to prevent a repeat of last year's violence at a students' march against tuition fees.
Twenty-four people were arrested after strict conditions were imposed on marchers protesting against the privatisation of universities and the rise in fees to £9,000 next year.
The march was marshalled by 4,000 officers and attempts to establish a protest camp in Trafalgar Square were swiftly broken up. Police walked in front of the crowds and regularly slowed down or even stopped to keep the demonstration in check.
It was in marked contrast to a similar protest on 10 November last year, when the force admitted it was "embarrassed" that crowds stormed the Conservative Party HQ.
It also followed friction between ministers and senior officers after the Home Secretary, Theresa May, criticised the initial response to this summer's riots as too weak.
Some protesters yesterday complained police, under the new Commissioner, Bernard Hogan-Howe, had adopted "antagonistic" tactics after announcing baton rounds were being held in reserve. They have never before been used in mainland public order policing.
Officers gave out leaflets and warned demonstrators they risked arrest if they deviated from the agreed route. Marchers said the turnout – estimated by police at 4,000 and by organisers at 10,000 – was affected by concerns over the police response.
A number of protesters were seen in masks amid fears of anarchist violence. Some arrests were for alleged breach of the peace, one for possessing an offensive weapon and one for failing to remove a mask.
"It is obvious the police presence has made everyone more agitated," said Tom Philips, 21, from Falmouth, Kent.
Police in riot gear formed lines on Fleet Street to stop demonstrators heading to St Paul's Cathedral to join the Occupy London group.
Around 40 people left the main march to pitch tents in Trafalgar Square but were soon dispersed. The few who refused to move were arrested by police.
A spokesperson for the Occupy London camp at St Paul's said the Trafalgar Square protest happened "fairly spontaneously" and only a small number within the camp had detailed knowledge of the plan.
Two other protests, by electricians and cab drivers, were also held. Police briefly used the tactic of "kettling" after scuffles on the electricians' march over pay and conditions in the construction industry.
Join our commenting forum
Join thought-provoking conversations, follow other Independent readers and see their replies