Mancini's meddling and misguided man-management is key to mediocrity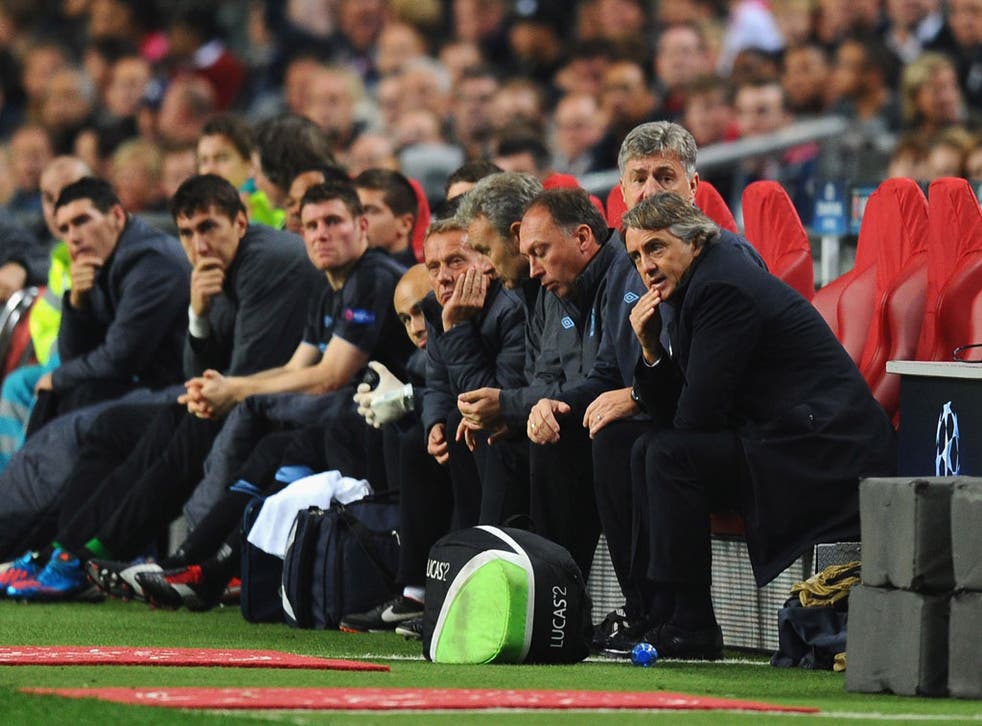 Some discernible patterns of behaviour are becoming clear in Roberto Mancini, and they are always at their most visible when Manchester City have had a bad night.
One, used for the fourth time in Amsterdam late on Wednesday, is his vague claim that defeat was all his own fault, which is never backed up by an explanation and is increasingly obviously a device to obstruct a discussion about what has just gone wrong.
Another is Mancini's trait of letting players have it, in the intense knot of media interviews which follow a game. And a number of the players are understood to be less than impressed by this trend.
There is a sense that Mancini's sharpest public words tend to be reserved for the players who will not kick up: Joe Hart, Micah Richards, Gareth Barry and Adam Johnson. The names also reveal how the English contingent get more than their fair share of it from Mancini and on Wednesday night it was Joleon Lescott. If he checked Twitter on the Schipol runway, he'd have read the manager's not-so-veiled sarcasm. "It's my fault because I didn't tell him to jump," Mancini said of Lescott's error. The detail is relevant to why City are incapable in Europe while very capable across the course of a domestic season because it reveals why Mancini's players don't look like they'll run through walls for this boss. They have delivered two away wins out of seven for him on the Continent. Mancini's experimentation is also a source of concern to the senior players, because Mancini really doesn't seem to know which personnel he wants and what his plan should be. Four systems in the course of one game – 4-2-3-1, 4-4-2, 3-5-2, 3-3-4 – said it all in Amsterdam. While Ajax, like Borussia Dortmund three weeks earlier, were an organic unit aware of the task in hand, City's entire midfield and attacking lines were rotated when the side went 1-0 up – as if they could afford to fiddle. Barry offered a telling comparison of City and Ajax yesterday.
"They played in the style they have played for many years, by keeping the ball. We are not sure at the moment what the problem [is]," he said.
Publicly, Mancini has said little about the decision to abandon last year's fairly dependable back four, but Richards' suggestion that they haven't practised it that much made the use of it on Wednesday night a fairly remarkable gamble.
Success in Europe is actually about having a very definite plan and sticking to it. The City manager will point to his club's failure to deliver the players they wanted in the transfer market, like Daniel Agger and Eden Hazard, if they are now eliminated.
But the spirit which Frank de Boer engendered in a very young group of Ajax players on Wednesday night suggests that it is time for Mancini to accept that less is more. Time to settle on a team, make a plan and stick to it.
City's players don't look like they'll run through walls for their boss, with two away wins out of seven in Europe
After two Ajax goals either side of half-time Mancini tinkered again, taking off Joleon Lescott and adopting a 3-5-2 style. Aleksandr Kolarov played on the left wing, with Gaël Clichy and Micah Richards in a defensive three.
After Samir Nasri had put City ahead, Mancini opted to change to a more defensive 4-4-2 set-up. Yaya Touré was withdrawn to a more central role, with James Milner moved out on to the right wing. Sergio Aguero was moved up front.
Roberto Mancini began with the 4-2-3-1 formation he regularly uses in the Premier League. Joleon Lescott was favoured ahead of Matija Nastasic for the first time in Europe this season, while Micah Richards was recalled at right-back.
Join our new commenting forum
Join thought-provoking conversations, follow other Independent readers and see their replies