This is what it was like to run the Big Half to raise money for The Independent's charity appeal
Looking out over the crowd I felt proud of myself for being here and inspired that there were so many runners taking part all determined to make a difference.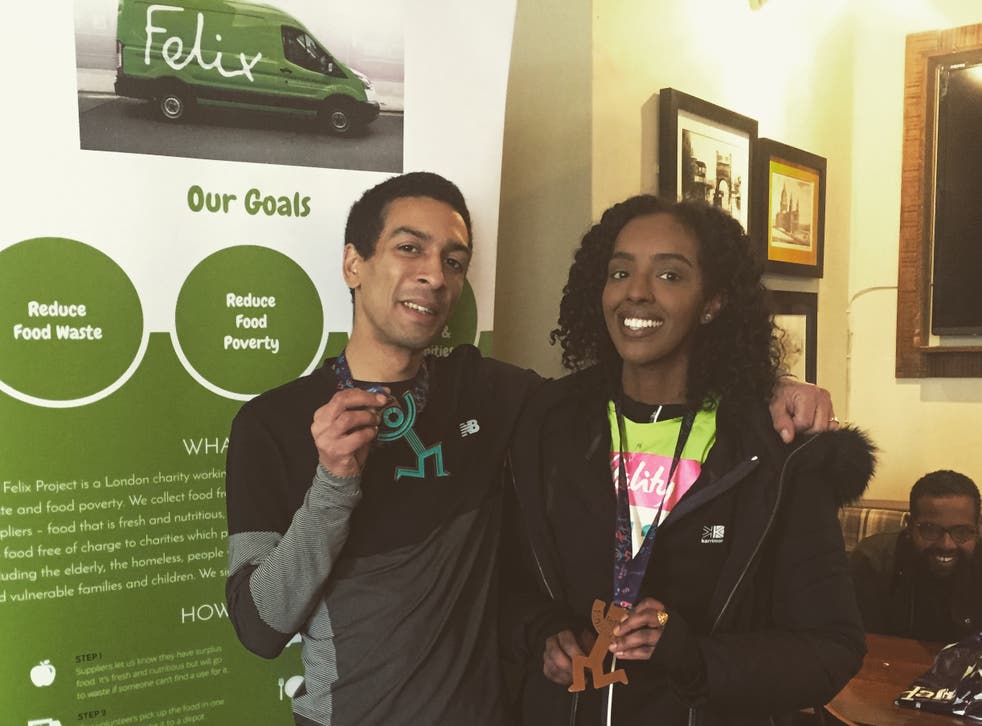 The Vitality Big Half was the last official event of The Independent and London Evening Standard's Help a Hungry Child appeal for The Felix Project. This is my own small memoir of a very special enterprise.
My journey – the road to the Big Half you might say – started last year when I was sat around the table with Justin and Jane Byam Shaw, the charity's founders, and Jane happened to ask me if I'd like to be a part of Team Felix and run 13 miles in a new Half Marathon called The Big Half.
I said yes straight away without even thinking about what exactly it would entail. I know only that it was an opportunity to help this great charity, and I'd be there.
Then it sank in. Yes, I would actually have to run 13 miles through south east London on 4 March. So I got to work training and preparing for the big day (Bodyism in Westbourne Grove kindly supported me with training such as Yoga, Meditation and Pilates).
Each person on the Big Half team was asked to raise £2,000, and I decided to go above and beyond that and try to smash the target. I'm not shy, so decided to reach out to everyone I know. People responded, and were very generous and kind. After weeks of persistent, non-stop fundraising, managing to secure donations from the likes of Lady Carole Bamford, George Osborne, (Lord) Greg Barker, Julien Macdonald and the creator of Peaky Blinders Steven Knight, to name but a few – not to mention half of Daylesford where I work – I somehow managed to raise over £6,000.
Feeling inspired by all of the support I continued my training and looked forward to a special meeting that Team Felix had organised with Sir Mo Farah on the Friday before the event.
Arriving at City Hall and going through airport-style security, we were all really excited to meet one of Britain's favourite sporting stars. He was lovely in person and gave us all some good advice ahead of the race. As he entered the room, The Mayor of London, Sadiq Khan, was behind him and joined us all for the meeting.
The Felix Project – in pictures

Show all 10
It felt good to spend some time with such inspiring men – great examples of what you can achieve if you put your mind to it. Also there that day, and part of Team Felix, was the hero Imam from The Finsbury Park mosque who saved the life of the attacker on that terrible night of terror last year. So the room was full of inspiring people and I simply felt privileged to be part of it all.
After that it was only two days to go and thankfully the Beast from The East was just starting to thaw and the temperatures slowly starting to rise. We all got an email saying the race was going ahead after a few days of uncertainty over the freezing cold weather.
The day of the Big Half arrived and it was time to go take my place at the starting line near London Bridge, limbering up alongside 15,000 people who were all here to take part and do their bit to try to raise some money for their chosen charity. Looking out over the crowd I felt proud of myself for being here and inspired that there were so many runners taking part all determined to make a difference.
The crowds were immense and the energy and enthusiasm of all of the supporters kept us going and pushed us towards Greenwich and the finish line. After 12 miles my body was aching, but knew it wasn't far to go.
As I approached the last 600 metres, I heard my cousin Ari in the crowd shouting out, "go on Marcus, you've got this", and it gave me the last push I needed. Speeding up and giving it all I had, I went full throttle towards the end, and collapsed on the other side after I received my medal. Oh I was in pain, but I felt so good that I had actually completed it.
The atmosphere was incredible at The Vitality Big Half Festival afterwards, with various food stalls, and a "charity alley" with good causes gathered in a tent to show what they do. I'm so glad I took part and raised the money that I did for The Felix Project.
All I can add is that if you or anyone you know would like to come and volunteer for The Felix Project, they'd love to have you. There are numerous routes around London for driving and distribution throughout the week. You don't have to run a half-marathon – just help to collect surplus food from wholesalers and redistribute it to local charities. Drivers and co-drivers are always needed and you choose a route that fits in with you and your life.
So, please, do something different this spring and something that's going to make a real genuine positive difference to other people's lives too: Volunteer at The Felix Project and join us in the fight against food waste.
Join our new commenting forum
Join thought-provoking conversations, follow other Independent readers and see their replies