Help a Hungry Child: Food banks could run dry this Christmas as demand soars, warns charity
Government must end 'litany of horrors' facing millions with insecure access to food, says Trussell Trust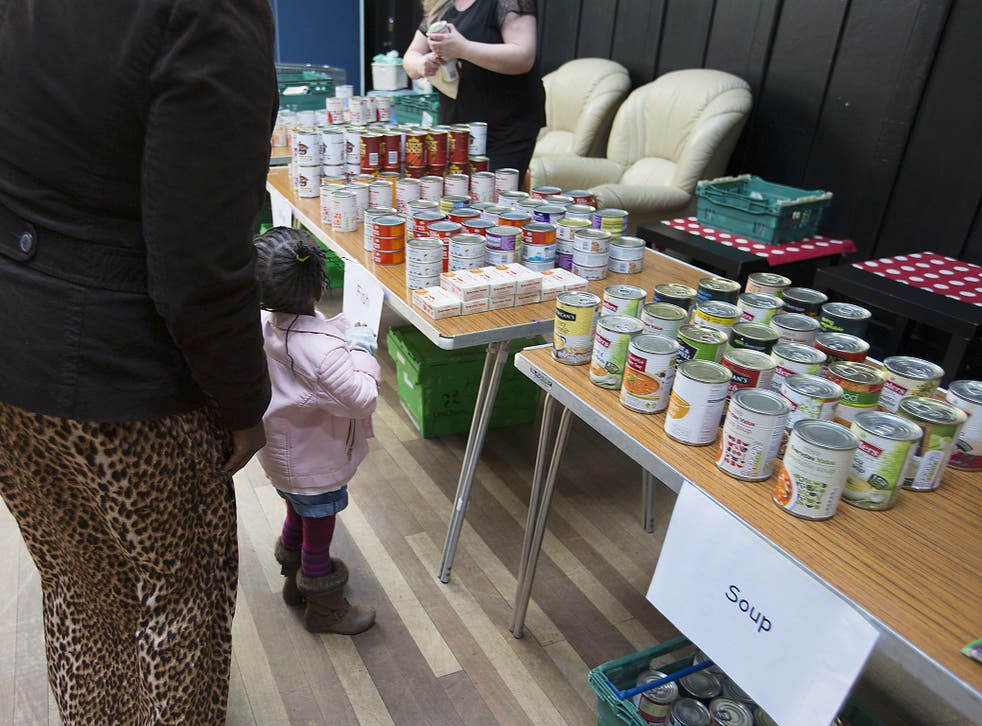 Food banks across the UK could run out of stock this Christmas as the number of people relying on donations soars, a leading anti-poverty charity has warned.
Alison Inglis-Jones, trustee of The Trussell Trust, said she is "seriously concerned" a spike in the number of people accessing services could mean food banks already running low on supplies could run out before the Christmas school holidays.
Along with the warning, Ms Inglis-Jones called on the Government to end the "litany of horrors" facing millions of families with insecure access to food, a problem she believes is being driven by benefits sanctions and delays in universal credit payments.
"I am genuinely concerned about the levels of food at some of our food banks and that food banks will run out this Christmas – we are as a charity concerned," she told The Independent.
"Christmas is always our busiest time, I think we're going to see a spike in hungry people wanting to access services."
As many as one million children currently receive free school meals during term time. But a lack of provision during school holidays means food banks are often inundated with huge demand.
At least 146,798 three-day emergency parcels were handed out by Trussell Trust food banks in December 2016, a 47 per cent spike compared to the average for the overall 2016-17 financial year, according to the charity. Children accounted for 61,093 of those affected.
Now the charity is warning 2017 could herald an even higher increase, following a 13 per cent surge in food bank usage during the first six months of this year.
It follows the Government's rollout of universal credit, which has already seen the number of people seeking help drastically increase due to a delay before claimants receive payments.
The Felix Project – in pictures

Show all 10
The latest Trussell Trust figures showed food banks in areas where universal credit had been rolled out unilaterally for six months or more have suffered a 30 per cent average rise in demand compared to a year before.
"A mother I met at one of our food banks in Fulham said she had no food, she was breastfeeding a child and her milk had dried up and the child was screaming in hunger," Ms Inglis-Jones said.
"It's not easy to come back after those sessions to my own home, I sit on the doorstep and cry to shield my own family. Someone has to absorb it."
At the Trussell Trust food bank in Hackney, one of the poorest London boroughs and where universal credit has been partially rolled out, volunteers have made an urgent call for donations after their stock was decimated this month.
"It's a really tough situation for us as we did get a lot of food donations coming in in October for the harvest food collection but those supplies dried up very quickly, so we've had to really try our best to encourage more donations to come in," said business manager Melanie Rochford.
"It's more demand, I don't think we're having fewer donations I think it's got a lot more to do with demand. I'm really hoping and praying that next week we will see a lot of donations trickling in so that we'll be OK for Christmas."
It comes after The Independent revealed last week one in 10 London families are relying on charity handouts to eat.
That's why for this year's Help a Hungry Child Christmas appeal, The Independent is backing The Felix Project to support families living on the breadline.
The charity has been working since 2016 to fight hunger with surplus in-date produce, responding to the twin demons of food poverty and food waste.
Now, it will be channelling all funds raised by The Independent's appeal to provide fresh and nutritious food for hungry children to access at market stalls in primary schools.
Crucially, every child, whatever their situation, will be encouraged to drop in and help themselves to a paper bag full of supplies, and no families will be singled out.
The food is fresh and in-date, collected from suppliers such as Waitrose, Sainsbury's, Marks & Spencer and Fortnum & Mason, and would otherwise have been thrown away.
The charity's goal is not only to tackle food surplus and food poverty, but also to combat the barriers to good nutrition and quality produce.
Every £1 donated will ensure a primary school child and their family has the food needed for a nutritious meal. £500 will enable a new school to be recruited to the programme.
Here are the ways you can donate to our appeal:
Call – 08000 639281 (freephone)
Text – FELIX £5 TO 70700
Click – independent.co.uk/helpahungrychild
Post – Freepost – HELP A HUNGRY CHILD
Want to help a hungry child? Join our Facebook group now https://www.facebook.com/groups/2016636181953774