The Independent's journalism is supported by our readers. When you purchase through links on our site, we may earn commission.
Help a Hungry Child: Grenfell Tower children to spend Christmas singing and dancing with West End stars
Food and drinks for the children have been provided by The Felix Project, supported by our readers' generosity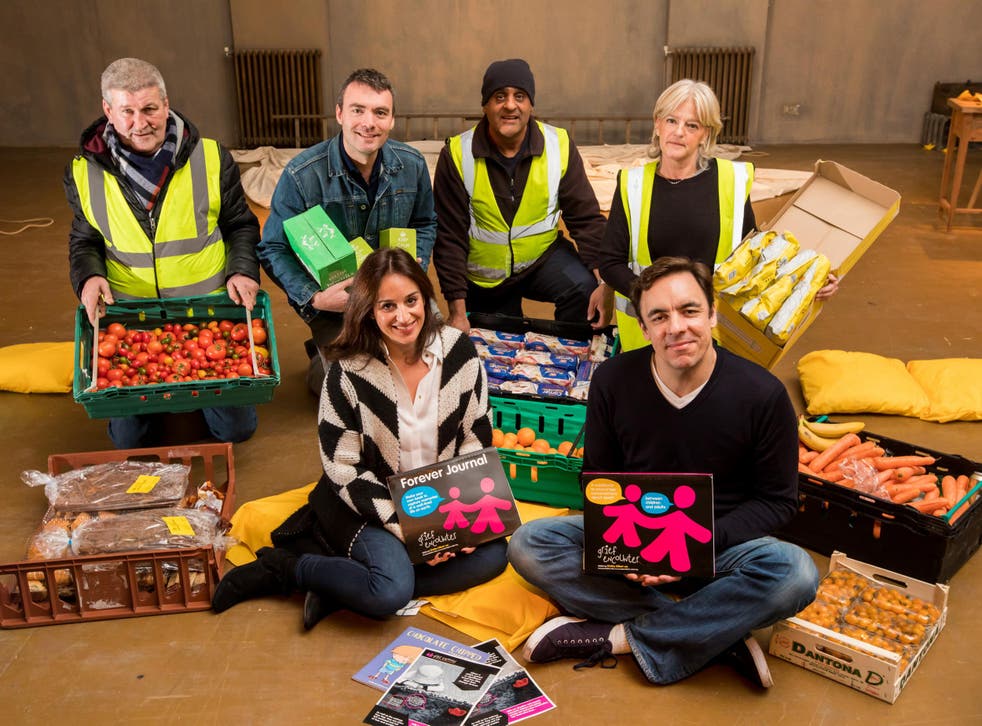 Children who survived the Grenfell Tower tragedy will spend their Christmas holidays learning to sing and dance with the stars of West End shows.
Around 150 nursery and primary school pupils will be taught by actors and comedians at the Playground Theatre, a converted bus depot which is less than a mile from the block that was ravaged by fire in June, killing 71 people.
Many of the children attending lost family and friends in the fire, according to the bereavement charity behind the event.
Jake Walker, Grenfell Project Manager for Grief Encounter, said: "In one family, the children lost 17 friends between them [in Grenfell]. We have got a child at the moment who is four years old who is afraid to walk downstairs, and there are lots of other [trauma] symptoms being displayed.
"The arts workshops are not structured therapy sessions, they are a safe space for children to come and make friends, and share that experience. We also have a separate space for parents, and children, to sit and talk and speak to our psychologists."
The charity have offered professional counselling to families at community centres and to teachers in local schools over the past six months. Today they see many of the former residents of the block still living in hotels with no permanent base.
Educational and child psychologist Hannah Abrahams said: "Their trust has been wiped from them, their lives were turned upside down.
"We work to get rid of the elephant in the room – talking about death. For not talking, drawing, playing and explaining often means that greater misunderstanding, fear and isolation occurs for families and children. We want to help break down these destructive and despairing psychological walls that can be built.
"The way the children and families have to deal with what happened on a daily basis is hard. Many live within the footprint of the building. I work with families who have had to manoeuvre their homes around, because waking up facing a charred building is unbearable.
"Because they are still living in hotels, these families cannot cook, which is a collective family experience, and that makes it harder to return to everyday life."
The Felix Project – in pictures

Show all 10
She added: "A teacher once said to me: 'Are they always going to be "the Grenfell children"? Or will they become people who will change society and be people who impact positively... I believe these children can do incredible things – but we have to help them get there."
This summer, at a similar event run shortly after the disaster, children affected by the tragedy were the very first audience the venue entertained.
Artistic director Anthony Biggs said: "They were our first audience, they are part of the infrastructure. It felt really special that they were here, and we are thrilled to have them back."
Families will be provided with transport so that they do not have to walk past the tower to get to the theatre. Food and drinks for the children have been provided by The Felix Project, supported by our readers, which takes food items that would otherwise have ended up in landfill and distributes them to charitable causes around London.
Mr Walker said: "We are incredibly grateful for the support of Felix and other charities who have shown the same spirit and commitment to the families and children affected by the Grenfell disaster."
The children and their families are not pictured for safeguarding reasons.
Here are the ways you can donate to our Christmas appeal:
Call – 08000 639281 (freephone)
Text – FELIX £5 TO 70700
Click – independent.co.uk/helpahungrychild
Post – Freepost HELP A HUNGRY CHILD
Want to help a hungry child? Join our Facebook group now https://www.facebook.com/groups/2016636181953774/
Join our new commenting forum
Join thought-provoking conversations, follow other Independent readers and see their replies