Help a Hungry Child: How one young mother found a lifeline with charity helping children of homeless families
'Chloe often says the only way she can keep going is because of us and the friendship and the support she has here'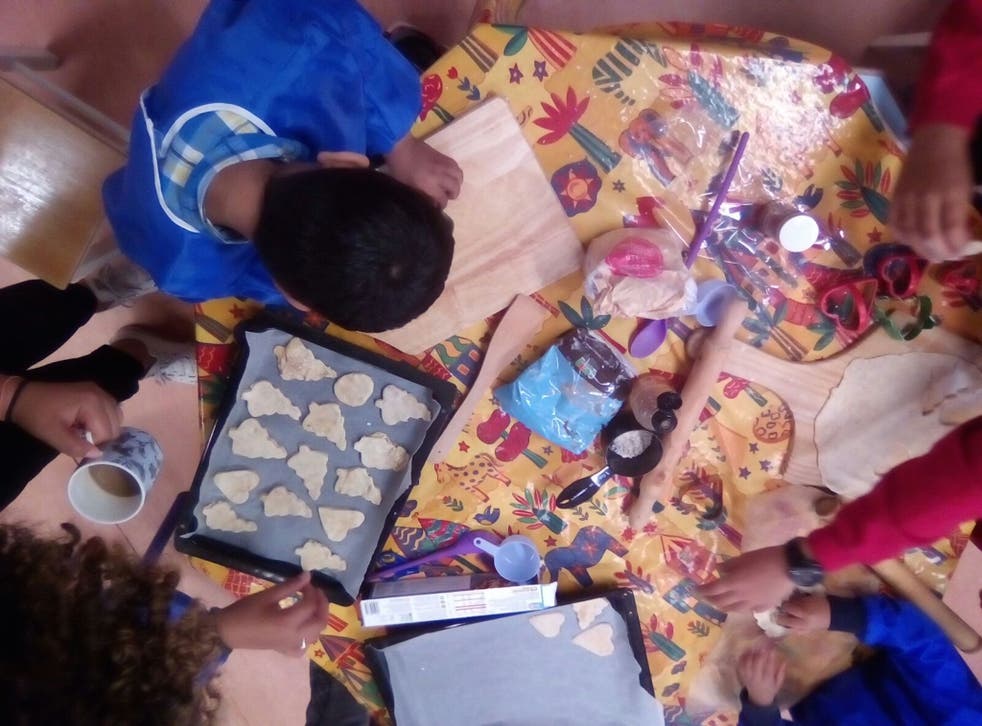 A single mother who fled domestic abuse has told how she found a lifeline through a charity helping the children of homeless families.
Doorstep, based on the ground floor of a hostel in north London, offers displaced children from across Camden breakfast — without which they would go to school hungry — after-school clubs, snacks and activities, as well as providing learning opportunities and a space to socialise.
Its aim is to rebuild a sense of community and help families — including parents fleeing domestic abuse and those fighting long-term illness — get back on their feet.
Writer and TV personality Victoria Coren Mitchell is a patron and it is funded through Streetsmart, which has partnered with The Independent's Christmas Appeal.
Chloe (her surname has been withheld to protect her identity) has lived in London for 10 years. She left an abusive relationship while pregnant with her second child. Chloe has since been living with her children, aged four and two, in hostels and has struggled to keep a roof over their heads despite working as much as she can on a zero-hours contract.
Doorstep director of 27 years, Vicky Fox, said: "Chloe is run absolutely ragged. We were so concerned about her having a breakdown one day when her pram with her weekly shop got pinched from outside. We contacted a donor who came down and bought her a new pram and food.
The Felix Project – in pictures

Show all 10
"She often says the only way she can keep going is because of us and the friendship and the support she has here. She cries her eyes out and is so grateful to receive help."
Chloe said: "Doorstep have helped with food when I have had no money, with clothes for the children, with childcare and me being able to use the laundry. It has got everything under one roof and has been a great support.
"Doorstep have been my heroes. They helped me with practical things like food, laundry and activities for my child. But most importantly provided me with emotional support when I needed it most."
Readers can now support mothers like Chloe through a restaurant partnership that is now helping to raise funds for London's most deprived adults and children.
Until the end of this month, 390 of the capital's finest restaurants will add an optional £1 to diners' bills in a scheme that will fund both StreetSmart — which entirely supports Doorstep — and the Felix Project, which is ensuring disadvantaged primary school children across London have access to nutritious food at the end of the day.
Among those participating are Dinner by Heston Blumenthal, Chiltern Firehouse and Clarke's, plus the restaurants at Fortnum & Mason and Selfridges.
Ms Fox added: "Chloe's situation is becoming more and more frequent because it's not that there are holes in the safety net, there aren't any safety nets anymore.
"Doing laundry costs tens of pounds [in a launderette] and the only people who need to use them are people who don't have washing machines — the poorest.
"Without charities like this you would have children stuck in their rooms at the end of the day, every day. A woman with really young children who is working, living in a room that is damp and receiving no help unless voluntary organisations like Doorstep step in to give her what she needs. And it's not just practical support, it's some love and it's some care."
Join our new commenting forum
Join thought-provoking conversations, follow other Independent readers and see their replies