Help a Hungry Child: Christmas appeal reaches £500,000 mark
Headteacher Sahreen Siddiqui of Stanhope Primary, the school at the heart of this campaign, said children were 'overwhelmed' by the generosity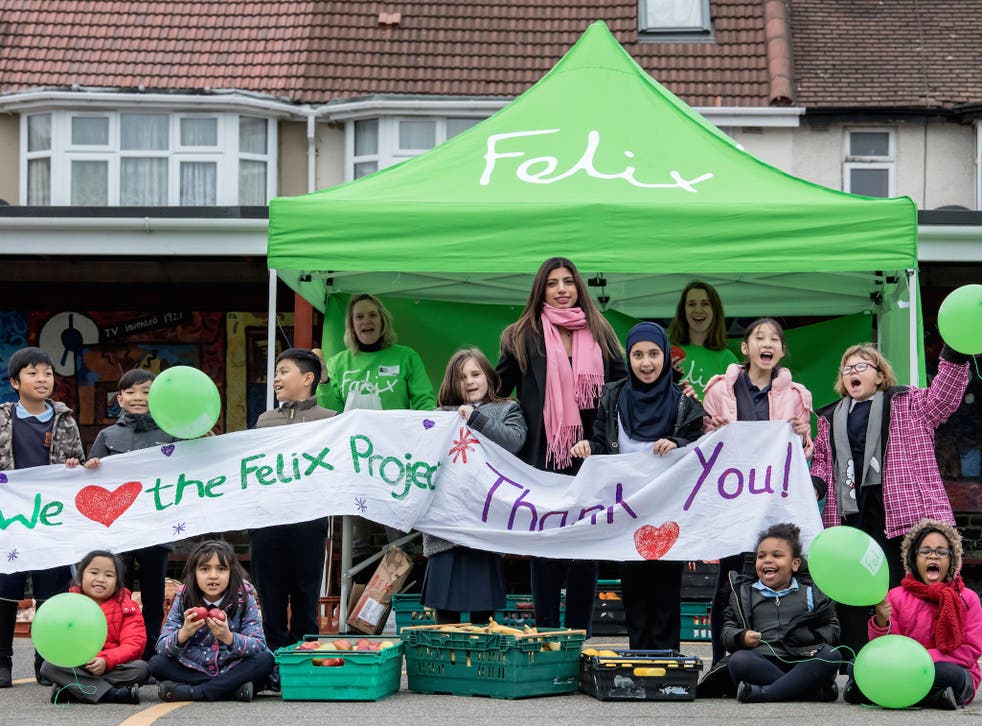 The Independent and Evening Standard Help A Hungry Child campaign smashed through the £500,000 barrier today after a bumper fortnight of fundraising.
The Christmas appeal reached the milestone after readers phoned in to donate through our first celebrity-packed telethon, raising £68,390. The total was boosted even further by a £50,000 donation from Uber.
Pupils at Stanhope Primary School in Greenford, which is at the centre of our campaign, were among those celebrating the fundraising breakthrough.
Headteacher Sahreen Siddiqui said: "We are overwhelmed by the generosity that has been shown towards this appeal. We are really excited to be the pioneers for this project that will impact on thousands of hungry children. It is a wonderful campaign and our children, parents and staff all want to say thank you to the readers."
Money from the appeal will go to The Felix Project, which will set up "market stalls" in 120 London schools, giving out free fresh food to children who would otherwise go to bed hungry. Children at Stanhope Primary were the first to get a Felix food stall in their playground.
Uber also made a £50,000 donation to The Felix Project last year. UK general manager Tom Elvidge said: "We're really pleased to be supporting The Felix Project for a second year. For more than five years we've been helping to move people in London and we're proud to now be helping get surplus food to those in need.
"Over the last year the vans we donated have been busy delivering food across the capital and we'll be doing more to support this great cause over the coming days."
Generous readers who supported yesterday's telethon pledged donations to celebrities including actors Sir Ian McKellen and Jon Hamm, football star Frank Lampard, model Daisy Lowe and TV personality Judge Rinder.
The Felix Project – in pictures

Show all 10
Evening Standard and Independent journalists also manned the telethon phones. Standard editor George Osborne answered a call to take a £24,000 donation from London fruit and vegetable purveyors, Mash. The firm's Charlie Mash said they were also proud to donate surplus produce every day.
Financial technology business NEX also donated £50,000. Chief executive Michael Spencer said: "Through the Help A Hungry Child appeal, The Felix Project is aiming to help over 50,000 disadvantaged children and their families over two years... I'm proud that NEX is donating £50,000."
Hilary Croft, chief executive of The Felix Project, said: "We are overwhelmed by the support of readers, businesses and other generous individuals who have given to our Help A Hungry Child Appeal. It's incredible we have reached this huge figure so quickly. The dual issues of food surplus and food poverty have really struck a nerve with our city. We want to raise even more funds before Christmas to help us reach as many people as we can."
She added: "I was at our pilot schools last week to see our stalls in action and they are making a huge impact. All fresh fruit and vegetables, dairy products and baked goods went within 15 minutes, with parents letting me know what a difference that was going to make to their weekly budget. This demonstrates this programme is much-needed for families across London."
Join our new commenting forum
Join thought-provoking conversations, follow other Independent readers and see their replies