The Independent's journalism is supported by our readers. When you purchase through links on our site, we may earn commission.
Help a Hungry Child: Ellie Goulding and Stephen Fry speak out against 'heartbreaking' child poverty that 'shames us all'
Celebrities endorse The Independent Christmas appeal at star-studded Christmas concert raising funds for The Felix Project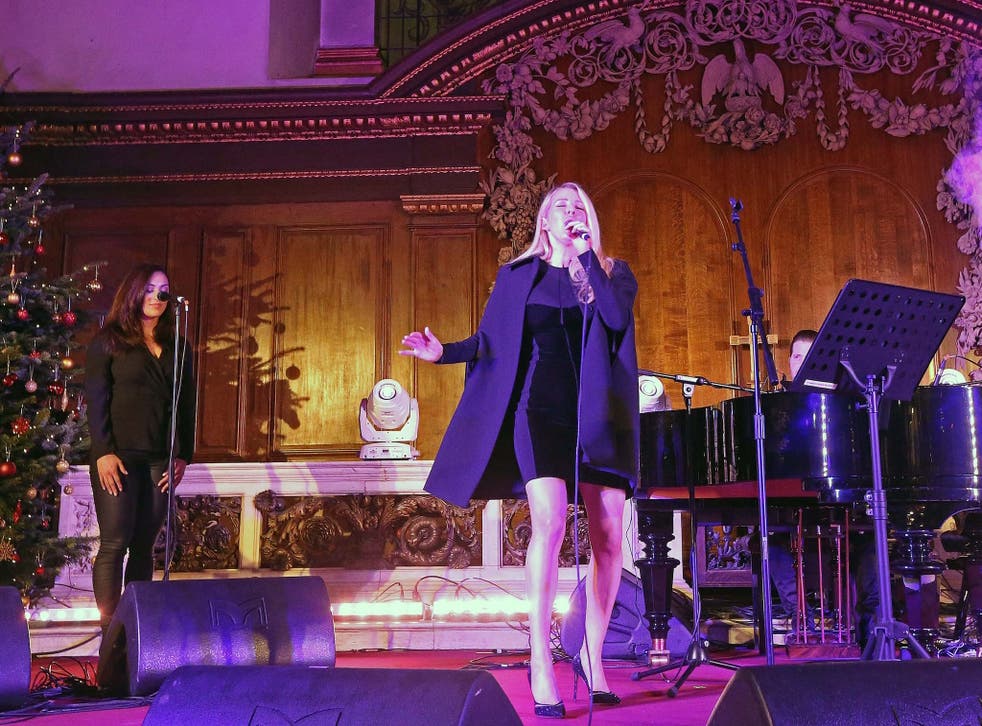 Ellie Goulding and Stephen Fry have condemned the "heartbreaking" levels of child hunger in Britain as they called on readers to back The Independent's Help a Hungry Child campaign.
Speaking at the Fayre of St James's, a star-studded carol service raising money for The Felix Project, Goulding said she was "proud" to support the charity's "vital interventions" in children's lives.
"It's nothing short of heartbreaking that so many of our young people cannot be guaranteed enough food to sustain them and help them grow," she said.
"Instead of enjoying their school experience as I did, and exploring opportunities to learn and thrive, they are going hungry. Imagine how this affects their life chances.
"Thankfully the Felix Project makes direct interventions at primary school level, getting nutritious food to kids that need it. This is a charity making vital interventions that I'm proud to support."
Fry echoed her sentiments, saying child hunger "shames us all" in 21st century Britain.
"I don't think you can possibly live in the 21st century and not be shocked to think that in London which after all is usually being criticised for being this sort of nest of prosperity of super rich and everything else that it contains such poverty," he said.
"That there are 70,000 children in London who can't be fed for breakfast it shames us all really."
Organised by Quintessentially Foundation and The Crown Estate, in partnership with The Berkeley Foundation, the Fayre of St James's is one of the most highly anticipated Christmas concerts in London. Tickets for the service sold out within days for up to £500 each.
Guests were served steaming cups of hot chocolate as they walked the red carpeted entrance flanked by Christmas trees. Inside the church, ivy and fairy lights adorned the pews.
Musical performances by Goulding, Keane frontman Tom Chaplin and pianist Okiem were poignant, with the echoing acoustics sending a hush over the church. A performance by the Kensington Aldridge Academy children's choir – the school that sits in the shadow of Grenfell Tower - roused cheers and applause from a visibly moved congregation.
Fry, Cressida Bonas and actor Stephen Campbell Moore all took to the pulpit to deliver festive readings and The Felix Project founder Justin Byam Shaw, along with his son Dan, delivered a hard-hitting introduction to the charity's campaign.
The service was closed with a blessing by Reverend Lucy Winkett who urged attendees to hold candles into the air as a sign of hope and rejection of darkness.
The Felix Project was the sole beneficiary of the concert, and so far the event has raised over £250,000 with more bids coming in today.
All funds raised by The Independent's Help a Hungry Child appeal will be channelled into a new programme providing fresh and nutritious surplus food to primary schoolchildren.
The scheme will have children's futures at its heart, helping to remove the barriers created by poor nutrition.
Every £1 donated will ensure a primary school child and their family has the food needed for a nutritious meal. £500 will enable a new school to be recruited to the programme.
Here are the ways you can help:
Call – Freephone – 08000 639281
Text – FELIX £5 TO 70700
Click – http://www.independent.co.uk/helpahungrychild
Post – Freepost – HELP A HUNGRY CHILD
Want to help a hungry child? Join our Facebook group now https://www.facebook.com/groups/2016636181953774/
Join our new commenting forum
Join thought-provoking conversations, follow other Independent readers and see their replies