The Independent's journalism is supported by our readers. When you purchase through links on our site, we may earn commission.
Jack Monroe on Christmas living in poverty: 'I unplugged the fridge, turned the heating off, took out the light bulbs'
Activist and food writer shares her story of living on the breadline with her son as The Independent launches Christmas appeal to ensure no child goes to bed hungry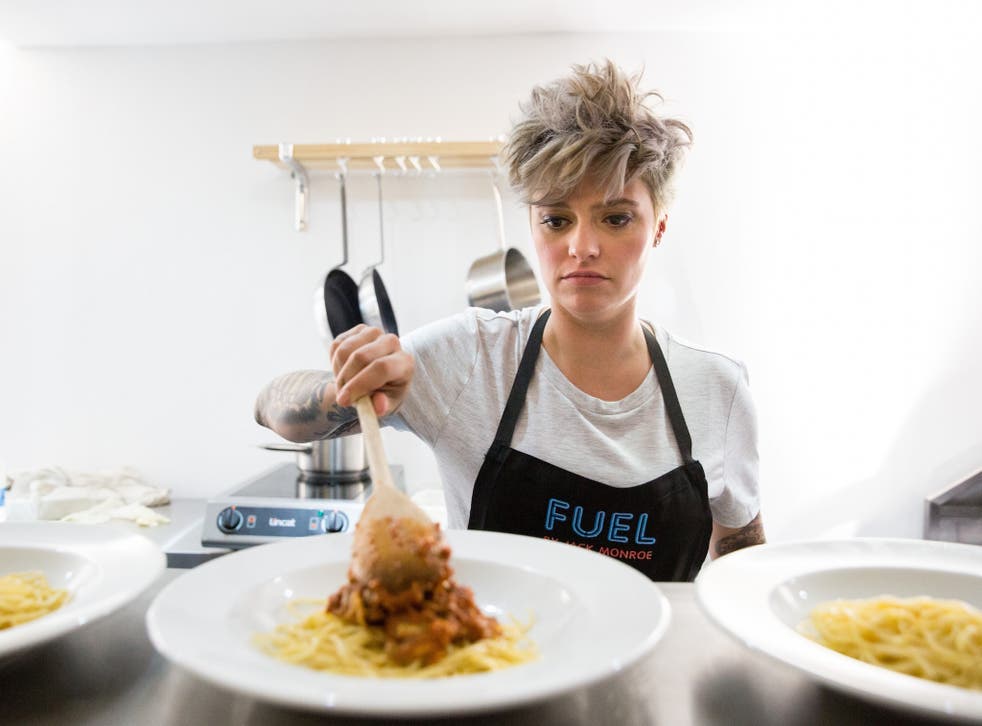 As a single parent living in poverty, Christmas was the most depressing time of year for Jack Monroe.
"It was a festival of all the things we couldn't have," she says. "Adverts on telly show families spending loads of money and you're just bombarded with it everywhere you go – this faux festivity and cheer."
The food writer and poverty campaigner found herself in a downward spiral in 2011 after quitting her job due to childcare constraints. She quickly found herself skipping meals to make sure her young son was fed.
The 29-year-old's rise to fame three years ago, and a string of cookbooks since, has changed their lives significantly – but she still remembers the hardest times vividly.
"My worst year, I didn't have a tree, didn't have any decorations, I couldn't buy any presents, I had unplugged the fridge, turned the heating off, taken out the light bulbs," she says. "I sent my son to his father's for Christmas and I just sat on my own and got drunk on cheap lager on the couch and didn't tell anyone."
Monroe knows just how desperate the situation is for the thousands of families that will use food banks this Christmas to eat. She didn't tell anyone about that day until years later because she was "so ashamed... I didn't want to admit to them where I was at and how terrible it was".
As many as one in 10 London families rely on charity handouts to survive, The Independent revealed this week, and food banks are expecting a surge of usage in December.
Shame at asking for help only adds to the hardship of those going hungry, Monroe says.
"You can never assume who people are who use the food bank. I always found it quite patronising when people would assume I didn't know how to cook. You don't know what people's situations are, you don't know their background, or whether they graduated from the cordon bleu before they got into debt and ended up at a food bank," she says. "People are there for all kinds of reasons."
That's why for this year's Help a Hungry Child Christmas appeal, The Independent is backing The Felix Project to support families living on the breadline.
The charity has been working since 2016 to fight hunger with surplus in-date produce, responding to the twin demons of food poverty and food waste.
Now, it will be channelling all funds raised by The Independent's appeal into a market stall scheme in primary schools where children and parents can choose the food they need as they go home at the end of the school day.
The Felix Project – in pictures

Show all 10
Crucially, every child, whatever their situation, will be encouraged to drop in and help themselves to a paper bag full of supplies, and no families will be singled out.
The food is fresh and in-date, collected from suppliers such as Waitrose, Sainsbury's, Marks & Spencer and Fortnum & Mason, and would otherwise have been thrown away.
The charity's goal is not only to tackle food surplus and food poverty, but also to combat the barriers to good nutrition and quality produce.
"Why shouldn't poor people have nice things?" Monroe says, as she endorses The Independent's campaign. "The idea because people find themselves in a terrible situation they've got to be grateful for every measly scrap they get is absolute b*******, we're all human beings, we all need to be treated well."
Deliveries to two London schools took place on Wednesday 29 and Thursday 30 November, and with the public's help the campaign is expected to reach 50,000 children and their families within two years.
Every £1 donated will ensure a primary school child and their family has the food needed for a nutritious meal. £500 will enable a new school to be recruited to the programme.
Here are the ways you can donate to our Christmas appeal:
Call – Freephone – 08000 639 281
Text – FELIX £5 to 70700
Click – independent.co.uk/helpahungrychild
Post – Freepost – HELP A HUNGRY CHILD
Want to help a hungry child? Join our Facebook group nowhttps://www.facebook.com/groups/2016636181953774/