Help a Hungry Child: Uber donates £50,000 to launch second school market stall
Headteacher Lubna Khan said The Felix Project's help was vital to stop pupil's at Berrymede Junior School going hungry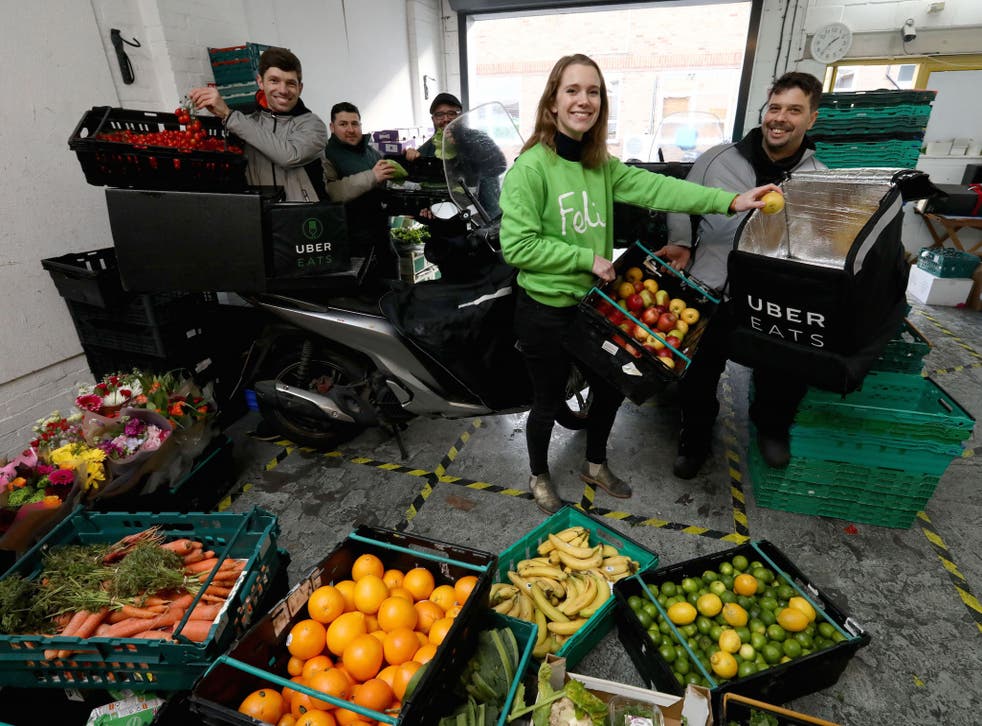 A second school market stall stocked with fresh, free food has been launched as the £50,000 donation from Uber boosted the The Independent and Evening Standard's Christmas appeal.
Four UberEATS staff volunteered an afternoon of their time to ferry the produce from the Felix depot to Berrymede Junior School in Acton Town.
At Felix's Park Royal depot, they carefully transferred fresh fruit, boxes of raisins and freshly baked bread from heaving crates into the coolers on their bikes.
UberEATS courier Lucas Pimenta, 37, told how, growing up in Brazil, he saw the realities of food poverty only too often as impoverished families struggled to feed their children. No one seemed willing to help them.
The scooter rider, who lives in Stoke Newington, was shocked to read in this paper about children going hungry in London: "I'm really excited [to help], because I know how hard it is for people who have no food."
Once all was packed, the riders whizzed through the back streets to the school, where children and their parents gathered around a bright green gazebo.
The crowd hummed with chatter as Felix volunteers handed out the bounty: shiny apples, bananas, parsnips, peppers, crates full of bread and lemon Müller yoghurts.
The Felix Project – in pictures

Show all 10
Pupils stepped forward to fill their Felix paper bags. Headteacher Lubna Khan said the charity's help was vital because Berrymede sits in a pocket of deprivation. "I used to feed children in my office. Many of our teaching assistants would take children aside and give them breakfast," she said.
Although the school now serves breakfast in the playground each day, she is worried about what happens when the children go home.
"Obviously if you're hungry you can't function. So the first thing is to make sure that the basic needs are met before learning can start," she said.
Ms Khan was thrilled to see children picking up apples and tomatoes. "We're talking about giving recipes and making it quite an exciting project," she added.
Join our new commenting forum
Join thought-provoking conversations, follow other Independent readers and see their replies