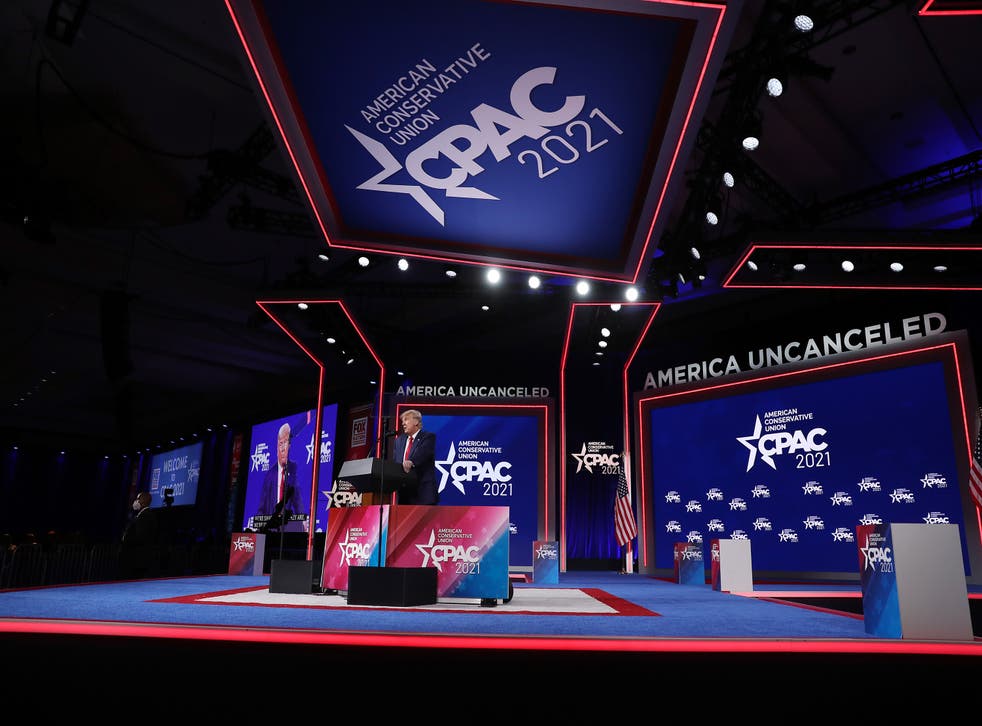 Hotel chain faces calls for boycott after hosting CPAC stage that resembled Nazi symbol
'The imminent boycotts you are going to feel for years to come,' says actor Rosanna Arquette
Cathy Adams
Tuesday 02 March 2021 10:45 Comments
A global hotel chain is facing calls for a boycott after one of its properties hosted a conference with a stage design that resembled a Nazi symbol.
The US Conservative Political Action Conference (CPAC) took place at the Hyatt Orlando, Florida, last weekend, with high-profile Republican speakers including former President Donald Trump.
Photos of the stage design soon went viral, with social media users comparing it to that of the Nordic odal rune, a Norse symbol that was used by Nazis during the Second World War. The ceiling of the conference room also included the same pattern.
Social media users, including celebrities, were quick to call for a boycott of the Chicago-based hotel group.
"Hey Hyatt hotels …hosting a fascist Nazi convention is the antithesis of inclusiveness. You have made a grave error in judgment. The imminent boycotts you are going to feel for years to come," actor Rosanna Arquette tweeted.
Activist Barbara Malmet said she would "boycott the hospitality chain forever", adding a hashtag of #NeverAgainHyatt.
The hashtag #NeverAgainHyatt has been used many times on social media.
In a statement, Hyatt said: "We take the concern raised about the prospect of symbols of hate being included in the stage design at CPAC 2021 very seriously as all such symbols are abhorrent and unequivocally counter to our values as a company."
In a later statement, it added: "When we learned that CPAC 2021 stage design had been compared to a symbol of hate, we promptly raised this concern with meeting organisers who strongly denied any connection to such symbols.
"Had we initially recognised the potential connections to hate symbolism, we would have proactively addressed it prior to commencement of the event. Unfortunately, this became clear to us only after the event kicked off.
"With CPAC's denial of any intentional connection to hate symbols and our concerns over the safety of guests and colleagues in what could have been a disruptive situation, we allowed the event to continue. We understand and respect the opinions of those who might disagree with that decision."
Chair of CPAC, Matt Schlapp, said that "conspiracies" surrounding the stage design were "outrageous and slanderous".
"We have a long standing commitment to the Jewish community. Cancel culture extremists must address antisemitism within their own ranks. CPAC proudly stands with our Jewish allies, including those speaking from this stage."
Register for free to continue reading
Registration is a free and easy way to support our truly independent journalism
By registering, you will also enjoy limited access to Premium articles, exclusive newsletters, commenting, and virtual events with our leading journalists
Already have an account? sign in
Join our new commenting forum
Join thought-provoking conversations, follow other Independent readers and see their replies