Hark the herald alt-popsters sing: Christmas albums from the most unexpected angles
Watch the exclusive Erasure video for 'Make it Wonderful' above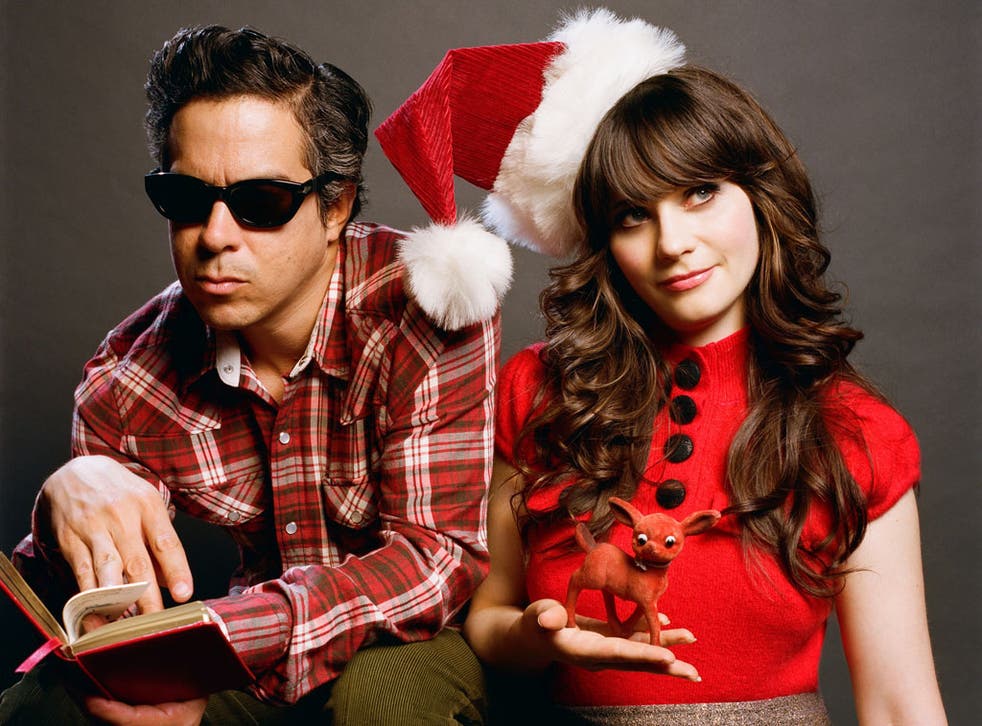 At some point in the career of any pop diva, a Christmas album must be released – and every year there are more to compete with the likes of Mariah Carey and Christina Aguilera. This year Leona Lewis put out Christmas, with Love, while Kelly Clarkson, Mary J Blige and Kim Wilde released their first ever festive albums with suitably naff, punning titles, A Mary Christmas and Wilde Winter Songbook.
While it remains the season for the novelty seasonal album and record labels repackaging existing albums in deluxe formats for better cash return, every Christmas since 2011 has become ever richer for the indie music fan. That year, we saw releases from indie couple Emmy the Great and Tim Wheeler (This is Christmas), Editors frontman Tom Smith and Razorlight's former drummer turned solo singer-songwriter Andy Burrows (Funny Looking Angels) and She & Him, the collaboration between Zooey Deschanel and M Ward (A Very She & Him Christmas). All put their own stamp on traditional Christmas songs, with new material written especially for the season – raising the typical quality of creative output for the season, and laying the path for others to release credible Christmas albums. With recent releases from Tracey Thorn and Erasure, the Christmas album is no longer the preserve of the diva – and thankfully so.
Until 2011, holiday albums catering for fans of more alternative music were limited. In 1999, we had Low's Christmas, the American alt-rock band's glorious EP of original songs alongside covers of traditional numbers. It was a more sombre take on the season, with haunting harmonies, and including covers outside of the typical upbeat standards, but the more underplayed songs such as Billy Hayes and Jay W Johnson's country track "Blue Christmas".
Sufjan Stevens's five-EP box set in 2006 was similar – an antidote to the usual overplayed songs, catering perfectly to the indie reveller, boasting new songs with titles such as "It's Christmas! Let's Be Glad!" and "That Was the Worst Christmas Ever!" alongside gorgeously arranged interpretations of traditional songs and carols, embodying warmth and melancholic spirit in equal measure. The second instalment of Stevens's set, Silver & Gold: Songs for Christmas, Vols 6–10, was released last year, with contributions from Aaron and Bryce Dessner of The National. Before then we had Phil Spector's 1963 album A Christmas Gift For You, on which he applied his trademark wall of sound, layering piano, sleigh bells and percussion with harmonies.
Last year brought us still more. An indie-leaning compilation – entitled Christmas Rules – with 17 new recordings by artists as varied as Fun., Rufus Wainwright, The Shins and Paul McCartney, was no typical holiday-season album. A combination of left-field carols and standards, highlights were Calexico's sombre version of the English carol "Green Grows the Holly", and the seductive harmonising of Wainwright and Sharon Van Etten on "Baby, It's Cold Outside".
Still more left-field was Tracey Thorn's Tinsel and Lights album, the surprise festive release of last year. One half of the duo Everything But The Girl, her fourth solo release stood out from last year's Christmas releases for eschewing all the cliches that we've come to expect of an album written for the season. Among her 13 songs not a bell was in earshot. Instead, "Have Yourself a Merry Little Christmas" was the only standard on an album devoted to covers of wintery songs by writers including Stephin Merritt, Sufjan Stevens and Low, and songs penned herself, including the opener "Joy". Here you're more likely to find references to snow, accompanied by piano, strings or brass such as on the beautiful, majestic version of Joni Mitchell's "River". What this album has is subtlety – not a word you would normally use to describe Christmas music.
More artists are capturing the wistful side of the season. Erasure's Snow Globe, released this year, is another album to do so. The veteran synth-pop duo's first Christmas album, a collection of original compositions and classics, is another subtle gem in the vein of Thorn's album – a more subdued approach to the season. Alongside versions of "Bleak Midwinter" and the lesser heard "Gaudete", it includes a couple of songs which could happily exist outside of the season – and happen to be among their best to date – "Make It Wonderful" and "Loving Man".
The most wistful of the bunch, though, is A Christmas Album by Nebraska indie band Bright Eyes. This year sees the first proper widespread release of the album since its release as a Saddle Creek online shop exclusive back in 2002. Its understated but effective monochrome cover represents the music it contains – distinctive bittersweet takes on carols and standards from the melancholic songwriter Conor Oberst, such as "God Rest Ye Merry Gentlemen", which hurtles along on a stomping rhythm. Each features Oberst's trademark tremulous vocals, lush instrumental arrangements and harmonies with musician friends. It was recorded at his home, and that warmth is captured in the album.
Who else can we expect to release a Christmas album – Morrissey? Perhaps not. But for now, the music fan's options are better than ever, and the releases of recent years will only lead to more.
'Snow Globe' by Erasure is out on Mute. Bright Eyes' 'A Christmas Album' is out on Parlophone
Join our new commenting forum
Join thought-provoking conversations, follow other Independent readers and see their replies