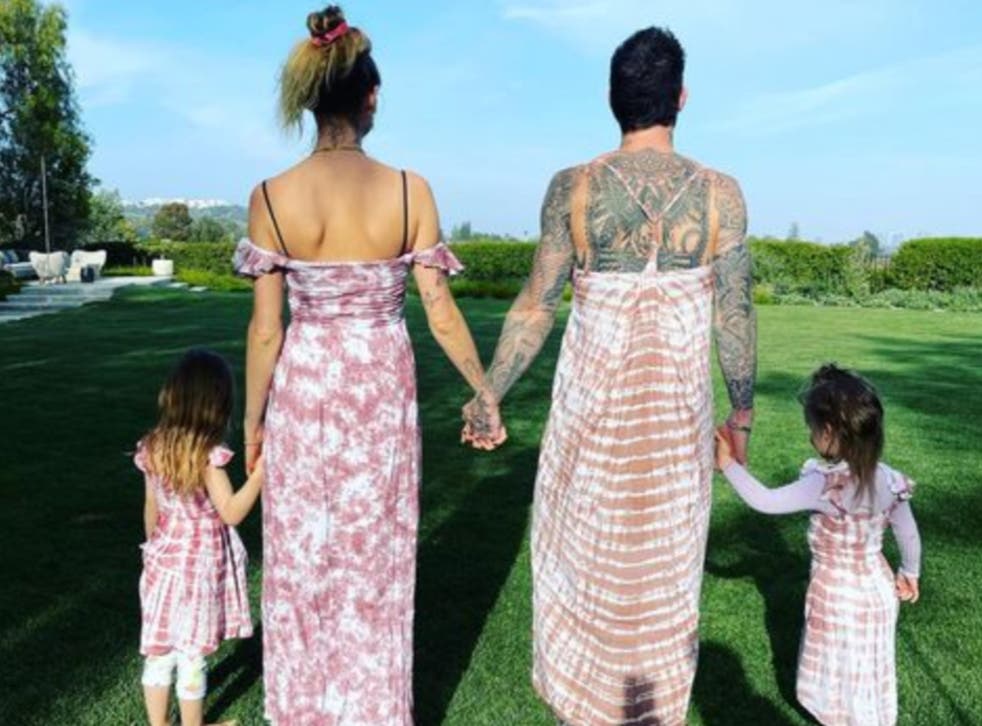 Adam Levine wears a dress to match his wife and daughters in Instagram post
Maroon 5 singer captioned the photo: 'Girls just wanna have fun'
Adam Levine is being praised for his parenting skills as a girl dad after dressing up in matching dresses with his wife Behati Prinsloo and their two daughters.
On Tuesday, the Maroon 5 singer uploaded a photo of the family to Instagram, where they could all be seen holding hands and wearing matching pink tie-dye dresses.
The 42-year-old captioned the photo, which shows the family, including daughters Dusty Rose, four, and Gio Grace, three, with their backs turned to the camera as they face a lawn: "Girls just wanna have fun" alongside a nail-painting emoji.
In the comments, fans praised the sweet photo, with many applauding Levine for dressing up with his daughters.
"This is the cutest thing I've seen all day," one person wrote, while another commented: "I love this picture for so many reasons! You are an awesome daddy and husband!"
Read more:
The sweet photo comes after the singer revealed that he and the Victoria's Secret model are not currently planning for a third child, with Levine telling Howard Stern: "I think if I asked her to have another baby right now she'd punch me in the f***ing face because she's not ready. We're good. We've got two kids."
However, Prinsloo has previously revealed to Ellen Degeneres that her husband wants to eventually have more children. Appearing onThe Ellen DeGeneres Show in May 2019, the model said that Levine "wants five [children]".
"I thought I wanted five, but now I think maybe three or four would be good. I'm backing[up, but just by one," she said at the time.
The couple began dating in 2012 before tying the knot in July of 2014.
Join our new commenting forum
Join thought-provoking conversations, follow other Independent readers and see their replies