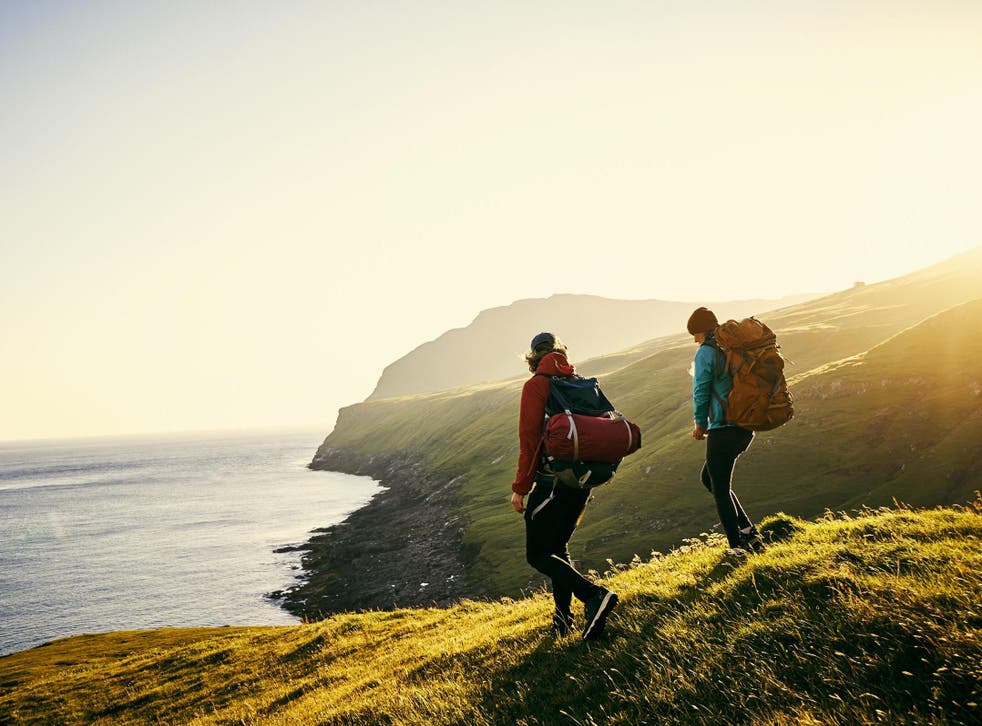 Walking tips: Expert advice on how to stay active with back pain
Suffering with back problems doesn't mean you need to hang up your hikers. Jon Axworthy speaks to the experts about how to stay moving
Walking is one of the most common outdoor pursuits in the UK with over 9 million adults doing it recreationally every month.
Unfortunately, another thing that is very common in the UK is back pain, responsible for 37 per cent of all chronic pain in men and 44 per cent in women. These statistics mean there are plenty of people whose enjoyment of the great outdoors is potentially being hampered by back problems.
But if you do suffer it doesn't mean that you need to hang up your hikers - recent advice from the Chartered Society of Physiotherapy (CSP) advised people with back problems to stay as active as possible.
"In 98 per cent of cases you're safe to move with back pain and it's not dangerous or damaging, and keeping active helps to encourage this thought process," says CSP physiotherapist Ashley James.
"People stop moving and reinforce the notion that movement is a bad thing, this in essence 'turns up' the intensity of pain. If you have an episode of acute back pain and start to move and exercise early, as best you can, it helps to 'turn down' the intensity of pain and encourage the healing of any soft tissue damage. This is why walking is such a 'reassuring' activity for back pain."
Read on for more advice, tips and techniques from the country's leading physiotherapists to help you achieve the best walking technique possible when you have back pain.
Grab some poles
Back pain affects your gait, in other words, your walking pattern, as your body tightens up in an effort to protect itself against what it sees as a damaging or risky activity.
"We call this functional rigidity which usually manifests as a change in walking pace and shorter strides, which actually makes walking more tiring and painful," says Heather Watson, a specialist physiotherapist from Designed 2 Move.
"This leads to a vicious cycle of further reduced mobility."
Britain's best walking neighbourhoods: Shortlist

Show all 10
In order to stay relaxed pick up some Nordic Poles the next time you go out. "They can be used as a simple, effective rehabilitation and management tool for some one suffering lower back pain," says Watson, "as the technique can enable an individual to work towards a more natural and fluid movement."
Swing your arms
If you're walking without poles, it's important to focus on your arms, swinging them as you go, which increases the body's counter rotation and reduces tension in the spinal muscles that can be a contributing factor in back pain.
The simplest way to ensure your arms are always engaged when you walk is to try and walk at a good pace. "You can even practice arm swings while standing still, to regain the feeling of rotation and progress into body rotation while walking," advises Watson.
Get off the beaten track
"There is also good evidence that walking in nature is beneficial for mental health and mood and there are clear links between back pain and mental health in the research," reveals Ashley James.
Research from Anglia Ruskin University backs this up as it revealed that back pain sufferers were more than twice as likely to experience a range of mental health conditions, from anxiety to stress, as those without any pain.
Keep it flat
"Avoid steep or long hills in the early stages until a good basic technique has been established," says Watson, "as these can aggravate pain if there is insufficient muscle power for effective propulsion."
Find your baseline
Deciding how long your walk should be is going to be dictated by how much pain you're currently carrying. "Find out what your base line is and then gradually build up the time you walk from there," recommends specialist physiotherapist Jayne Ward from Designed 2 Move.
"Start with something that you know is achievable. If you have a positive experience, then you are more likely to feel motivated to go again," she adds.
Posture
Try to keep your eyes on the horizon when you walk as this will open up your chest to make breathing easier and help relieve any tension that you're carrying in your spine. "This also allows the hips to be in a better position to allow for a more powerful stride," advises Professor Mark Fenton at Tufts University and co-author of Pedometer Walking,
Stride out
"Don't try and force a longer stride," says Professor Fenton. "However, you can increase the speed you walk at by increasing your step rate and this will have the effect of lengthening your stride more naturally."
Australian research has found that increasing stride length caused pain to reduce for a number of walkers who suffered from acute low back pain.
In association with Voltarol. For more information about our products or to report an adverse event with one of our products please contact 0800 783 8881.