The Independent's journalism is supported by our readers. When you purchase through links on our site, we may earn commission.
Let's Unpack That
Too gay, too weird, too pregnant: The most controversial Barbie dolls in history
Greta Gerwig's 'Barbie' movie features cameos from a host of surreal dolls quietly discontinued by Mattel – among them a pregnant plastic woman and Rob Brydon's 'Sugar Daddy Ken'. Believe it or not, all of them are ripped from reality, writes Ellie Muir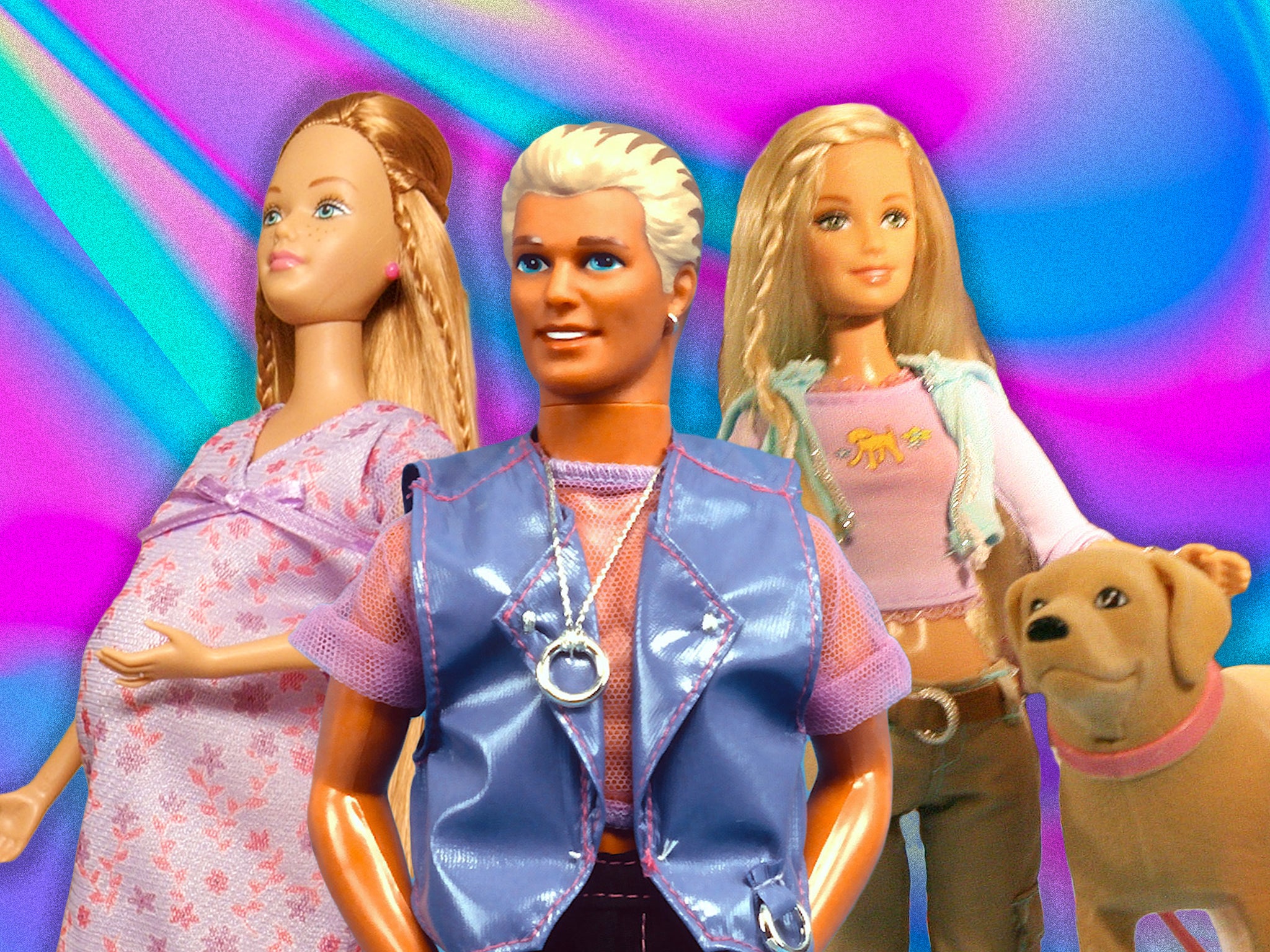 In Greta Gerwig's Barbie, Mattel raids its entire toybox. Along with Margot Robbie's titular doll and Ryan Gosling's Ken, we see discontinued toys from bygone eras of Mattel, all of them pulled from shelves for a host of reasons: marketing blunders, parental uproar, widespread controversy. In Gerwig's film, though, they've bonded over their shared rejection, hanging out in a strange house on the outskirts of Barbie Land, unloved yet resilient.
Since the launch of Barbie in the late Fifties, Mattel, along with its target consumers and their parents, have grappled with changing attitudes towards fashion, self-expression and gender roles. Their dolls have followed suit, and understandably there have been some blunders along the way. So join us as we rummage through the toy graveyard and unearth some of the more outrageous misfires in Barbie history.
Growing Up Skipper, 1975
Lifespan: two years
In 1975, a new version of Barbie's younger sister Skipper came with a brand new function: she could instantly experience puberty right in front of your eyes. By rotating her left arm anticlockwise, the toy's torso grew an inch and small breasts magically sprouted from her rubber chest. This process of transforming a young girl doll into a teenage doll was quickly mocked by newspapers, and criticised by parenting magazines as a gimmick. By 1977, the doll was discontinued.
Teen Talk Barbie, 1992
Lifespan: Three months before re-issue
Barbie was given a voice box in the Nineties, with each doll in the "Teen Talk Barbie" range coming with the ability to speak four sentences selected from a library of 270 phrases. Among them were: "Will we ever have enough clothes?" and "Let's plan our dream wedding!". Another, though, signalled the downfall of Teen Talk Barbie: "Math class is tough!"
The dialogue caused an uproar among educators and parents, as they argued that Barbie's dislike of maths reflected the harmful stereotype that girls are not suited to certain academic subjects. The American National Council of Teachers of Mathematics, for example, objected to the line and argued that it was detrimental to their efforts to encourage girls to study math and science – particularly when spoken alongside sentences all about shopping and marriage. Three months after the release of the dolls, Mattel pulled the doll and replaced it with a new version that didn't speak the controversial line.
Earring Magic Ken, 1993
Lifespan: Six months
Many have joked about the sexuality of Barbie's himbo boyfriend Ken. But when Mattel released "Earring Magic Ken" in 1993, a doll who came with a lilac mesh T-shirt, matching pleather waistcoat and black high-waisted trousers, the jokes went into overdrive. Throw in his accessories – a sparkly earring and a necklace that had an eyebrow-raising circular charm on the end of it – and it seemed inevitable that the doll was dubbed "Gay Ken" or "Fey Ken".
In a New York Times article published in 1993, writer Carol Lawson claimed that Mattel was attempting to "gender bend" Ken by making him appeal to both boys and girls. Other reports suggested that Ken had experienced a plummet in his popularity, so Mattel had conducted a survey among Barbie fans and the company found that they wanted Ken to be "cooler".
Others just thought he'd come out. "Ever since Mattel introduced Earring Magic Ken a few weeks ago, people have been wondering whether there's something more in the Dream House closet than a few Bob Mackie originals and some two-inch-wide hangers," wrote journalist Frank DeCaro in Newsday.
Donna Gibbs, director of media relations at Mattel at the time, emphasised that Ken's look was not meant to be controversial – he was just "contemporary" and thus a reflection of changing fashion trends. "Men are wearing earrings today, it's become a mainstream phenomenon," she said in 1993. "So Ken should have an earring, why not?" Just six months after Earring Magic Ken's release, however, he was sadly discontinued.
Happy Family Midge, 2002
Lifespan: unknown
By 2002, Barbie's oldest friend, Midge, was happily married and visibly pregnant with her second child – with Mattel announcing she was expecting a baby girl. Capturing this stage in her life, the "Happy Family Midge" allowed you to pop off Midge's pregnant belly and find a baby curled up inside.
Parents complained Midge was too young to be pregnant – it remains up for debate how old Barbie, Ken and their friends are actually supposed to be – and that the toy promoted teen pregnancy. According to a CNN report at the time, US supermarket Wal-Mart pulled Midge from its shelves, and Mattel later released a version of Midge with a flat belly and a baby you couldn't detach from and re-attach to her body. It is thought that Happy Family Midge was quietly phased out after that.
Tanner the Dog, 2007
Lifespan: three years
Kate McKinnon's Weird Barbie appears to own a plastic, endlessly defecating dog in Gerwig's film – and it's a pup that's sprung from reality. The golden retriever, named Tanner, was unveiled in 2007 and came with a magnetic pooper scooper. Even weirder, if you pulled Tanner's tail, tiny magnetic pellets of model faeces cascaded out of him. It was the poop pellets, however, that became controversial, as parents worried that they were a choking hazard for children. This resulted in a product recall – the magnet in Barbie's scooper was too loose, apparently.
Palm Beach Sugar Daddy Ken, 2009
Lifespan: less than a year
This 2009 Ken doll wore a satin green paisley blazer, white trousers and led a small white dog on a pink leash – but it was his name that sparked the most confusion. As it turned out, it was a huge error. Ken wasn't a "sugar daddy" as we know them to be, after all. A Mattel spokesperson told the New York Post in 2009 that "he's Sugar's daddy, as a reference to the dog" – Ken's dog being named Sugar, meaning he was a more literal "Sugar daddy" than first assumed.
According to reports, Mattel was thought to have taken references from the work of photographer Slim Aaron, particularly his "Palm Springs Party". Many of Aaron's subjects were celebrities and high-profile socialites, and in a 1970 shoot at the Kaufmann Desert House in Palm Springs, California, a man on the right of the photograph is dressed almost identically to Sugar Daddy Ken.
Barbie Video Girl, 2010
Lifespan: two years
As the exiled Barbie dolls congregate in Weird Barbie's at the edge of Barbie Land in the 2023 film, one appears to have a TV built into her back. This Barbie was designed with a hidden camera in her chest, which feeds the moving image onto the screen behind her. At the time of its release in 2010, the doll sparked concern among safety regulators about privacy issues, leading to the FBI issuing an alert about a potential child safety threat. While Mattel issued a statement saying that children's safety was their number one priority and that the toy did not pose a risk, the doll was quietly discontinued in 2012.
Join our commenting forum
Join thought-provoking conversations, follow other Independent readers and see their replies