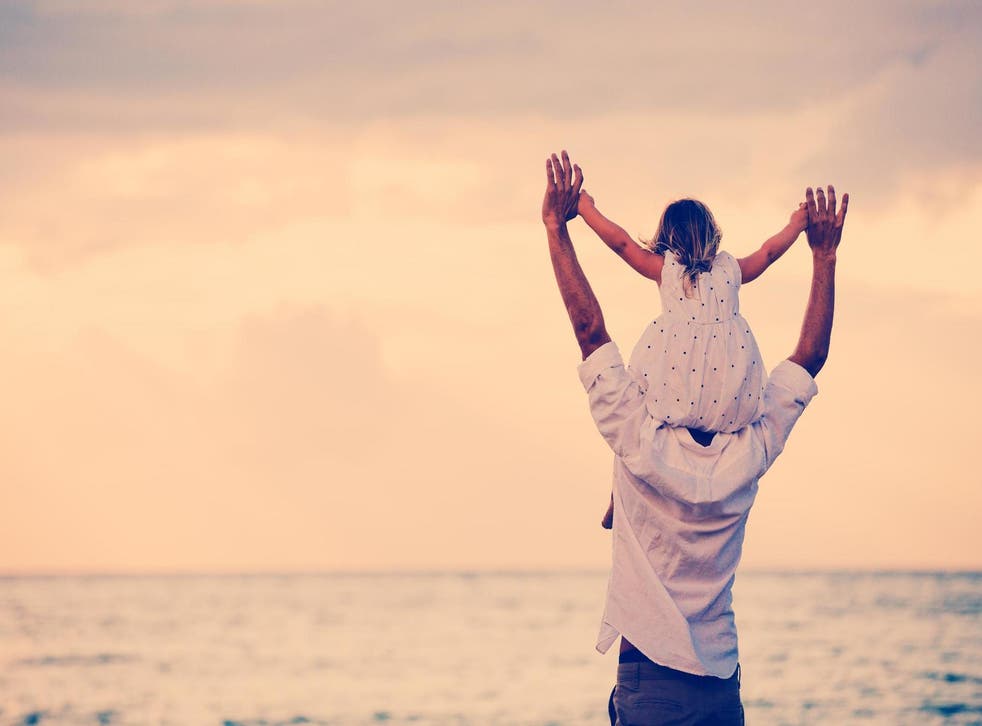 Five ways fathers can raise body confident daughters
'The father and daughter bond is one of the most crucial'
Body confidence doesn't come naturally to children (or adults) today, with insecurities starting from a surprisingly early age.
Children as young as five express dissatisfaction with their bodies whilst 80 per cent of girls have tried dieting by the age of 10, with many girls aged six to eight expressing desires to be thinner, reports Common Sense Media.
It's not something that popular culture is helping either, with 87 per cent of female characters in children's TV shows classed as underweight.
Of course these are cultural ideals that also affect boys, however, studies show that it is typically more prevalent amongst women.
Idealised female body types are even perpetuated by cartoon heroines, who have sparked outrage amongst parents for presenting their kids with unrealistically thin and doe-eyed characters (have you ever seen an overweight Disney princess?).
Meanwhile, one study found that overweight characters in kids' TV shows were more likely to be conveyed as unattractive or as having no friends.
Taking all that into consideration, is it really that surprising that kids start developing body confidence issues so young?
Typically, a daughter's body issues are seen as the mother's responsibility, given the presumption that she is better equipped to identify with the female perspective. However, a father plays an equally, if not more important, role in this. And of course gay couples need to help their daughters grow up body confident too.
Numerous studies have shown the positive impact that a strong father/daughter relationship has on a woman's self-esteem, with one even proving how it can even combat eating disorders.
"The father and daughter bond is one of the most crucial and will frame how a young woman views men and therefore how she has relationships (with men) for the rest of her life," explains Emmy Brunner, founder and director of The Recover Clinic.
"If she feels totally accepted physically by her father and good enough 'just as she is' this can only have a positive impact on how she views herself physically," she added.
So, what can fathers do to help raise a body confident daughter?
Focus on achievements that don't revolve around aesthetics
Whilst everybody loves a compliment, it's important to choose what you say to your daughter wisely, as you never know what could be running through their mind and how your comments could affect them.
"Praise your daughter for who she is, as opposed to what she looks like," Brunner advised.
Address sexism in the media
Rather than retaining a stiff British upper lip, it's important to address the gender inequalities perpetuated by the media and popular culture with your children (remember #Legs-It?)
"Challenge media depictions that exploit or degrade women," Brunner explained to The Independent. "Let your daughter know that you don't think this is ok."
If a father explains why this might be harmful, it might have more of an impact on a child, as it will demonstrate that feminism is not necessarily a gendered issue.
By that same token, it would also be helpful for mothers to address issues of sexism surrounding men.
Make mental wellbeing a priority
"Emphasise the importance of physical self care as opposed to physical perfection," Brunner says.
"Nurturing yourself for health and mental wellbeing is far more important to subscribing to any physical ideal."
Inspiring body positivity quotes

Show all 12
The more that fathers can teach their daughters to consider health as a means of being rather than looking, the better.
Do not diet
By making your daughter aware of your own body insecurities, it can naturally perpetuate a copycat behaviour model.
Studies have shown that outward expressions of a father's physical insecurities can be particularly harmful for sons too.
Obviously, this applies to both parents, as seeing one's mother or father in a state of anxiety about their appearance will naturally make any inquisitive child question their own aesthetic value.
Don't talk about your own physical imperfections
Similarly, it's important not to vocalise issues surrounding physical hindrances with your children, if you can avoid it.
"Our kids learn from what we do so much more than what we say," says Brunner.
"Be the example that you want to your child see. Just because you're a father doesn't mean that you can't model what it is to be positive about your own body," she said.
Join our new commenting forum
Join thought-provoking conversations, follow other Independent readers and see their replies