Thrifty bride who spent just £1,000 on wedding shares her top money-saving tips
'My advice to anyone would be to think outside the box'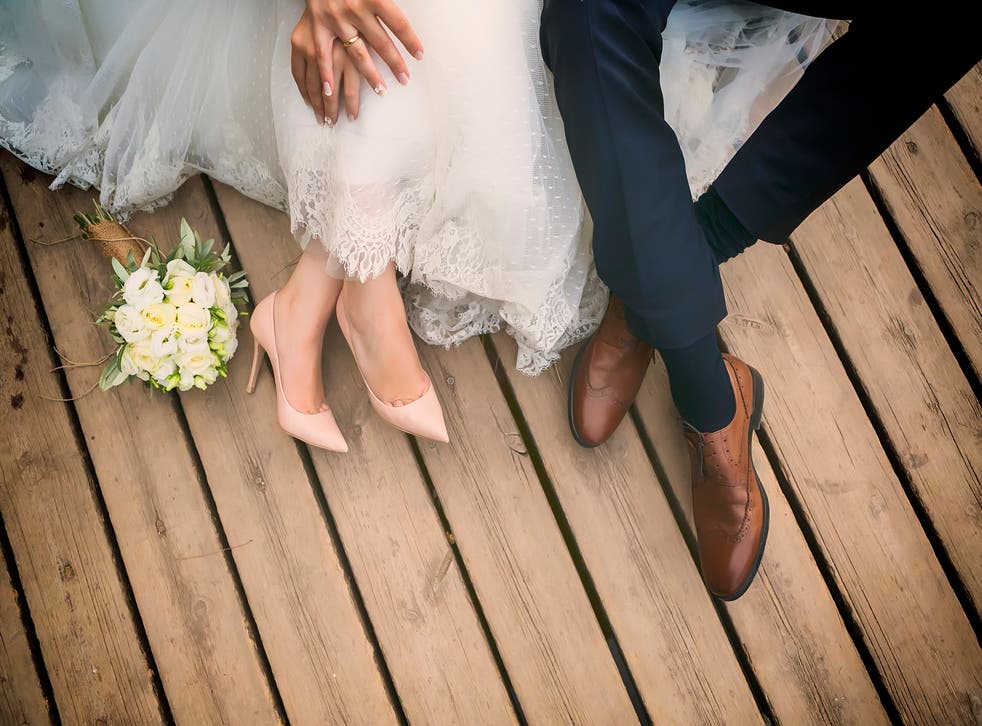 A thrifty bride who managed to plan the wedding of her dreams for just £1,000 has shared the secrets to having a beautiful budget wedding.
With the average cost of weddings now standing at £27,000 in the UK – and more than £38,000 in London – it has become seemingly normal to blow your life savings on saying "I do."
But, a new generation of penny-pinching women are ditching tradition and redefining what a wedding should like – one of those women is Emilyrose Fitzpatrick.
Originally from Sydney, the Glasgow-based bride tied the knot with husband Rory last September and although they had originally planned to elope, when her parents said they were visiting, they changed their mind.
But, this left the couple with less than four months to plan their wedding.
"We didn't want to spend a fortune and I knew we could still have a fantastic day without breaking the bank," she told the Daily Record.
"We had less than four months to plan as Rory was busy in his job as a restaurant manager so I had to do it alone.
"It was a challenge on such a tight budget but we were determined to stick to it.
"It was the most perfect day and I wouldn't have changed a thing."
By slashing the cost on her wedding's big-ticket items, Fitzpatrick was able to have her dream wedding with 100 guests for just £1,000 but just how did she do it?
The dress
Every woman should be able to walk down the aisle in the dress of her dreams, regardless of her budget and luckily the British High Street is responding.
She said she found a "lovely strappy wedding dress" on Asos for £60.
Other brands that now offer ranges of affordable bridal wear include Self Portrait, Whistles and Topshop.
Flowers
Instead of using a professional florist, Fitzpatrick made use of the high street and made many of her own decorations.
She bought cheap bouquets from the high street and added thistles and eucalyptus leaves.
"I picked up florist's tape, wire and ribbons, and made a stunning bouquet and headpiece, as well as two corsages for my best friends."
Photography
Hiring a photographer can be one of the most costly parts of a wedding so if you know your wedding guests will be snapping away throughout the evening, why not just use one for the ceremony instead?
They hired a photographer for just two hours for £200 to capture the ceremony. Then, at the reception, we put disposable cameras on the tables and everyone took pictures with those.
Catering
Considering your menu choices will help save some serious cash so instead of a sit down meal opt for a buffet, barbeque or even a picnic. Fitzpatrick also extended this idea to her cake ditching tradition in favour of a savoury offering instead.
"The pub did canapes of calamari and pork pies and we had a £30 cheese tower with crackers instead of a cake."
Venue
If you're looking for an affordable wedding venue then small hotels, pubs and even your own home are the best places to find a bargain. Think out the box and make use of any contacts you or a family member might have.
Rory's contacts in the hospitality industry helped them to get a deal on a function room in a pub for their 100 guests.
Register for free to continue reading
Registration is a free and easy way to support our truly independent journalism
By registering, you will also enjoy limited access to Premium articles, exclusive newsletters, commenting, and virtual events with our leading journalists
Already have an account? sign in
Register for free to continue reading
Registration is a free and easy way to support our truly independent journalism
By registering, you will also enjoy limited access to Premium articles, exclusive newsletters, commenting, and virtual events with our leading journalists
Already have an account? sign in
Join our new commenting forum
Join thought-provoking conversations, follow other Independent readers and see their replies