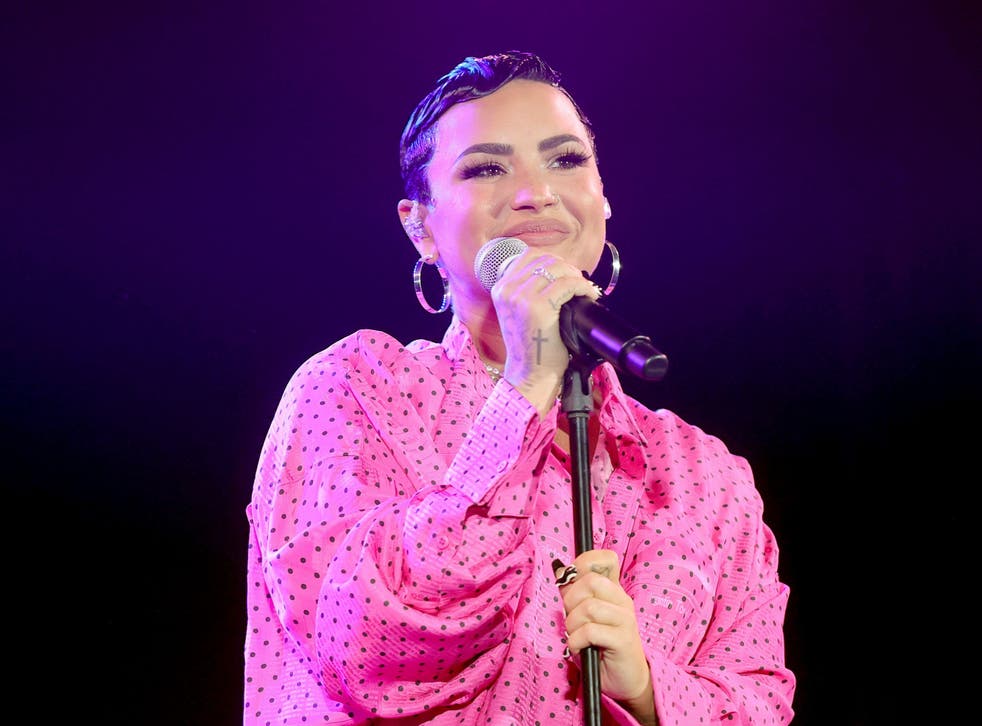 Demi Lovato apologises after accusing LA frozen yoghurt shop of promoting harmful 'diet culture'
The singer admitted she 'jumped to conclusions'
Demi Lovato has apologised after accusing a much-loved Los Angeles frozen yoghurt shop of promoting harmful diet messaging.
Singer Lovato took to her Instagram stories on Sunday 18 April to call out LA frozen yoghurt shop The Bigg Chill, writing that she was finding it "extremely hard" to order from the shop when "you have to walk past tons of sugar-free cookies/other diet foods before you get to the counter".
She continued, writing, "Do better please" and using the hashtag #DietCultureVultures.
The post caused significant backlash online as many people argued that the shop was catering to people with dietary needs such as diabetes and celiac disease, as well as other allergies.
The Bigg Chill also responded to the accusation, writing in their own Instagram story: "We carry items for diabetics, celiac disease, vegan and of course have many indulgent items as well."
In an additional private message to the singer, which she reposted, the store said, "we are not diet vultures" and that, "we cater to all of our customers".
Following the online conversation, Lovato posted an eight and a half minute video on Instagram in which she explained that "because [messaging] wasn't clear, I definitely jumped to conclusions".
The former actress explained that when she's passionate about something, her messaging can become unclear.
Speaking in the video, she said: "My intentions were not to come in and bully a small business," adding, "I'm genuinely sorry that people took it the wrong way - I just get really passionate."
The singer also discussed her eating disorder recovery, saying she found it "triggering" to walk through a store and see what she perceived to be "diet" options, before getting to the counter.
Lovato continued: "That's why I'm super sensitive when I walk into a fro-yo place and I see diet stuff."
She said she is willing to work with the fro-yo shop "to help align the messaging, so where I feel safe going in there and I can eat the fro-yo I went in there for."
For anyone struggling with the issues raised in this piece, eating disorder charity Beat's helpline is available 365 days a year on 0808 801 0677.
NCFED offers information, resources and counselling for those suffering from eating disorders, as well as their support networks. Visiteating-disorders.org.uk or call 0845 838 2040.
Join our new commenting forum
Join thought-provoking conversations, follow other Independent readers and see their replies