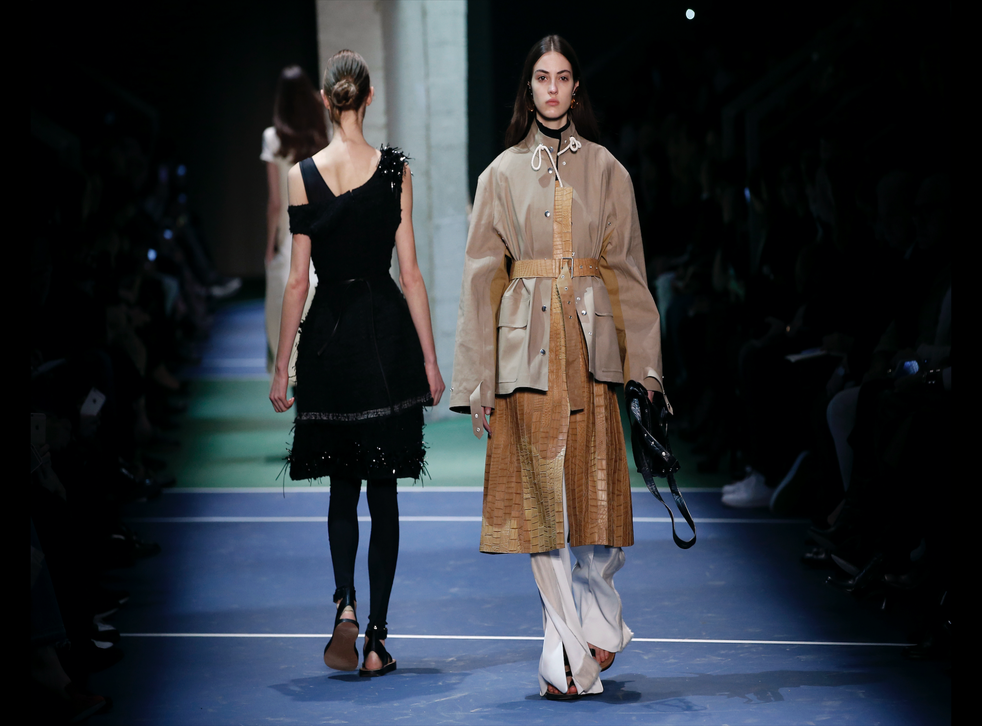 Clothes to forget about: Céline offers a serene wardrobe fit for... well, Phoebe Philo
Phoebe Philo is her own best model, and she showed her greatest pragmatic hits for Céline for autumn/winter 2016. But is that enough for the stage of the catwalk, asks Alexander Fury
At the end of a Céline show, as the polite amongst the audience are applauding and others are training camera-phones on the catwalk to video the models' finale (for what? Where do all these videos wind up? A question not for here, but one I often ponder), you crane your neck expectantly. You want to see what Phoebe Philo is wearing. You do the same at a Prada show. Because you want to see which of the many looks proposed chime with what these two designers - independent, career-minded, phenomenally-successful and aspirational women - put on their own backs. You want to see their reflection in reality.
That's pointed at Céline. Philo has often used the model Daria Werbowy in her campaign imagery, who bears remarkable physical similarity to the designer. Philo embodies her own woman. You kind of don't need to hear Philo say anything about her clothes (this season, apparently, it was about texture and volume. Groundbreaking) because it's enough to see them on her back.
Philo chose this autumn/winter 2016 season, a moment of upheavals at other fashion brands, with creative directors set to arrive or rumoured to leave - including Philo herself, if certain gossip-mongers are to be believed - to restate a few of her basic Céline-isms. Reductionism, cleanliness, a specific breed of Minimalism that eschews chilliness for a generosity, wide-cuts, eased-up shapes, even if they are at a certain remove. These are practical rather than affectionate clothes. They don't vibrate with much emotion.
Anyway. The restating and retrenchment of Céline ideology was especially evident via accessories - the strong story of the season. Here Philo showed elasticated leather pop-sock shoes, flat or with cone heel; folded plushie leather bags with chain straps; and another in polished calf like a bag she dubbed the Classic, introduced at the start of her tenure, and which quickly became one.
Many of the clothes reminded me of the work of Donna Karan - much does at Céline generally. Not just the aesthetic, although that was there too, the swinging jerseys in a putty palette, a notion simultaneously picked up by Jonathan Anderson in his Loewe show. But while Anderson's interpretation sat on the surface (lots of stretch, a ton of sand, a bunch of hammered metal jewellery), Philo's cut deeper. It was more about the way a woman would feel in clothes like these, than the way they'd look. That engenders a visceral reaction, but the excitement it generates is different. Arguably, it's less exciting.
The rest of the collection was sloppy. Intentionally, often attractively, flaccid trousers and deflated tops puddling about the body, in black, a shot of electric green, and lotsa neutrals. Karan's favourite leggings were a foundation Philo often chose to build on: they peeked out from under dresses and skirts and tunics. In fact, not a single model emerged with legs bared - including Philo herself, the model Céline woman, in a black tunic over white trousers. That chimes with what many women mostly want to wear now (although white trousers are maybe pushing it): a practical bent born from Philo being a woman fulfilling the varied and various roles demanded of those many today - mother, wife, boss, and her own person.
The straightforward pragmatism of this show chimed with fashion's contemporary fixations, of clothes to get into and get going in and, maybe, not think about too much. 'They're clothes you can just put on and forget about,' said Karan, once, about garments similar to these. I keep carping on about Karan but I think Philo has inherited some her chief characteristics, and that her success is built on a similar idea of attractive clothes embedded in the practicalities of everyday life, as much as the need to look attractive. It's an intrinsically female point of view.
Paris Fashion Week AW16 in pictures

Show all 29
I think women do want to put on clothes, sometimes, and forget about them. But does that translate to a catwalk statement? Or to a collection that registered as more of a breathing space than a creative departure, a moment to look back rather than forwards. The nude-dominated colour palette was reminiscent of Philo's first Céline catwalk show; the focus on trousers a reminder of one of her greatest, longest-lasting hits (her much-exulted expertise in cutting trews is a carry-over from her Chloe days over a decade ago).
This wasn't so much a retrospective as a reminder, a box-ticking exercise, a go-to list for a whole host of women for next season. But in the arena of the catwalk, that statement proved too quiet to really resonate in a memorable way. To paraphrase Karan, these were clothes you watched, and then forgot about.
Join our new commenting forum
Join thought-provoking conversations, follow other Independent readers and see their replies