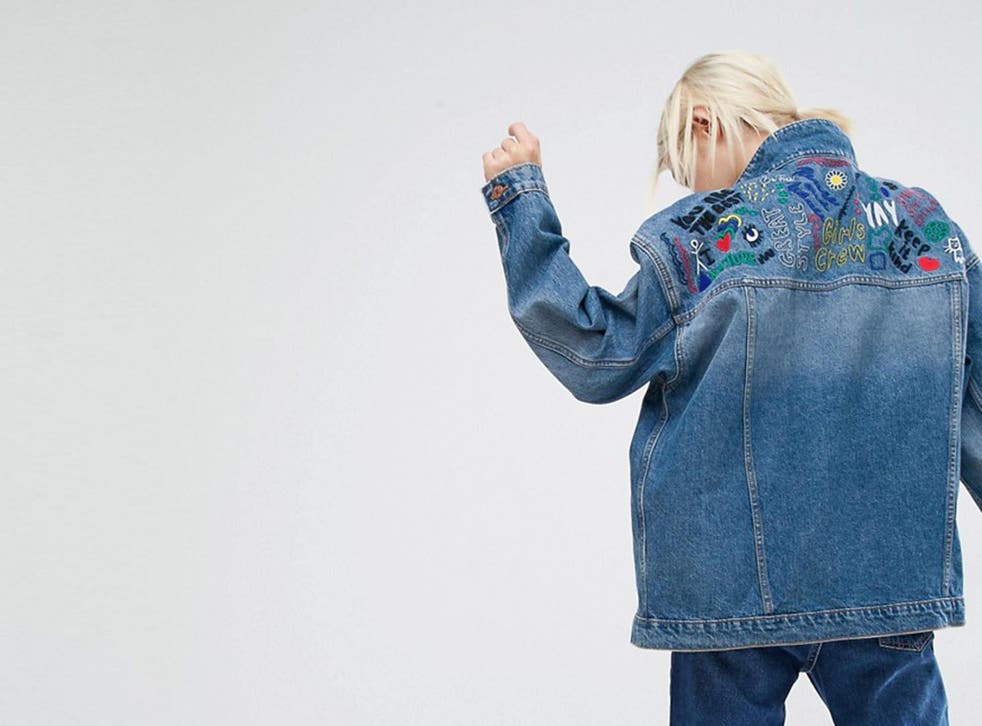 Embroided denim is in: Here's how to wear it
Decorated denim's everywhere right now, particularly covered in colourful embroidery and badges, writes Naomi Attwood 
Summer may be ending, but as the off-the-shoulder peasant blouses get packed away, the haute hippy, Seventies-through-a-luxury-lens trend lingers into autumn fashion. Stiff, starched, Seventies indigo denim is the look to be seen in, as evidenced by Gucci and Valentino on the catwalk whilst numerous contemporary womenswear and High Street brands have had a similar idea.
For a rebellious, tomboy take on the theme, embroidered patches give jeans a rock n roll, Almost Famous groupie vibe, whereas flora and fauna embroidered straight onto the denim give off an arts and crafts aura. As well as Alessandro Michele's ultra decorative, "more is more" incarnation of Gucci, two brands have been instrumental in the embroidered/embellished denim trend. Bliss and Mischief is one, a US brand started by vintage dealer turned designer Hillary Justin in 2014. With UK stockists making the pieces easy to track down, the brand also offers made-to-order embroidered pieces from their US website, making these Cali-cool pieces rather special. Although covered in floral embroidery, the cut of the denim is boyish rather than overtly feminine.
The second brand flying the flag for old-timey authenticity in new garments is Rockins. The name may be familiar from the splash made by the launch of the brand with a range of Seventies silk skinny scarves two years ago. This season sees the duo Jess Morris and Tim Rockins launch denim, with an emphasis on the stiff, 14oz textiles and Mick Jagger-esque period glamour, "taking you back to the original blue jean babies of the Seventies and Eighties".
Rockins go as far as to suggest for the care instructions: "Wash rarely and keep in the freezer over night to maintain the shape and lux quality". It might sound funny, but it perfectly illustrates how denim, in the right hands, has been elevated to a luxury material, to be cherished and worn for best, rather than something to be chucked on or worn only on down days.
Join our new commenting forum
Join thought-provoking conversations, follow other Independent readers and see their replies