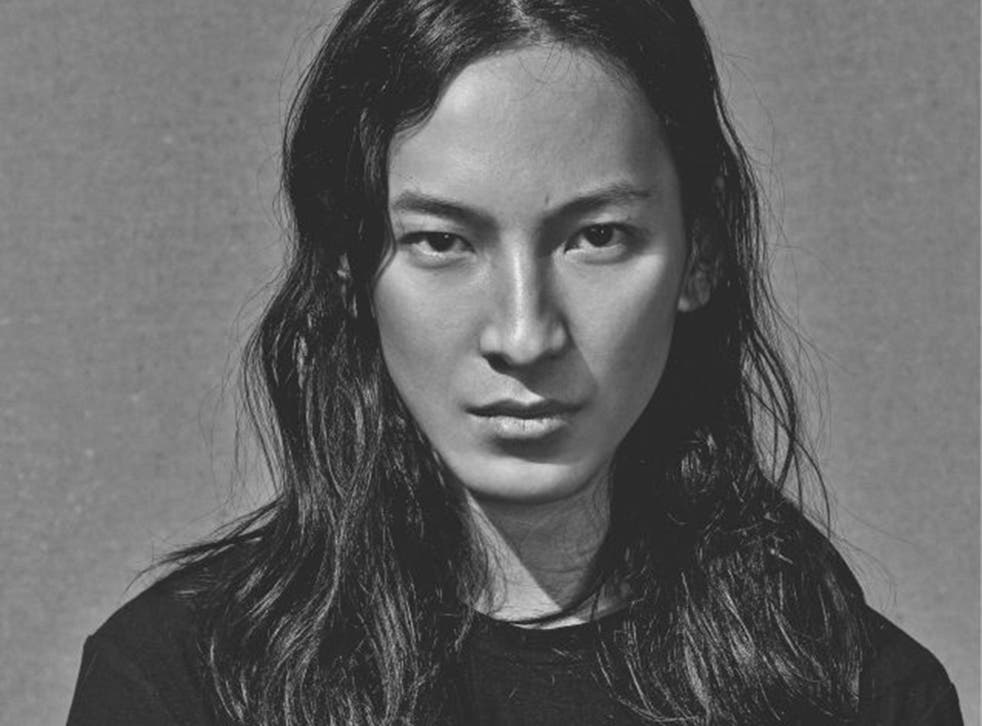 Alexander Wang: Designer who defined a decade explains what lies ahead as he leaves Balenciaga
As he opens his first London store, 31 year-old Wang is one designer who's keen to keep looking forward rather than back
It seems there are clouds on the previously perennially sunny horizon of American designer Alexander Wang. Last week, the fashion industry bible Womenswear Daily reignited speculation that Wang's upcoming spring Balenciaga collection would be his last.
Ranks closed tight. The possibility of even discussing Balenciaga was nixed pre-interview by Wang's own PR; early last week, a Balenciaga representative remained tight-lipped. But on Friday, rumour became fact. After three years, Wang has left the building.
How sad. Sad that a designer leaves after barely warming his seat, and sad that any speculation should overshadow Wang right now. His eponymous brand is on the crest of a wave, and no doubt he truly is happy to part ways with the French house in order to take it "to its next level of growth", as he said on Friday. With annual revenues now around £64m, there will be plenty to keep him occupied. This weekend, he opened a store in London's Mayfair. And though he already has a flagship in New York and more than 20 locations in Asia, this is his first in Europe. So it's a big deal. But why choose London over, say, Paris? His moonlighting at Balenciaga took him there every month, and his "off-duty model" aesthetic is as much a fit for that capital as this. It turns out that it simply made financial sense to a designer who has never been afraid of that particular F-word. "It was our biggest European market," says Wang, of London, where we meet. "From the very beginning, it's always been a very supportive market, and it's a city that I love."
But finding the right location wasn't easy, he explains. "I wanted it to be a substantial representation of the brand, one in which I can house every single category that we offer. It took time, but we feel like we've finally found a good home." Wang enlisted Belgian architect Vincent Van Duysen to unite the disparate spaces of a former Post Office and an art gallery: "It's full of new elements; the only thing that will be familiar is our Poltrona Frau furniture that we collaborated with them on."
Those categories include the women's ready to wear that he shows at New York Fashion Week and his secondary line, T by Alexander Wang –not a diffusion line, he insists. Accessories will be on sale, too, including the accessibly priced handbags that have helped him fortify his brand, founded when the designer dropped out of Parsons design school in New York aged just 19.
Accessibility was the intention behind his recent collection for H&M, too: "I had just signed on to do Balenciaga when I was approached for the H&M collaboration. I've always been fascinated by how I could reach a much larger audience without comprising the integrity of my own brand, and I remember people saying, 'When you get to the mass [market] point, you're going to have to do a lot of things that you don't like or that you won't want to put your name on.'" (Perhaps that was the reason Wang's H&M collection was so boldly emblazoned with his surname?)
Alexander Wang collection - pre-fall '15

Show all 8
Wang is savvy. He refused to be drawn on his negotiations with Balenciaga – but his relatively short time at the label had an obvious impact on his approach: "Everything that I look at, that I hear or experience, gets stored," he says. "Sometimes it becomes actual reality and sometimes it just stays in the memory bank."
Having Balenciaga as another outlet was, he says, "very liberating – to be able to express different thoughts, different ideas and approaches is really awesome". But his eponymous label remains his first love. "As I've grown up, my tastes have changed," he says, "but I'm still the same person. And at the end of the day, when I'm the name on the label, it's inevitable a lot of things are derived from me. But hopefully, we're laying the groundwork so that one day, if I'm not here, the brand can still live on."
A pragmatic and forward-thinking viewpoint from one so young – he's still only 31 – but characteristic of Wang. Even dropping out of Parsons wasn't a decision taken lightly: "It was quite early on in my schooling and I had to convince my family that it was the right thing to do. But I was very determined and I knew at that moment it was about taking this opportunity to really figure myself out. The worst case scenario was that I would have wasted a year.
"There's this myth that my parents, who come from a manufacturing background, put me in touch with all these [contacts]. But actually it's so false, because my parents are in plastic packaging: they make shopping bags! No one in my family worked anywhere near the fashion industry, so it was something that I had to navigate on my own." On that journey, he found guides in Anna Wintour and Diane Von Furstenburg, both supporters from an early stage, as well as his now-72-year-old mother.
And that such strong, mature women have helped him build his brand is interesting: at first glance his aesthetic is youth-focused. But, on closer inspection, his designs are surprisingly universal. "I always say that you can't build a brand based on youth. Of course, the industry is obsessed with youth and the next young, or hot, or cool thing... it definitely played a part in my beginnings. But now I have to create a brand that stands for other things than just my age."
He knows first-hand. It was his position as the poster boy for young New York talent that led to his role at Balenciaga, and it was an appointment that caused some consternation for that same reason. "There is a sensibility that aligns with being youthful," he admits, "when you're fearless, when you want to go and experiment, to be ironic and irreverent and play with humour. But I think those ideals can be ageless and limitless."
This year is the 10th anniversary of the Alexander Wang label and his show at New York Fashion Week next month will celebrate that feat. But this is one designer who's keen to keep looking forward rather than back.
Join our new commenting forum
Join thought-provoking conversations, follow other Independent readers and see their replies