Ally Capellino: It's in the bag

Show all 7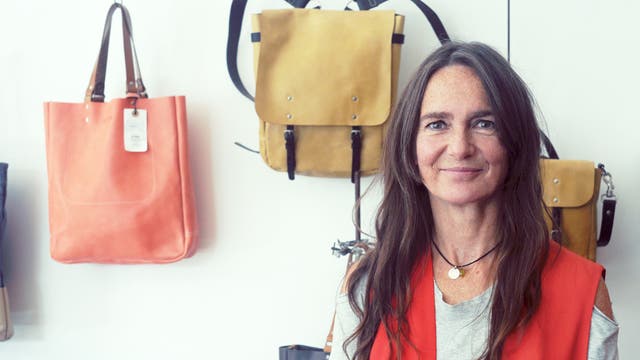 Ally Capellino: It's in the bag
From retro rucksacks to schoolboy satchels, Ally Capellino's designs are as popular as they are practical – even though they don't follow fashions. As she opens her second shop, she tells Harriet Walker what makes a classic
Designer Ally Capellino is as resilient and unassuming as the satchels and rucksacks that have made her name famous. She has been in the business for 31 years, gone through reinvention and restructuring, and last week opened her second boutique, on Portobello Road.
But she doesn't want to shout about it.
"It suits us for people to think we're below the radar," she says over a cup of coffee across the road from the new store. The shop sits directly opposite, with a walkway paved from the trendy restaurant full of beautiful people next to a happily located zebra crossing. "They want to know that people know you enough, but not too much. People don't like big branding – we don't do that on our stuff. We know that people pick the labels off if they're too big. But they must still trust us because they want to see the branding on the inside. They want it to be there, but not too loudly."
And that sums up the Capellino model more broadly: to the cognoscenti, her waxed cotton, canvas and leather bags are everywhere you look. They're the anti It-bag of the modern era. Meanwhile, those who haven't heard of her don't realise that the rucksack they bought on the high street boasts many of her design ticks, not to mention a dash of her idiosyncratic, retro style.
Capellino, 55, was born in Surrey and grew up in Dublin and Yorkshire making her own clothes from Vogue patterns. After art school and studying fashion at Middlesex University, she began designing clothes for Marks & Spencer, but couldn't stand the corporate hierarchy.
"I'm quite practical," she says, "I started making jewellery and whatnot." Closer inspection reveals her to be dripping with homespun bracelets and simple wire earrings, even a length of pink thread hooked through one piercing, which makes her look every inch the glamorous bohemian in her jaunty orange tunic dress.
After setting up business with her then partner, Capellino began working on a collection inspired by the 1980 Moscow Olympics. Dogged by controversy and the eventual US boycott of the event, it was a move that garnered plenty of interest at the time. "It wasn't very well put together," she says. "But it was bought by Whistles and we made news for ourselves by printing a sweatshirt and writing 'cancelled' on it, which now seems quite crass. We only took £300 of orders, I still remember, and neither of us realised that that wouldn't keep us going for another six months."
But the line continued throughout the Eighties, producing simple and modern pieces for men, women and children. And she became one of the first British names to break the Japanese market in the early 1990s, opening several stores there before the break-up of her relationship forced a period of consolidation and contemplation. "We went bust in 1999, partly through bad management but also because we were splitting up," she says. "We weren't really helping each other at all, you know how you get about things." Like Abba, I suggest. She crinkles with laughter.
Since restructuring the business in 2000, Capellino has struck out on her own and concentrated on the bags that have made her name a byword for modern and modest elegance. Signatures include old-school khakis, navys and charcoals redolent of a bygone era of utility and anonymity, softly structured waxed cotton or canvas and beaten-up, supple leathers. The beauty of an Ally Capellino bag – and it is the aesthetic pleasure of a design classic rather than the temporal draw of a fashion must-have – comes from its obvious practicality.
"I like things that work," she says. "Knick-knacks drive me mad. I think things that have a use have more interest somehow, rather than just being for decoration. Because they've got a story." But this doesn't make for a dour aspect – there are mustard messenger bags, salmon-pink totes and cardholders of every colour in the mix. Capellino's accessories pick up on the gentle quirks in her own character: she laughs a lot, she is considerate and, most of all, she is undeniably cool without really trying to be. She cycles everywhere, so uses one of her own square-cut rucksacks on a daily basis ("That's one of the designs I'm most pleased with," she says. "You can get right into it.") and works from her studio in east London, next to her first boutique on Redchurch Street. "We've been there for six years," she says. "When we first started, that street was quiet as a mouse. Nobody ever came in, but it's got a really steady business now."
Hence the opening of the west London branch. As a brand, Ally Capellino has grown up as part of a generation of Hackney artisans, as well as an ever-expanding fanbase of young "creatives" who are interested in design but not designers, per se. The utilitarian appeal of these bags is part of a nostalgic subculture of cyclists, dandies and cottage-industry hipsters, who are enchanted by function and finesse as much as they are by finish. This demographic was key to Capellino's 2008 collaboration with Apple on a range of computer carry-cases.
"It's been a big success for both of us," she says proudly. "Apple's really happy, because it has pioneered a new market. The company then worked with Mulberry and Paul Smith."
If Capellino sounds slightly at a remove from the rest of the fashion industry, it's because she is; she has done her time with trends and seasonal variety and now seeks to turn that into something more substantial. Her range is updated regularly, but there are old favourites, such as the Dean rucksack and the Jeremy satchel, which reappear time and again. Originally, these were named for New Labour politicians, she tells me. "We had a Tony and a Gordon, a Robin – but he had to go," she says. "Then we had a 'woolly liberals' collection, and that's where Jeremy came in. There was a Nick too, but he's just gone actually. I feel a bit of a fraud, because they are just satchels, you know. The very first Jeremy we did was influenced by a picture of Chinese student revolutionaries with really cheap, droopy satchels.
"It was the droopiness I liked about it and everyone said 'no, it's not manly enough' but that softness became our handwriting."
And the so-called "man bag" has become her forte. Capellino's bags are first choice among the taste-makers that changed the market for men's accessories. And there is a ubiquity of design in the most popular models that can be traced right back to her.
"I'm really pleased, because it's quite flattering," she says. "Was I timely? Was I ahead of it? I don't know. When we first opened, there was quite a resistance and there isn't now. Men are really not comfortable with things that look like decoration, that was key to it – if they can say it does a job for them. And I suppose that's the same target as mine actually."
312 Portobello Road, London, W10 5RU, 020 8964 1022
Join our new commenting forum
Join thought-provoking conversations, follow other Independent readers and see their replies