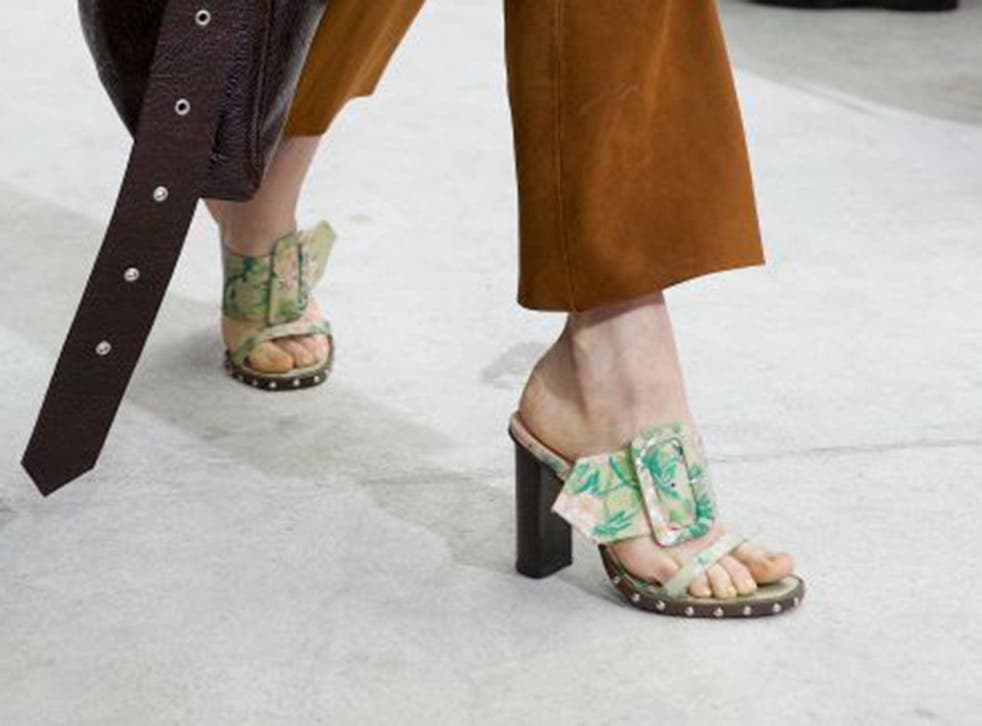 Best shoes for spring 2016: Bring your look up to date with a new pair ... or four
Rebecca Gonsalves rounds up the key trends to look out for to help you put your best foot forward
To the point
Footwear trends tend to be even more repetitive than those in clothing. Pointed and round- toe shapes are in rotation, bolstered occasionally by the in-between almond shape and the even more rare square. The last has gained ground of late on the catwalks of Gucci and Prada, but it's a return to the straight and narrow that we're facing this season.
By now, the shape should be familiar enough that you understand why it works (it slims the foot and ankle, and makes even a flat shoe look smart) and quite how pointed you're prepared to go – hint: winklepickers are a step too far.
The best shoes for spring 2016

Show all 16
Boot camp
The growth of seasonless dressing is big news in fashion. What it boils down to is designers and retailers trying to align themselves with what customers will want to buy, and wear, and when. Cue rejoicing when ankle boots were all over the catwalks for spring/summer, a season that actually begins to be sold in February.
In recent years, ankle boots have become the workhorse of the modern wardrobe, worn with everything from skinny jeans to skirts. If you've already got a basic black or tan pair, 'tis the season to opt for something more flashy and fun.
Flat out
The flatform sole has been around long enough to go from sartorial statement to downright quotidien. The latter, of course, couldn't be said about Chanel's version for spring: shown as part of the brand's airline-inspired extravaganza, the soles featured little LEDs in homage to the floor-level emergency lighting on a jet.
Luckily, you don't need a private plane at your disposal to be able to channel the look, as there are plenty of interpretations on the high street. Slide-on styles abound, but if you're after something more sturdy, look for hefty heel straps, or this season's update – ankle-tie ribbons.
Backing out
There are two key ways to wear go backless this spring. The first looks like a regular shoe, albeit one that has had its back end sliced off or squashed down, à la Alessandro Michele's Gucci offering, which is still proving popular with the fashion set. One down side, is that this style can pose a dilemma about what hosiery to wear – white sports socks are proving a popular solution but need a bit of panache to pull off.
The other option is the mule, which offers a distinctly retro Seventies-via-the-Nineties vibe and will really come into its own once the mercury begins to rise.
Join our new commenting forum
Join thought-provoking conversations, follow other Independent readers and see their replies