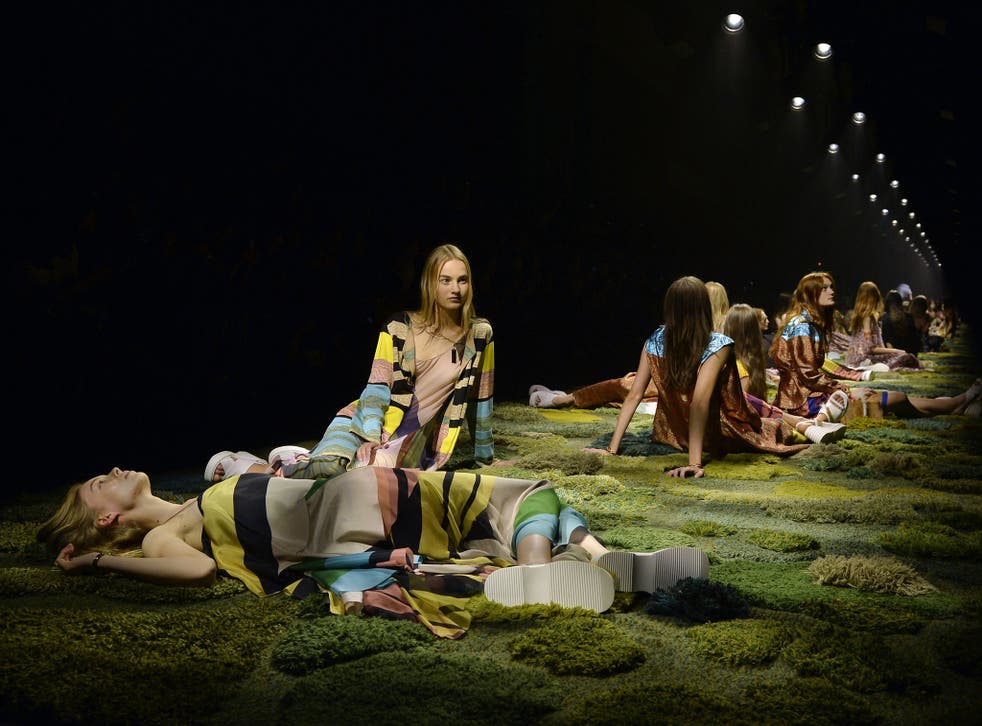 Dries Van Noten interview: The Belgian fashion designer is the magician of mix'n'match
For Belgian designer Dries Van Noten, the first rule of fashion is - there are no rules. Rebecca Gonsalves meets him in Antwerp
Dries Van Noten was killing time waiting for a transfer at Madrid airport last year when some tourists caught his eye. It turned out that they were Germans on their way back from Thailand. "They were half eco-warriors, half sun-worshippers," the Belgian designer recalls when we meet in Antwerp. "They were wearing harem pants with a hi-tech jacket and comfortable shoes. On one side they had a laptop, on the other the baby which one of them was breastfeeding. Oh, and dreadlocks!"
That encounter was the starting point for a collection that went on to utterly charm the fashion press at Paris Fashion Week last September. An independent thinker who eschews the highfalutin bells and whistles of his conglomerate-owned competitors, Van Noten has made the unofficial opening slot his own, often showing amid the opulent surroundings of the Hotel de Ville. But in September his surprising choice of venue was a big empty space in the Grand Palais, where the catwalk was covered in a hand-tufted wool carpet that made it look like a stretch of forest floor, albeit a perfectly art-directed and particularly verdant one. Spotlights created dappled light as if there was a canopy of branches above the models' heads. The show was soundtracked by a hauntingly naturalistic chorus of birdsong.
The clothes were eclectic – this is a designer known for the nimble way in which he blends the ancient with the modern, and mixes the humble with the oh-so-special – with jewel-coloured stripes slicing across sheer slips, silken trousers, and longline sleeveless coats. There were colourful prints, too, as well as jacquards, embroideries and fringes – all motifs much loved by Van Noten.
The collection was beautiful, and reach-out-and-touch-me covetable. But neither of those things are unusual for Van Noten. No, what really stopped those present in their tracks was the finale, in which, rather than the usual promenade of key looks from the collection, the models simply sat or reclined on that lush carpet – evoking John Everett Millais' painting of Ophelia.
What had appealed to Van Noten about the tourists he'd seen at the airport was "they didn't have rules, although they put things together in a very specific way. So techy walking sandals became white platforms, and we had embroidered things with floppy, ethnic bands and a mixture of rich materials, but done without any rules".
The carpet – created in just three weeks by Argentine artist Alexandra Kehayoglou – was designed to evoke moss when the real thing was found to be too fragile underfoot.
Born in Antwerp in 1958, into a family of notable tailors, Van Noten spent his formative years working for the family businesses, which expanded to include fashion boutiques, thus giving him precious insights into the mechanics of the fashion industry. At the age of 18 he enrolled on the fashion design course at Antwerp's Royal Academy, and boosted his student coffers working as a freelance designer. After graduation, he began producing his own collections, launching his eponymous label in 1986.
As part of the famed "Antwerp Six" group of Royal Academy graduates, he quickly picked up buyers in London, New York and Amsterdam. Over nearly three decades he has built a thriving company, all the while flouting the industry's received wisdom: "I am independent," he says. "But I'm not trying to fight against systems and rules which are made by other people or which are established in fashion. It's just that we work in an organic way."
Van Noten doesn't advertise – usually a powerful gambit – and rather than racking up fragrance licensing deals he has instead collaborated with boutique fragrance-maker Frederic Malle on a singular scent. His designs are worn on the red carpet, but they are more likely to have been purchased by the celebrity than borrowed by their stylist, and contracts tying a starlet to his brand are unthinkable.
"It's the correct way to do it because then it's their choice. We dressed Cate Blanchett for the Oscars one year. She was eight months pregnant at the time. We made her look really glamorous and glorious – she made it on to all the best-dressed lists because she looked so incredible. Things like that happen, but there's no real system. The unwritten rules of the red carpet are so sad, I think. 'No flower prints at the Oscars,' for example. If that's the rule, then let's do flower prints. For winter we have beautiful evening outfits done in beige washed cotton with a lot of embroidery. You know there's not going to be one star who'd wear that on the red carpet… now they have to be half-naked."
The current vogue for jetting press and buyers around the world in order to see pre-collections – clothes that were once quietly ushered on to the shop floor in order to keep the cash registers ringing between catwalk collections – holds no interest for Van Noten. "I don't do pre-collections. I have other solutions to ensure early deliveries. But maybe for me it would be more interesting to do a post-collection. These types of things make us an exception in the fashion world. Everybody has his own truth, and his own way of looking at things."
Van Noten isn't interested in keeping up with his competitors. In fact, he refers to them as "colleagues" – an indication, perhaps, of a magnanimous spirit that is rare in an industry transfixed as much with the bottom line as it is with hemlines. "Style-wise I do the things that I want to do," he says. "But organisation-wise you have to run a company, you have responsibilities."
Those responsibilities include to his stockists, his staff, and his suppliers. "I try to see that every season we have prints, so that we can work with our six printers. In India we have a cottage industry involving 3,000 people working on many techniques of embroidery, so for me it's important that in every collection we have embroideries. Sometimes they're very in-your-face and visible, sometimes they're subtle. But they're always there, so that I can give work to these people."
Traditional fabrics, prints and colours from around the world form a distinct part of Van Noten's aesthetic, and he is known for being one of the most sensitive handlers of diverse inspirations in a business where tact can be lacking and appropriation is rife. "When it's sacred, when it's religious, you have to be careful. You can't just do whatever you want. It's not just an object; it's not just a thing. I want to pay respect to that; I think there are enough things in the world that you don't have to go that way. It's important that it feels honest, but it is fashion – I have no problem mixing Japanese motifs and Chinese emblems in the same fabric, for instance."
Travel fires his imagination, but Van Noten can find it overwhelming, too, preferring instead "travel of the mind", which affords him the freedom to exercise the pick'n'mix approach that works so well for him. Music is important, too, as is art. These elements come together in Inspirations, a retrospective of sorts currently mounted at Antwerp's ModeMuseum, in which Van Noten pays homage to his fashion forebears, but also to the artists, musicians and places that have shaped his work. It's a line-up that runs from Reubens to Damien Hirst via Jane Campion and David Bowie.
"Fashion is a reflection of what's happening in the world," Van Noten says. "I want to know a lot of things – to be educated by people, to read newspapers, to see exhibitions and talk to artists."
He has a reputation for being a cerebral designer, but that fails to do justice to so multifaceted a character: "Emotion is important. I'm a very emotional person. I want to get a certain feeling when I see something. I've always said that the moment I don't enjoy it any more, then I'd better stop, because I think you would see it in my collections if I did something without a soul. It's not simply a product. That is something I don't want."
That emotion runs through to the staging of his catwalk shows, too. There is always an element that is special, not least at his 50th show, in Paris in 2004, an event at which 500 guests were seated for dinner at a vast table that later became the catwalk. Of all his shows over the years, this remains his favourite. "People imagine that I don't get nervous for a show any more – forget it! Every time it gets worse and worse; every fashion show feels like the first one. I'd love to make it easy for myself, but I'm a perfectionist and I want things a certain way." If that means creating beautiful moments as well as oh-so-covetable clothes, long may he continue.
Dries Van Noten: Inspirations is at the ModeMuseum, Antwerp until 19 July (www.momu.be)
Join our new commenting forum
Join thought-provoking conversations, follow other Independent readers and see their replies