Fashion films: Designs on a director's chair

Show all 3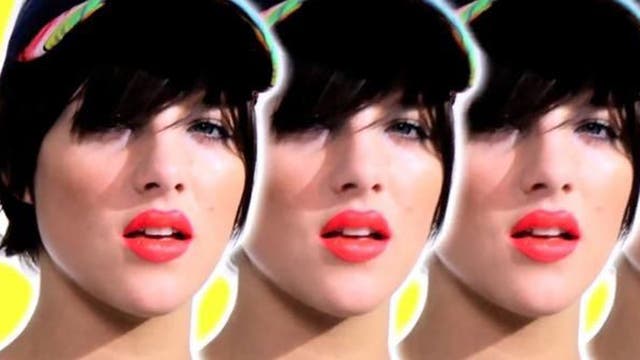 Fashion films: Designs on a director's chair
Inspirational, on-message and cheap to share online, it's no wonder fashion films are big business these days. Gillian Orr takes a look behind the scenes
Last year, a two-minute video of fashion designer Richard Nicoll being bound and gagged by models, before being driven off into the desert and dumped there, won the top prize at the inaugural Berlin Fashion Film Festival.
Shot in collaboration with Italian Vogue and directed by artist-turned-filmmaker Justin Anderson, the short was mysterious, cool and sexy. But, most importantly, the kidnappers were all clad in the designer's latest collection. It was a unique way to showcase the clothes, one free from the limitations of runways or billboards.
"Fashion filmmaking is a new way to deliver the unexpected; where we can forget the industry standard in order to deliver an intense memorandum," read Anderson's introduction. "It's a way to melt traditions or create inspirations. An insight into the soul of a dress."
Fashion films are big business these days, so it makes sense for a suitable event to celebrate them (the second festival takes place this July). And designers are beginning to realise their power and effect. Interest in them is booming; the London College of Fashion now even offers an MA in Fashion and Film.
Over the last few years, viral fashion film has challenged the catwalk show to be the most creative way to showcase a designer's wares. It is a medium that has been pioneered by SHOWstudio, the award-winning website, founded and directed by photographer Nick Knight, which has pushed the boundaries of fashion online.
"The internet is where most people now get their fashion information," says Knight. "The shows are broadcast live, people see editorials and read interviews online. If there are new pictures in Italian Vogue, the first time you see them will be on the internet not in the magazine. But the most appropriate way of working with fashion on the internet is in movement. A moving film is much closer to the designers' vision."
Designer Henry Holland, whose most recent film was an MTV-style short of model Eliza Cummings dancing to Neneh Cherry's "Buffalo Stance", agrees that the internet is now instrumental for marketing and selling a label. "The internet is no longer just a place to buy discount clothes. Now everything has gone online, you need to have great content for that platform. And fashion films are one of the best".
Whereas only the big labels can afford double- page advertising spreads in the glossies, on the internet small houses can compete with the Goliaths of the business. "Designers are waking up to the possibilities of what these films can do," says Lisa Filippini, co-founder of the Berlin Fashion Film Festival. "With the web it's so easy to market your label and spread it. You can work with a small budget and, if it's a good idea, have almost the same chance of reaching the same number of people as a big label with a huge budget. Some of the best content is not coming from the big labels." Make a good one and you will quickly see your film go viral.
Director Tabitha Denholm says that designers are realising that an interesting concept can lead to repeated plays. "Ideas are key. You want the video to get noticed and then be shared online, so you need something that people haven't seen before," she says. "One I did for Markus Lupfer got a fair amount of attention because I based it on those Sixties science documentaries. But a lot of photographers make fashion films and they just see it as a moving snap. There was a deluge of boring films with a long-haired girl looking wistful in a floaty dress on a trampoline or something". In fact, the aforementioned films featuring an It-girl taking Polaroids were so commonplace they became a genre in its own right before being recently parodied in a wonderfully funny campaign for Viva Vena! Starring the actress Lizzy Caplan, the film took all those fashion film clichés and ran it with a breathy voiceover: ("Sometimes I think to myself in French; I listen to old records from the Sixties"). People responded to it instantly and shared it. Not only did viewers get to see the clothes but it was a great way of branding the small label.
Humour is a recurring feature in fashion film, even if the rest of the label's marketing can take itself very seriously. One of the best-known examples is the Lanvin autumn/winter 2011 video that had models Karen Elson and Raquel Zimmermann dancing to Pitbull's "I Know You Want Me" before being joined at the end by the house's creative director, Alber Elbaz. "Fashion films work really well for my brand because you can be really playful with them," says Holland. "Fashion is often very serious, whereas with the films you're a bit freer. I think they're done best when you use it more as a branding exercise rather than showcasing the specific collection".
Indeed, such is the gravitas of fashion films these days that they are securing some big-name directors. Last year Roman Polanski made one called A Therapy for Prada starring Helena Bonham Carter and Ben Kingsley. Lena Dunham has just done a typically quirky one, Best Friends, for Rachel Antonoff.
But famous directors are not necessarily key. "There are a lot of people doing fashion film at the moment but there are only a few people doing it correctly in my opinion," argues Knight. "That doesn't surprise me though. If you look at the beginning of fashion photography at the start of the last decade, there were only a couple of people doing it well for the first 15 years. It wasn't until the 1950s that fashion photography defined itself in the way we recognise it now."
Being such a new medium, Knight argues that people are still working out how best to use it. "You have to work out the parameters of it. Some people have thought that because it's a film you need to have a narrative. I would argue that you don't, in the same way that a great Richard Avedon photograph of Twiggy leaping across a grey background looks amazing and doesn't have a narrative. A lot of large companies are doing mini-Hollywood films with masses of money, and produce what look like conventional films. I don't think that's its best use."
However a label is using film to market their clothes, whether it be in a highly stylised way, by injecting humour, or telling daring narratives, it is clear that the future of fashion film is an interesting one.
"In a way it's the most exciting thing that's happening in fashion because it's a huge shift," observes Knight. "In the same way that fashion photography took over from fashion illustration at the beginning of the last decade, now photography is no longer the zeitgeist medium. Fashion film is."
Join our new commenting forum
Join thought-provoking conversations, follow other Independent readers and see their replies