The fashion year that was: 2012

Show all 5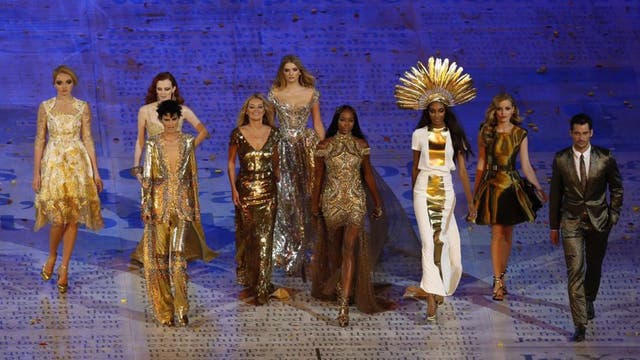 The fashion year that was: 2012
From departures and new beginnings at world-famous design houses to Stella McCartney's Olympic triumph and our well-dressed monarch, it's been an eventful 12 months, says Gemma Hayward
Designer Musical Chairs
Not since the late 1990s has there been so much chopping and changing at so many of the world's leading fashion houses. In March, Raf Simons left Jil Sander after a seven-year tenure and following his swan-song collection for that label in Milan there was not a dry eye in the house.
It wasn't long, though, before spirits lifted: Jil Sander returned to her eponymous brand for the third time (she's nothing if not a trooper) and, in April, it was announced, after months of speculation, that Simons had been given the top job at Dior. As if that weren't enough, Stefano Pilati stepped down from Yves Saint Laurent that same season. Hedi Slimane has since replaced him. That'll be two menswear designers heading up womenswear giants, then, and both are doing very nicely, especially Simons.
Not so nice – news that Nicolas Ghesquiere was leaving Balenciaga broke in November and, with that, among the most talented designers of the past 20 years left a name that is famed for its rigour, imagination and pioneering sense of proportion. The New York-based designer Alexander Wang took over as Balenciaga creative director at the end of November and the jury is still out as to what Ghesquiere will do next.
Elsewhere, Christopher Kane departed from the Versace sister label, Versus; J W Anderson will replace him and Net-a-Porter founder Natalie Massenet took over from Harold Tillman as head of the British Fashion Council (BFC).
A Stella Show
It was generally considered that Stella McCartney's decision to play down the red in Team GB's kits was a chic and tasteful move. It was something of an honour to design these and McCartney rose to the challenge admirably. To acknowledge her contribution and that her signature label, which she shows in Paris, continues to go from strength to strength, she won two gongs at the British Fashion Awards: Brand of the Year and Designer of the Year. A double whammy for an increasingly accomplished British designer.
London's Calling
When McCartney, Kane, Alexander McQueen, Victoria Beckham, Burberry and Dame Vivienne Westwood were asked to come up with outfits for the Olympics Closing Ceremony it came as no surprise that all were gold. And with models Kate Moss, Naomi Campbell, Stella Tennant, Lily Cole, Karen Elson, Jourdan Dunn and David Gandy all making an appearance in their designs this was a golden moment for British fashion as a whole. Also fuelling the capital's profile, McQ, the Alexander McQueen second line, staged a show at London Fashion Week in February and in June the first London Collections Men kicked off with a bash at St James's Palace in the presence of Prince Charles. At London Fashion Week in September, meanwhile, Philip Treacy proved that the spirit of the late Nineties' Cool Britannia is alive and kicking with an all-singing, all-dancing fashion show that featured some of his most awe-inspiring millinery worn with an archive of Michael Jackson's jackets.
A Royal Moment
Look at the Queen looking beautiful in this sparkling white and silver Angela Kelly dress, which she wore for the Diamond Jubilee in June. If ever a woman knew how to dress for age and station then it is she. The dress in question was a year in the planning, by all accounts, and it was made by the Queen's own small but perfectly formed in-house team. The frill is perfection. So elegant. So restrained.
More pared down still was the Duchess of Cambridge's first public appearance since the announcement of her pregnancy – at the Sports Personality of the Year Awards earlier this month. The Duchess of Cambridge looked sophisticated, not to mention pin thin, in bottle-green tailored jacket and split ankle-length skirt courtesy of Alexander McQueen.
High-street heroes
It has been quite a year for high street collaborations, too.
The most high profile (and ultimately successful) was Maison Martin Margiela's tie in with Swedish high street chain H&M. The house took some of the designer's most iconic looks and re-edited them to suitably spectacular effect. Not quite so fashion forward was the Kardashian link up with Dorothy Perkins. The launch – featuring Kardashian look-a-likes on podiums wearing the collection – was quite something. As for the clothes… they were just as look-at-me sexy as might be expected. More questionable was Yoko Ono's collaboration with Opening Ceremony, complete with handprints on crotches. A concept too far? I'd say so.
Join our new commenting forum
Join thought-provoking conversations, follow other Independent readers and see their replies