Fast fashion slows down: Less damaging designs on the high street

Show all 8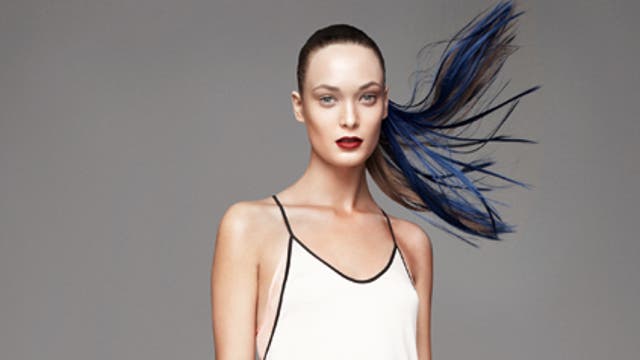 Fast fashion slows down: Less damaging designs on the high street
Topshop's use of waste fabric to make highly desirable clothes could pave the way for less damaging designs on the high street, says Rebecca Gonsalves
It seems fair to say that fast fashion and the more ethically minded consumer are not the most compatible of bedfellows.
With a stack-them-high and sell-them-cheap philosophy somewhat entrenched in the British high street – and the attitudes of shoppers thereon – it has been all too easy for retailers to thumb their nose at the concerns of the few.
However, awareness of ethical and environmental concerns continues to grow, and momentum builds – so what is a retail giant to do? The response of many has been to source some fair-trade, organic cotton to create a piece or two – hence the proliferation of tote bags of late. Topshop, unarguably the biggest brand on the high street, has reached its size on a reputation for being an early adopter. Thus, a cotton shopping bag simply would not do. And so the Reclaim to Wear collection was born, a tightly edited capsule of pieces made from reclaimed textiles.
Stephen Mongan headed up the project for Topshop, with the help of consultants Filippo Ricci and Orsola de Castro of From Somewhere, an organisation that pioneered the concept of utilising waste textiles (aka upcycling) in 1997. He tells me, "We were always interested in something which had an ethical element to it. On a trip to Sri Lanka for an ethical design festival we met Orsola and Filippo on a factory visit. Watching Orsola pull out rags from rubbish bags in the factory and show how they could become a garment was inspiring. We decided to take their blueprint and apply it to Topshop design with their help".
"Upcycling tells a story," says de Castro. "The textile industry is known for being very polluting so the whole point of upcycling is it has a direct environmental benefit immediately by slowing down excess production from the textile industry and using something you've already got."
Usually a certain volume of fabric is commissioned for a design and any excess left over at the end of production is consigned to a warehouse, where it is either sold on in bulk or more often sits deteriorating in quality. By following the Reclaim to Wear model, this fabric is then used when designing the next collection – a process high-street retailers are not keen on because of the limited numbers of garments that can be produced and the higher cost of doing so.
"The textile industry is facing huge challenges," de Castro explains. "There's a call at the moment to ban all hazardous chemicals, Greenpeace has a related Toxic campaign and many brands are pledging to ban these chemicals by 2020. The whole industry is going through so many challenges that, though upcycling now seems a difficult thing to do, we'll see these practices adopted more and more over the years. The whole industry is looking for innovation, especially the UK. Fast fashion and democratic fashion will always be there – and so they should – but people will find a way of offsetting it and making it more ethical in the next 20 years."
Mongan chimes in "In theory it should be a no brainer because you're using something that has already been paid for. In terms of manufacturing though it's quite a slow process, marrying such different cloths and the more time you spend on the production line the more you spend."
The result has not the slightest whiff of worthiness about it, with key sportswear, ombré and colour blocking trends covered. "We didn't have the infinite possibilities we normally have," says Tara Grant one of the designers responsible for the collection. "It made us more creative," adds Alice Jackman the senior designer. "Normally you have an idea of exactly what you want to do and it fits into a [trend] story. Instead we were playing around with fabrics, trying to match them together and the styles came from there. The underlying trends are always in the back of our mind as designers."
As well as "commitment fabric" – surplus fabric stock usually held in a small quantity, the designers used scraps and cut-offs to ensure that they were really making the most of this opportunity. "Panelling in the pieces made the scraps that we have go further, meaning we could do more units of a style – which married well to colour blocking," says Grant.
"It was a great pleasure to say I'm going to take that small amount of denim that's been sitting there for two years and turn it into shorts," explains Jackman. "We usually put high volumes behind our denim because it makes sense for our margins. Now and again we'll see a list of commitment fabric which is a good volume and we'll use it quite quickly but there are certain bits and bobs that get left behind."
Mongan and his team have high hopes for this project, "Topshop is all about newness, so now we're putting something in place to give back and redress the balance. We'll report back to the group [Arcadia, which also owns Topman and Miss Selfridge] at the end of the year – I imagine interest will start from there".
Join our new commenting forum
Join thought-provoking conversations, follow other Independent readers and see their replies