The Filth and the Fury: how punk changed everything

Show all 5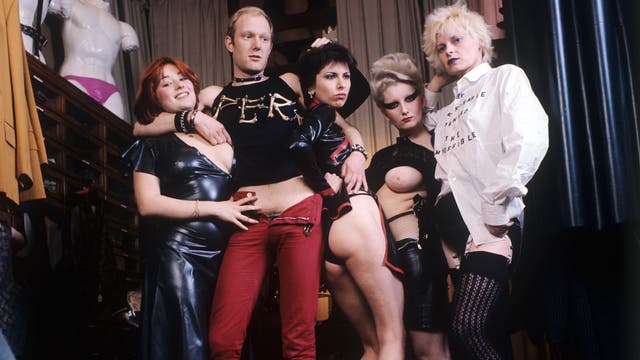 The Filth and the Fury: how punk changed everything
The urgency and anarchy of punk rock still resonate in fashion nearly 40 years after it emerged, says Iain R Webb
"Punk is definitely part of my history. I'll never get rid of that," says Dame Vivienne Westwood, before adding: "Everything has changed today, it's hard to think now that punk was shocking. Now anything goes."
But in 1976 punk – the music, the clothes and the defiant pose – did rock the status quo and provoked "Filth and the Fury" headlines when Johnny Rotten, Siouxsie Sioux and assorted "punk rockers" appeared on the nation's TV screens. Back then it would have been hard to imagine that nearly four decades later the same group of bored teenagers in their matted mohair sweaters, graffitied shirts, spikey hairdos and safety pins would not only be influencing the designs of international high fashion houses from Versace to Jason Wu, but would also be feted to a highbrow analysis of their anti-fashion aesthetic at one of the world's most revered institutions, The Costume Institute at New York's Metropolitan Museum of Art.
Punk – Chaos to Couture, opens on 9 May and will examine and elaborate on punk's "incendiary influence on fashion", as the curator Andrew Bolton describes it.
"The exhibition explores the huge impact on contemporary fashion designers and couture," Bolton says. "Initially punk was a diverse range of stylistic identities, connected by a fiercely independent spirit of do-it-yourself which is punk's greatest legacy."
The standpoint of punk saw the dawning of the age of the individual. It was about doing your own thing and making something out of nothing; hence the invented personas of the likes of Johnny Rotten, Soo Catwoman and Poly Styrene. At the time, anyone daring to step outside the norm was deemed confrontational and a threat to the society as, sadly, the revolution in the Sixties had simply swapped the grey uniform of besuited businessmen for a sea of denim. As Westwood suggests, it is hard to imagine now that simply wearing a pair of straight (not even skinny) jeans provoked hostile attention. But it was this stifling atmosphere that prompted punks to push beyond the boundaries.
At its genesis, and before Malcolm McLaren and Vivienne Westwood commodified the punk look with their Seditionaries: Clothes For Heroes label, the originators and early followers of the movement (a mix of art-school poseurs and dole-queue dropouts), were a disparate, raggle-taggle bunch of outsiders. There were no rules so each fashioned their own look, pulled together from clothes discarded by the mainstream. Second-hand and charity-shop finds were popular, combined with odd elements that were considered tacky and anti-fashion or anachronistic and boring: fluorescent colour, mohair, PVC and plastic, sex-shop underwear and old men's wardrobe mainstays such as mackintoshes, white shirts, dinner jackets and even string vests. Clothes were often falling apart through wear and tear, haphazardly safety-pinned back together or sliced up with zip fasteners. These were further "destroyed" with stencilled slogans and arty paint splatters.
These motifs of punk provide the inspiration for Bolton and the exhibition. The display is divided into galleries, each illustrating a different aspect of punk's visual vocabulary: hardware (safety pins, studs, padlocks, zips, chains); Bricolage (the use of found objects, trash and consumer products); Graffiti (spray painting, stencilling and slogans); and Destroy (rips and tears). In each gallery, original punk outfits will be juxtaposed with high fashion designs. So holey Seditionaries sweaters will appear alongside cobweb knitwear designed by Rodarte's Mulleavy sisters in 2008 (James Long did something similar in 2010) and a black jersey evening gown by Zandra Rhodes that was part of her Conceptual Chic collection from 1977. This dress features slashes with carefully embroidered edges held together by beaded safety pins and silver chains.
"Rhodes was the first designer to use the language of punk on the catwalk," says Bolton, and indeed the eye-catching designer was dying her hair blue, green and pink long before Billy Idol reached for the bleach bottle.
"A safety pin is such a beautiful piece of design. I never tire of it," says accessory designer Judy Blame, who still uses handfuls to embellish scarves and hats and outline lapels, hemlines and cuffs in the same way a couture house might embroider sequin paillettes and rhinestones. Another evening dress in the exhibition that uses safety pins is by the late Gianni Versace and became known simply as "THAT dress" when it was worn by the actress Liz Hurley in 1994. Fast-forward to autumn/winter 2013 and Versace's sister, Donatella has gone mad for punk, creating her own version titled VUNK. In that collection she clashes laddered knits, lurid leopard print and shiny PVC. She also adds spikes, studs and chains except this time the designer uses lethal-looking 6in nails to secure model Lindsey Wixon into her sinuous gown.
Such punk references were equally blatant in Jason Wu's spring/summer show where peek-a-boo bras worn under sheer black tops, long gloves and harness straps evoked the Banshees singer Siouxsie Sioux, while at Lanvin a photographic print silk dress featuring bare breasts was reminiscent of the "tits" T-shirt that was worn by Sex Pistol Steve Jones.
At Givenchy, for autumn/winter Riccardo Tisci favours collage couture with designs that appear to have been cut-up and reassembled: this look features tartan, florals, fur, lace and a Bambi print that alludes to the Sex Pistols. Tisci also deconstructs the black leather biker jacket, as does Junya Watanabe.
At the heart of the punk ethos is the Dada tenet of elevating everyday items to an art form, so it's not surprising that punks' penchant for wearing bin bags continues to inspire designers as diverse as Maarten van der Horst and Phoebe Philo at Celine. While Philo fashions checked coats and suits that resemble laundry bags, Van der Horst stitches Tesco carrier bags into a look that mimics the torn Union Jack of Jamie Reid's original punk graphics. The Fashion East catwalk, of which Van der Horst is a part, nurtures the same rebellious London underground spirit that fuelled punk – for spring/summer Clare Barrow showed graffitied designs alongside an outfit made from brown paper and a striped T-shirt and leather jacket that was pure Blondie-meets-The Ramones.
Although fashion folk have come to expect an element of surprise in Christopher Kane's collections, the finale of his spring/summer show was none the less shocking. The designer wilfully trashed his elegant pastel organza, crystal and lace 1950s-style ensembles with seemingly haphazard strips of gaffer tape for a look that tapped directly into the raw punk mood. But Louise Gray, whose anarchic couture designs have brought a riot of colour and sense of fun to London Fashion Week, went one step further in her autumn/winter show accessorising her models with rolls of packing tape as bracelets and a toilet roll worn as a brooch. It doesn't get much more punk than that.
Join our new commenting forum
Join thought-provoking conversations, follow other Independent readers and see their replies