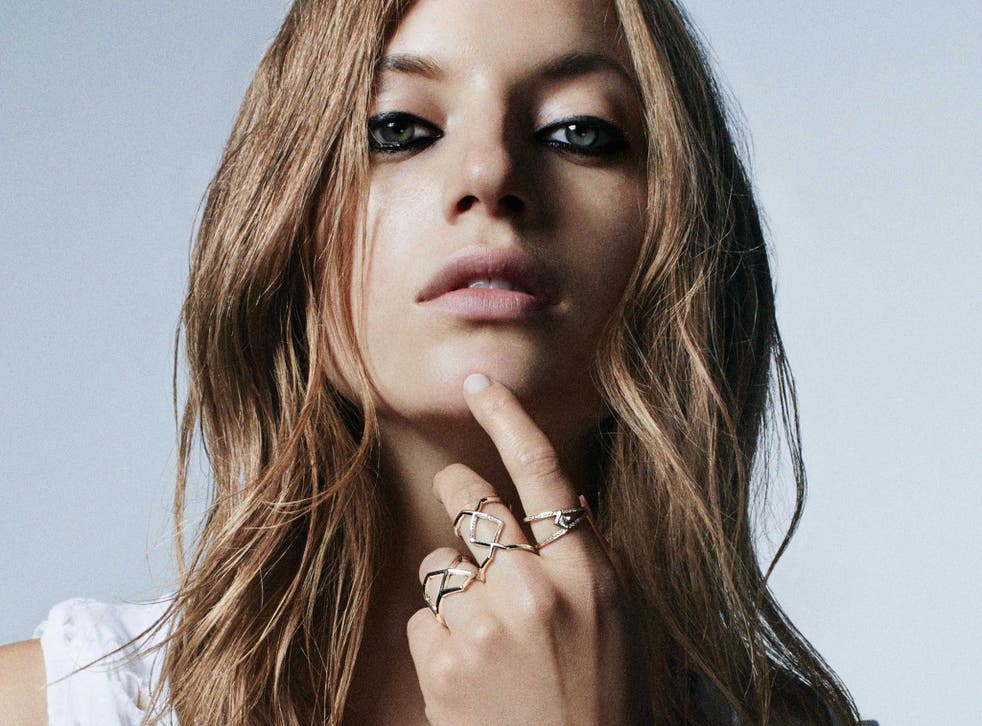 Fine jewellery: Sales of the good stuff are soaring as shoppers target luxury at the click of a button
As business booms the industry is ringing the changes with glee
The internet has been a great enabler; from distracting cat videos to instant communication with the other side of the world, it seems that there's nothing that we can't do online. And that applies to shopping too, with the online retail sector in the UK growing by 15 per cent in 2014. Much of that growth may be groceries, DVDs, books and clothing, but there's an increasing online market for fine jewellery too. Once the preserve of storied names with lineages as noble as their best customers', the glittering world of the fine jeweller is ringing the changes.
Fine jewellery is most easily classified as the good stuff: normally solid gold or platinum set with precious stones, occasionally a pearl (natural, rather than cultured) here or there. And business is booming in the most surprising of places, with e-commerce sites showing surprising growth for such traditionally tactile, and expensive, items.
Of course, we all know how important the retail experience is to the way we value the product we are buying: "stack 'em high and sell 'em cheap" may be good enough for canned goods, but when it comes to fashion it's usually a sign that not much care went into the creation – nor for the people who created it.
In pictures: Fine jewellery

Show all 4
Thanks to its speed, convenience and ability to browse in comfort, shopping online is almost second nature now, rendering the frustrations of battling through crowds only to find something sold out a thing of the past. But even with the streamlined service, speedy delivery and luxurious packaging, dropping a couple of thousand pounds on some diamond drop earrings at the click of a button could feel, dare one say it, an anti-climax.
"Buying luxury jewellery is an experience," agrees Bec Astley Clarke, who in 2006 launched her eponymous online boutique, stepping in where other luxury brands feared to tread and representing a number of designers. "[There was a perception that] if you have a shop, it's luxury; but if you have a website, it's not – which of course is total rubbish. My greengrocer has a shop and that's not a luxury experience."
Due to the success of her virtual venture, Astley Clarke has added her own designs to her business, as well as a real-life London boutique. (She has also secured wholesale accounts with prestigious department stores in London, New York and Hong Kong.) But despite her transition into bricks and mortar retail, she still believes that shopping online can match the ultimate luxury experience. "We work hard to make sure that it doesn't feel like a generic transaction, that you feel the experience right the way through, whether that's with our personal shopping team or just in the middle of the night watching videos on the website or reading the blog."
More traditional brands are also getting in on the action, albeit more gradually: Bulgari, Cartier and Chopard all offer a "click and collect" fine jewellery service through Selfridges' exclusive Wonder Room portal. But it's not just the way we shop for fine jewellery that has evolved; how it is worn is changing too.
"Historically, women wore fine jewellery for special occasions but now that it's incorporated into daily styling, they are layering it, wearing one piece or five pieces," says Sophie Quy, fine jewellery buyer at Net-a-Porter.
As for the names to watch, she says: "We tend to select brands that lead the trends." Jewellery has more longevity than a bag or a shoe, so breakthroughs tend to be rare and long-lasting. But, she adds, "As time goes on, a lot of other brands tap in, [so] our customer comes to us because we are at the forefront."
Thus, although there remains a seemingly inexorable appetite for yellow and rose gold, pearls and more unusual pieces like ear cuffs, there is also a market eager to welcome new brands with new ideas: "The younger brands are having fun and pushing the boundaries in a category that was previously viewed as quite formal," says Quy. "It means that they're able to break into the market as they are offering a whole new perspective on what fine jewellery actually is."
As one of the new guard in the world of fine jewellery, Noor Fares believes that she has hugely benefited from her relationship with Net-a-Porter: "Selling online has really helped us to understand our customer and has given us an invaluable view into which pieces work and why. Shopping for fine jewellery has previously been such a personal experience, in which customers were traditionally used to trying on pieces in person and feeling stones and materials in their hand. Online retailers have definitely changed the process."
Convenience is crucial, then, and trust is paramount: "Shoppers have developed a real trust in the sites they choose to buy from online," says Jenny Cossons, head of partnerships at Lyst.com, a data-driven shopping site, with 9,000 global partner brands. "We're seeing Lyst users purchase handbags and dresses worth thousands of pounds via their mobiles, and the same goes for jewellery. The industry has reached a point where people feel secure enough with online shopping to buy luxury jewellery. Better product photography and more access to all the right information on materials and sizing has also helped to make shopping for jewellery online a luxurious, easy experience. There's less of a concern with fit, and price doesn't seem to be an issue for the Lyst customer."
While successful sites have worked to provide as much information and visual persuasion as possible, Astley Clarke also believes that shopping online can be a far less intimidating process: "You don't have to ask somebody to get something out of a cabinet or have to ask the price. We all know that feeling of asking the price and then you can't afford it, so I think the web is a great research tool, even if the end purchase is made in-store or through the personal shopping experience."
By whom, though? Most customers of fine jewellery are now women buying items for themselves. But, says Astley Clarke, "A lot of traditional jewellery brands are all about marketing a romantic gift purchase to men." Of course, making the process less confusing or intimidating for men makes sense. However, she continues, "Our core target market is professional, intelligent women buying jewellery for themselves – an exciting purchase that's going to stay with them all their life."
"Jewellery is a precious purchase and I think one should feel special when receiving it," agrees Sabine Ghanem, the designer of Sabine G, who makes her pieces easily resizable to ensure that customers are able to wear their purchase as soon as they receive it. "I love to shop online, I much prefer it because it's so convenient. It gives customers the opportunity to browse at their leisure – even in bed on a Sunday."
In fact, Net-a-Porter reports that 29 per cent of its fine jewellery sales now come through mobile channels – viewed on a smartphone or tablet – which suggests a more active market. And other reserach reveals that it's not just the newest names who are creating a buzz. "We have an amazing relationship with Fred Leighton in New York, one of the most renowned vintage jewellers," explains Quy. "We select from their store and archives, where they have the most amazing array of pieces. That's also where some of the higher-priced pieces come from. People feel like they're buying a piece of history, it definitely has extra value to it."
Indeed, the most expensive item currently for sale on the site is a Fred Leighton find – an 18-carat gold and rock crystal necklace that is studded with 375 diamonds weighing a total of 7.8 carats. To say that it is rare and unusual is an understatement, a fact reflected in the £38,500 price tag, just edging past the most expensive piece that the site ever sold – a Loree Rodkin bracelet that went for more than £35,000. Surprising, but not unbeatable, believes Quy: "From the huge growth we are seeing, I genuinely believe that the sky's the limit."
Join our new commenting forum
Join thought-provoking conversations, follow other Independent readers and see their replies