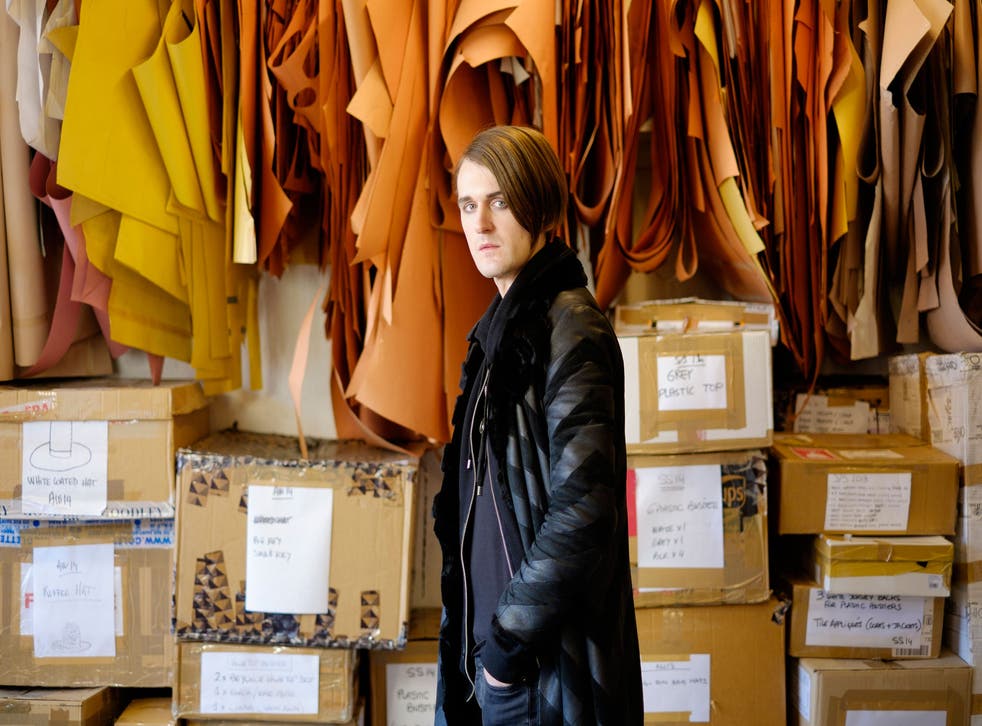 Gareth Pugh interview: The fashion designer credits his creativity to hard graft, collaboration - and refusing to become a brand
The Sunderland-born designer's work is some of the most powerful and empowering in the industry
'We haven't chosen the easiest options," says Gareth Pugh. The Sunderland-born designer is talking about his autumn/winter 2015 catwalk show, which this evening marks his return to the schedule of London Fashion Week – but it also sums up his aesthetic, and work ethic, rather neatly. "I always knew that I wanted to do something that involved me making something or being creative, but I didn't know what that would be; I had always hoped but never imagined that I would be doing what I am," states Pugh, who is 33 but still has the sharp hair and sharper jawline he sported as an impoverished, fledgling designer a decade ago. "The whole thing comes down to hustle," he continues. "It's a little bit like on Only Fools and Horses when Del and Rodney finally win that money and then it isn't funny any more. It's that struggle to make something happen, that nothing is easy... it's a love-hate relationship to make things work."
Something about such an honest statement – and indeed, that reference to a prime-time comedy – feels singularly Pugh. He's open about his affection for the prosaic: "You can take the boy out of Sunderland..." he shrugs, as he talks about his favourite trip being a package holiday to Mexico, and his love of staying in, at the home he shares with partner and right-hand-man Carson McColl.
"I don't have expensive tastes, and I'm honest," he reasons. "I think a lot of people are the same but it doesn't fit in with their brand image. I've never thought of myself as a brand, that notion is lost on me, so I have the freedom to be honest, even if it does sometimes get me into trouble."
It's hard to imagine Pugh being in trouble with anybody for long, especially the loyal coterie of friends and collaborators that he has built up over the years. Gareth Pugh, the label, is a decidedly collaborative effort: AnOther magazine fashion director Katie Shillingford styles his shows, artist Matthew Stone soundtracks them.
Both they and Pugh were integral parts of the !WOWOW! collective, an art and fashion contingent based in a Peckham squat, during their studies in the early 2000s.
"It's really important that it's an overall telling of a story," says Shillingford of their working relationship. "The show is very much a show, rather than the presentation of a collection. It's a big old production and it goes back to that tight-knit group of friends. It's good to have that long-standing relationship because you know exactly where you are with everyone."
The Pugh crew has expanded far beyond that squat: if there is a set needed for a show, Pugh works with creative director Simon Costin; for his filmic needs he turns to Ruth Hogben. "I saw his Fashion in Motion show at the Victoria & Albert Museum [in 2007]," says Hogben. "It was so loud, so exciting and I just thought 'These clothes scream film to me'. You don't even need a storyline when you have Gareth's clothes in front of you. He could probably be a director – he's so clear in his vision."
Hogben was introduced to Pugh by the image-maker Nick Knight, her then-boss and mentor and an early supporter of the designer. "I've always found him so delightful, he's a very gentle, very lovely person, it's hard not to like him," says Knight.
"And he produces the most wonderful clothes; they're so full of shape and narrative that they almost have a life by themselves. He has one of those gifts as an image-maker, where his clothes are so full of his imagination that really you just have to put them in front of your lens and it all happens.
The interesting thing about him is how powerful he makes the women he dresses look. I think that we talk a lot about empowering women, but he really does."
McColl is the label's 'chief whip', while he has a business partner in the distinctive form of Michele Lamy – the gold-toothed, kohl-foreheaded French-born wife (and collaborator) of designer Rick Owens, who purchased a minority stake in Pugh's business in 2006.
"I don't know why Michele decided to help me," says Pugh. "I think she just found what I was doing really intriguing. She has this pure excitement about things: it's nice to feel you inspire that in other people."
Pugh has been a regular on the Paris schedule since winning the ANDAM Award in 2008, although a brief sojourn to New York last September saw him showcasing his spring/summer 2015 collection in a multi-media presentation in association with Lexus.
Today's homecoming, then, which coincides with the 10th anniversary of his first show with graduate talent scheme Fashion East, is, it's fair to say, a very good thing. "It's kind of a big deal for us, it's exciting and terrifying at the same time," says Pugh. "It feels celebratory, but there is a weird expectation – it's a challenge but it's good to be scared sometimes."
While Pugh will readily admit to feeling the fear – but pushing ahead anyway – he is also fully aware that at least part of that trepidation, that pressure, is self-inflicted. For Pugh is something of a perfectionist – not that he is afraid of making mistakes in pursuit of his ideal: "It's important to daydream, to take a chance, for things not to work and for you to learn from that.
If everything you do is about making money, then the ability to make mistakes is taken away from you, and that's the worst thing you could do. Making mistakes is just as important."
Pugh, however, seems to have made few mistakes with his career. Raised in Sunderland, his father was a policeman, his mother worked at Littlewoods. He studied ballet – before you make the inevitable parallel, he has referred to himself as Billy Elliot for years.
As a teen, he was creative, but the pursuit of fashion was a very abstract idea, the key conduit he says being Caryn Franklin, then-presenter of The Clothes Show. "When I was about 14, OK! magazine used to do a fashion supplement," recalls Pugh. "It was all about Paris and Milan, but then there was a section on London, all about Alexander McQueen, Hussein Chalayan, Julien Macdonald. There was this real energy."
Later in his teens, Pugh spent summers in London with the National Youth Theatre, having lied about his age to be accepted (there's that hustle again), which only served to further fuel his excitement about the capital.
"I felt that energy that was exuding from London, it was something palpable that you wanted to be a part of. That crew of people that were living and showing their work in London, people like McQueen who had shows that hit nerves, that dealt with something in such a visceral manner, it was so direct. And to someone who isn't part of that it's very inspiring."
Like those who came before him, Pugh decided to apply for Central Saint Martins: "I worked so hard to get there and get everything ready; I was so scared driving down to London for the interview, it was quite traumatic. I
got in and it became reality, but I always try and remind myself of the initial excitement of wanting something so badly, it stops you becoming so jaded or blinded by things. It can so easily be taken away from you and while the fragility of it can be quite a head-fuck, it also helps keep you on your toes; you're only as good as the next thing you do and you're constantly being judged by critical people with a lot of opinions."
Fragility is an interesting notion when it comes to Pugh – physically he embodies it, with his slender build, pallor, angular bone structure, and a penchant for a consumptive smudge of shadow around the eyes. But, there's a reason we've all been implored not to judge a book by its cover: thanks to a steely determination and sense of self-belief his work is some of the most powerful and, as Knight states, empowering, in the industry. "The most important lesson I've ever learnt is how to say no," says Pugh.
"It's important for me to feel proud of what I do and that I can stand by the work. It needs to speak – the story or the narrative that runs through everything is bigger than a pretty show or a commercial collection, it needs to express more that 'Oh, that's a pretty dress'. I just need to feel happy that I'm creatively fulfilled." He shrugs again, smiles, laughs. "What I'm doing won't please everybody. But that's not what I'm trying to do anyway".
Join our new commenting forum
Join thought-provoking conversations, follow other Independent readers and see their replies